SMLVN6RGBFU (New)
High brightness Tri-Color chip LED for Automotive
SMLVN6RGBFU (New)
High brightness Tri-Color chip LED for Automotive
SMLVN6RGBFU is the high brightness triple color LED which is AEC-Q102 qualified.
Product Detail
Part Number
|
SMLVN6RGBFU1
Minimum Package Quantity
|
1000
Specifications:
Package Type
Triple Color / Reflector
Package size[mm]
3.5x2.8 (t=0.6)
Emitting color
Red / Green / Blue
Dominant wave-length λD(Multi)(Typ.)[nm]
621 / 525 / 470
Luminous Intensity(Multi)(Typ.)[mcd]
750 / 1800 / 430
Number of Brightness Rank
12
Forward Voltage VF (Typ.) [V]
2.1 / 3.3 / 3.3
Chip Structure
AIGaInP / InGaN
Power Dissipation [mW]
400
Operating Temperature[°C]
-40 to 100
Storage Temperature [°C]
-40 to 100
Common Standard
AEC-Q102 (Automotive Grade)
Find Similar
Features:
High Brightness Tri-Color LEDs
Low height and improved color mixture made possible by flat frame structure.
Silicon Resin Type
Overview
Generally, developing RGB chip LEDs that emit light at the specified color requires precise control of the wavelength and brightness of the mounted red, green, and blue (RGB) elements individually and methods to enhance color-mixing capability. ROHM has minimized element color variation over general products by utilizing a vertically integrated production system from the element fabrication stage - one of ROHM's strengths. At the same time, original element color mixing control technology reduces color variations caused by color mixing that tends to occur in RGB chip LEDs, resulting in accurate color expression required in automotive interiors. ROHM also supports detailed color matching tailored to user specifications with the chromaticity simulation system.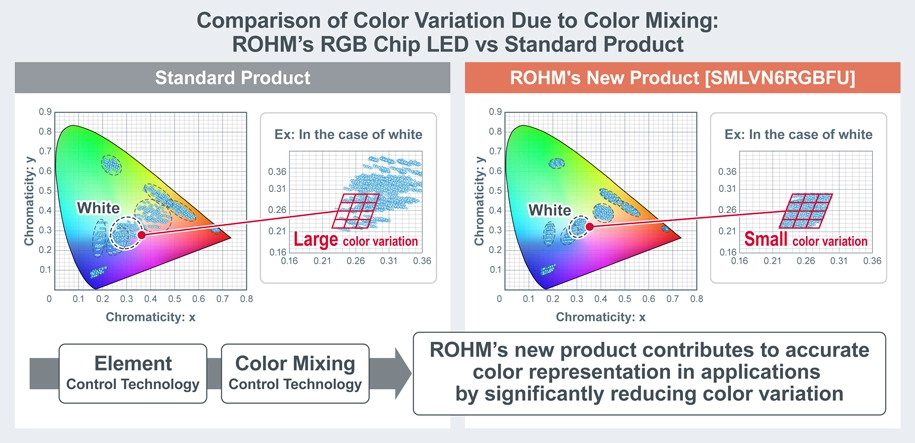 Application Examples
◇ Indicators for function/status display: Instrument clusters, CID, car audio/navigation, heater control, etc.
◇ Automotive Ambient lighting: footwells, roof, handles, cup holders, etc.