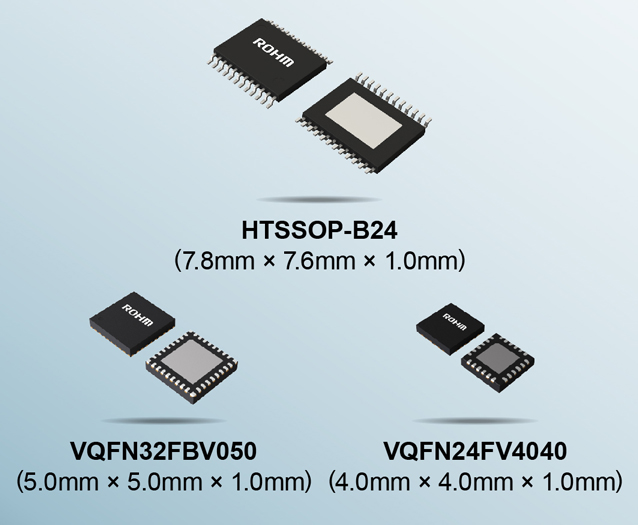 ROHM developed the 4ch/6ch LED driver ICs, BD83A04EFV-M, BD83A14EFV-M, BD82A26MUF-M designed for medium to large size automotive displays in car infotainment and instrument clusters.
In recent years, the continuing evolution of ADAS (Advanced Driver Assistance Systems) and enhanced car infotainment functionality have led to the use of larger displays. Consequently, LED drivers for LCD backlights in automotive displays are required to provide high efficiency drive that improves rated output current while reducing power consumption. On top, as flickering of automotive displays can lead to poor visibility and unsafe conditions, LED drivers must be capable to avoid this symptom.
Conventional LED drivers that consume relatively large amounts of power and are susceptible to flickering during PWM dimming. In contrast, ROHM has developed LED drivers for LCD backlights that combine proprietary low power technology with seamless PWM dimming. This eliminates flickering when changing display brightness from low to high.
These new products leverage proprietary low power consumption technology to reduce losses in LED driver current control circuits. The result is 20% lower overall IC power consumption compared to conventional products under typical conditions (80mA/ch LED circuit current, 12V power supply). This contributes to lower power consumption in medium- to large-sized automotive displays where power consumption is an issue.
At the same time, all models are equipped with both DC and PWM dimming to meet a wide range of requirements. As there no longer exists a need to switch current feedback mode for low/high brightness change with ROHM's original seamless PWM dimming technology, flickering that occurs with general PWM dimming is reduced, improving system reliability.
Going forward, ROHM will continue to contribute to the evolution of next-generation mobility by developing products that leverage its strengths in analog technology to promote the advancement and lower power consumption in future automotive cockpit functions.
Product Lineup
All new models products are equipped with both DC and PWM dimming for broad applicability. ROHM's seamless PWM dimming enables smooth, flicker-free dimming from low to high brightness.
Part No.
Data
Sheet
Input
Voltage
Range
(V)
Switching
Frequency
(kHz)
No. of
Output
Channels
Max.
LED
Current
(mA/ch)
Boost
FET
Dimming Mode
Operating
Temp.
Range
(°C)
Package
Size
(mm)
Package
Name
Automotive
Grade
(AEC-Q100
Qualified)
PWM
Dimming
DC
Dimming
BD83A04EFV-M
4.5 to
48
200 to
2,420
4
120
Built-in
✓
(Dimming ratio: 1:20,000)
✓
-40 to
+125
7.8×7.6×1.0

HTSSOP-B24
✓
BD83A14EFV-M
150
External
✓
(Dimming ratio: 1:20,000)
✓
✓
☆BD83A14MUF-M
-
✓
(Dimming ratio: 1:20,000)
✓
4.0×4.0×1.0

VQFN24FV4040
✓
BD82A26MUF-M
3.0 to
48
200 to
2,420
6
150
External
✓
(Dimming ratio: 1:20,000)
✓
-40 to
+125
5.0×5.0×1.0

VQFN32FBV050
✓
☆: Under Development
Reference Designs with PCB Design data, SPICE models and EMC reports available.
Four reference designs REFLED002, REFLED004, and REFLED003 (REFLED003 is two types depending on the built-in MOSFET.) incorporating the new drivers are now available on ROHM's website (see table below). Ideal for examining LCD backlight circuits for automotive displays, the boards have cleared passed various tests, including standard electrical characteristics measurement, EMC, and thermal properties.
(Please contact a sales representative or visit ROHM's website for more information.)
Terminology
DC Dimming

A method of making LEDs bright or dark depending on the amount of current flowing through them. There is a low risk of flickering since light does not flash as with PWM dimming. On the other hand, at low current values the LEDs themselves undergo chromaticity transition. Hence, special, so care must be taken with specifications where color is a concern.
PWM (Pulse Width Modulation) Dimming

A dimming method that turns the LEDs ON/OFF at high speeds to make them appear visually lit, with brightness controlled by changing the length of the lighting time (pulse width). The pulse width is set by switching with the LED driver. While it is widely used to dim LCD backlights and LEDs for indicators due the wide brightness adjustment range, depending on the specifications there is a risk of flickering.