Join us at European Utility Week 2019. ROHM will showcase its wide range of products for Industrial, Automotive, IoT, smart metering & smart home applications.
You can find ROHM at booth P145 in Paris Expo Porte de Versailles, France from Nov. 12th – 14th 2019.
In Paris ROHM will be among key players in the smart energy ecosystem to present our wide range of products for energy saving and environmentally friendly designs.
Further product information will be updated soon.
Please visit the event website for more information: European Utility Week
Featured Products
Highlighted products
Power Device Solutions

Analog Power Solutions

Multi-band RF ICs
■ ML7436N - Multi-band Wireless Communication LSI with Micro controller
NEW
Suitable for FAN , IoT devices, and available for W/W frequency
Features
Integrated MCU ideal for implementing next generation smart meters protocol stack
Multi-band(400-960MHz,2.4GHz) high performance RF transceiver included for world wide market.
Hardware encryption engine for security
Applications
Next generation smart meters for FAN (Field Area Network)
Power control system for houses and buildings(HEMS/BEMS)
IoT Module
ML7436N System Configuration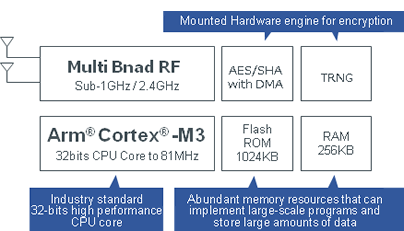 Supports major Sub-1GHz / 2.4 GHz wireless standards in the world

■ ML7421 - Multi-band Wireless Communication LSI
NEW
Features
Operating Frequency Range

400MHz to 960MHz, 2.4GHz

Power Supply

2.6V to 3.6V

Operating Temperature

-40˚C to 85˚C

Excellent Low Consumption Current

TX (13dBm): 27mA
(10dBm): 18mA
(0dBm): 9.9mA
RX :10mA
Sleep (Reg-retention): 0.55uA
Deep Sleep : 0.1 µA

Excellent Low Consumption Current

4GFSK/4GMSK, GFSK/GMSK, 4FSK/FSK/MSK

Data Rate: 1200bps to 300kbps

CH Bandwidth: 1.6KHz-200KHz

Package

36pin WQFN (6x6x0.8mm)

RoHS compliant
ML7421 Block Diagram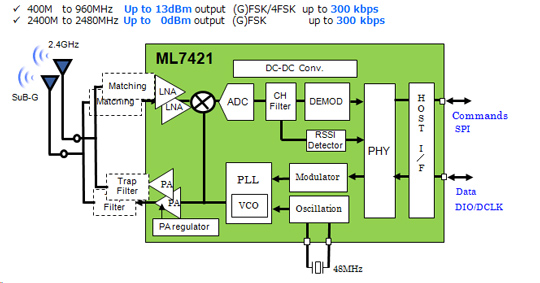 LPWA (Low Power Wide Area)ICs
■ ML7404-LPWA (Low Power Wide Area) Wireless Communication LSI for IoT
NEW
The industry's first dual-mode LPWA support for both Sigfox® and IEEE802.15.4k
Features
Configurable for either Sigfox® or IEEE802.15.4k communication via mode setting
Industry's first LSI with built-in Sigfox® radio modem
IEEE802.15.4k-compliant Direct Sequence Spread Spectrum technology enables long range wireless communication
Superior resistance to system interference allows a single base station to support a larger number of devices
Applications
IoT networks / Smart agriculture / Disaster management
Street lights / Security devices
Smart meters for water / electric / gas
BPSK Modem Advantages
Advantages of Hardware-Based BPSK Modulation
Competitor's Sigfox®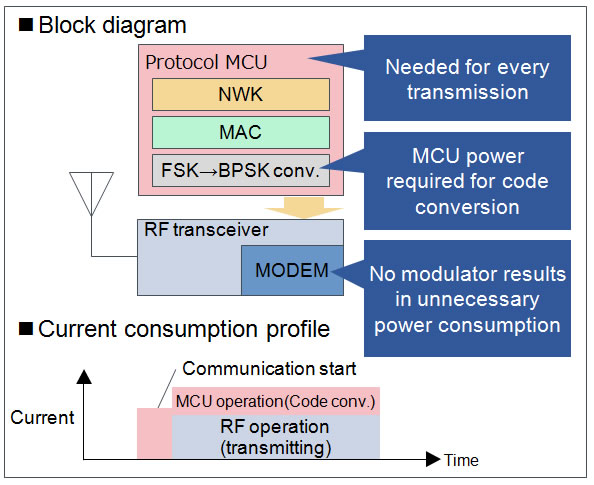 LAPIS Semiconductor's Sigfox®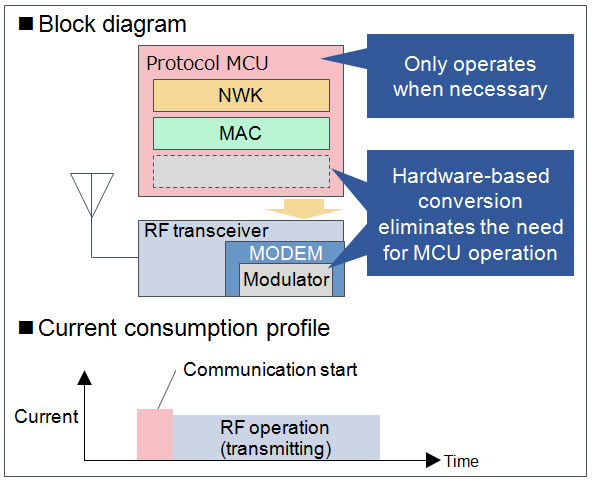 802.15.4k/Sigfox® / LoRaWAN™ Comparison
Protocol
IEEE802.15.4k
Sigfox®
LoRaWAN™
Frequency Band
Sub-GHz Band (Regional Unlicensed Band)
Long Range Scheme
DSSS
UNB
CSS
Data Rate
Less than 12.5kbps
100bps
250 to 50kbps
Communication Distance
More than 10km
More than 10km
More than 10km
Communication Direction
Two way
One way (only UpLink)
Two way
Network Construction
No restrictions (no communication fee if configured in-house)
Restricted to licensed operators (annual fee depends on the amount used)
No restrictions (no communication fee if configured in-house)
PHY Standard
IEEE802.15.4k
Sigfox® proprietary
LoRa™ proprietary
Other Features
Superior resistance to system interference allows a single base station to support a larger number of devices
Same network and cloud service can be used in major cities in 32 countries
Download