SiC Schottky barrier diodes are ideal for PFC circuits and inverters. They are available for high voltage resistance, large current circuits. High-speed switching characteristics minimize switching loss, improving device operating frequency.
Features
Ultra short recovery time
Supports high-speed switching
Low temperature dependence
Low VF (2nd SBD)
Key Ratings
| Rated Voltage | Rated Current |
| --- | --- |
| 650V | 6A~100A* |
| 1200V | 5A~50A |
| 1700V* | 10A~50A |
*Under development
Key Feature 1 : Dramatically lower switching loss
Ultra-short reverse recovery time (impossible to achieve with silicon) enables high-speed switching. This minimizes the reverse recovery charge (Qrr), reducing switching loss significantly, contributing to end-product miniaturization.
In addition, SiC devices maintain a constant trr regardless of temperature, unlike conventional silicon fast recovery diodes where the trr increases with temperature.
This enables high-temperature driving without increasing switching loss.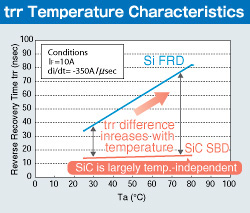 ROHM continues to improve its device processes and implement low VF in line with generational changes.
■Achieves lower VF along with generational evolution

■Low VF and high surge resistance
Key Feature 2 : Stable temperature characteristics
SiC diodes exhibit stabler temperature characteristics (i.e. forward voltage) compared with silicon-based devices, simplifying parallel connection(s) and preventing thermal runaway - unlike Si FRDs.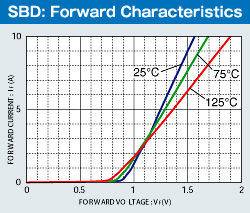 Applications
Switching mode power supplies
PFC (Power Factor Correction) circuits and others
Power conditioners used in photovoltaic power generation
EV (Electric Vehicle) /HEV (Hybrid Electric Vehicle) inverters and chargers
Motor drive
■ Example: PFC Circuit
■ Example: Automotive Charging Circuit
Key Feature 3 : A vertically integrated production system ensures high quality and stable supply
A 'Quality First' objective allows ROHM to establish a vertically integrated manufacturing system for SiC production. In addition to acquiring SiCrystal, a German wafer fabrication company in 2009, the ROHM Group continues to implement activities to improve quality throughout the entire manufacturing process, from wafers to packages. World-class manufacturing technologies and stable production capacity provide increased cost competitiveness and ensures a stable, long-term supply of new products.
Related Information
Latest News