Back
Diversity at ROHM: "ROHM is a highly diverse company – respecting different mentalities, beliefs, and origins"
04/11/2023
Our colleague Abdelmouneim Charkaoui started to work for ROHM's European Headquarters near Düsseldorf over one year ago as an Application Engineer. He is originally from Morocco and has already worked on three continents. Now he reveals the highlights of his career and international experiences to us.
What fascinates you about electronics?
I discovered my passion about technology and engineering when I was in high school, back then we had a subject where we learned about the principles of operation of simple electronics or physics phenomena. It was always great to uncover the secrets behind those little items. Over time, that feeling has grown and gave me the motivation to become an electronics engineer.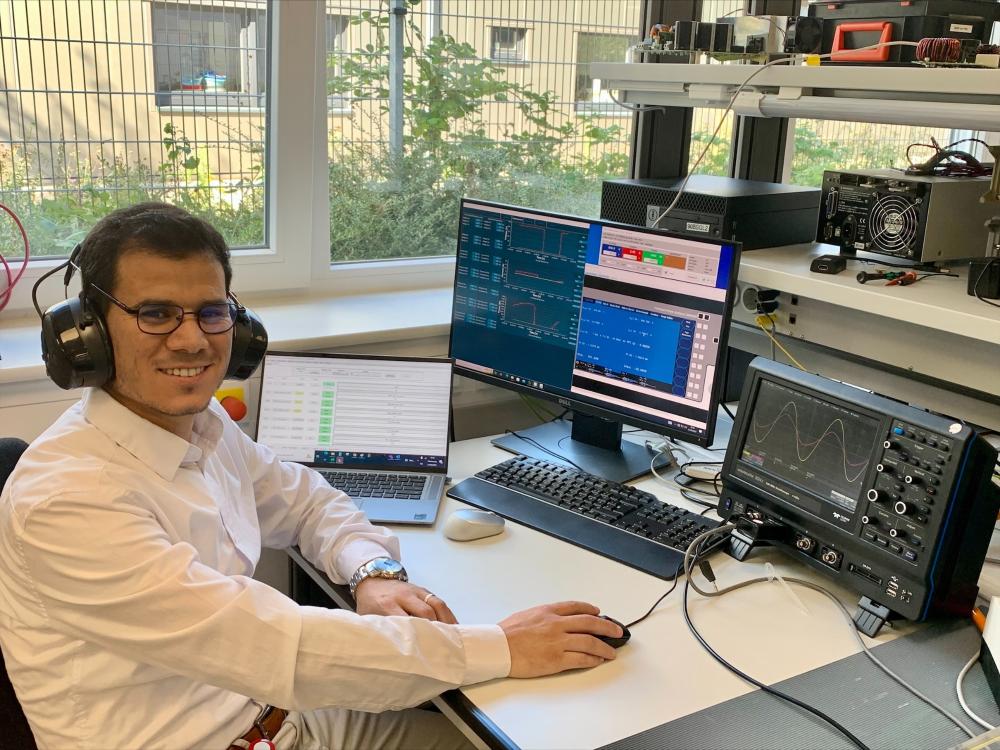 As an Application Engineer, Abdelmouneim spends part of his time in ROHM's "Power Lab".
The cool thing about engineering in general, and particularly electronics engineering, is the way we put together the set of skills, tools, and principles we have learned into practice to come up with smart ideas and solutions to solve some of our daily life problems.
Could you please give us some insights into your academic and professional background?
In 2015, I have received my engineering degree in Electronics and Automated Systems from the National School of Applied Sciences in Tangier, Morocco. Shortly after this, I joined Lear Corporation in Morocco as a hardware development engineer. There, my focus was on the design and development of different high voltage products for electric vehicles. During my time at Lear Corporation, I held a leadership position and received the chance to work for almost one year at Lear's Headquarters in the USA. Prior to joining ROHM, I worked for Thales Alenia Space in Belgium as a Hardware Technical Manager where I contributed to the development and maintenance of Satellite Electronics. In September 2021, I joined Rohm Semiconductor Europe, as an application engineer within the power systems team.
Why did you decide to pursue a career in Europe?
Europe is home to many advancements in science and technology. Germany is the land of opportunities and inventors – and renowned for some of the best engineering quality worldwide. Therefore, continuing my career in this country offers me the perfect premise to foster my knowledge and grow professionally.
What do you like most about Germany and Europe?
I like many things about Germany – except from Sundays where every shop is closed, I always feel the pressure that we must get everything we need on Saturdays. Nevertheless, me and my family have started to adapt to this situation little by little. We now enjoy the Sundays as a "family time" – at home or to visit and discover places nearby.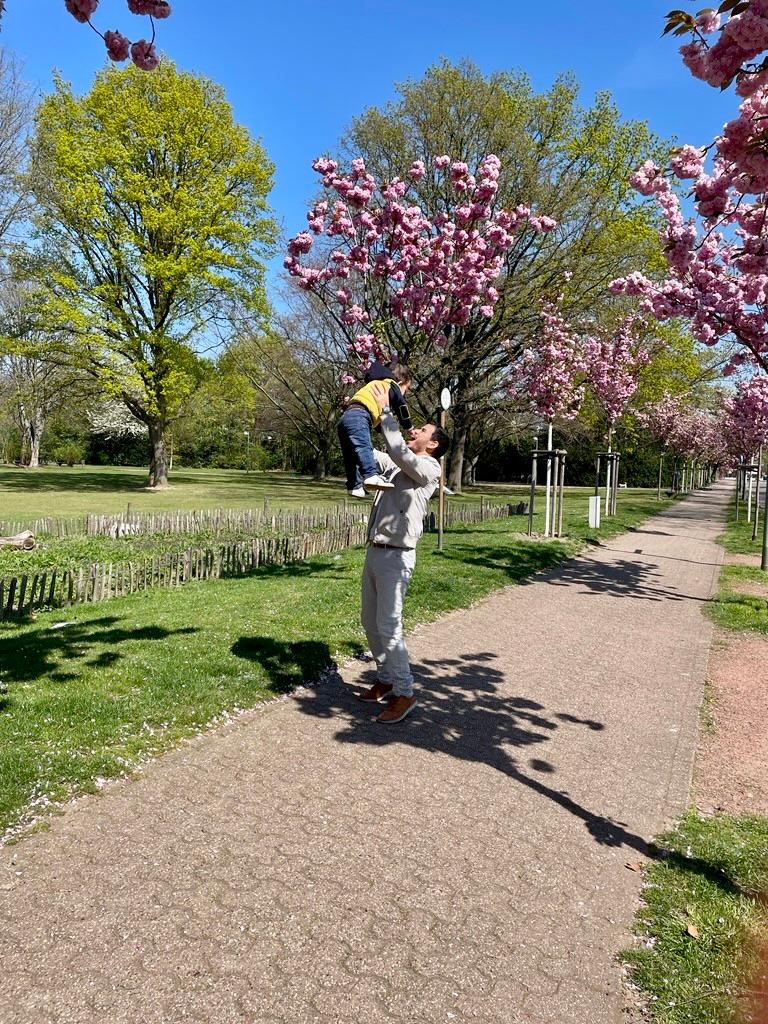 Spring in Germany: Abdelmouneim enjoys spending time with his family.
Also, I enjoy the diverse food options in Germany, especially in Düsseldorf area: You have the chance to eat Indian, Pakistani, Chinese, Japanese – and many more.
On top of that, I appreciate the proximity within Europe. Germany has so many neighbor countries that can be reached without driving long distances.
What was your motivation to start your career at ROHM?
From my experience of working for a Tier1 automotive supplier and many OEMs, I realized how valuable and critical the role of semiconductor manufacturers in the supply chain is. As ROHM is a technology provider and enabler, especially in the field of power devices and power solutions for e-mobility, I wanted to be part of this technology transforming company.
What are your key tasks at ROHM?
I'm working on the development of evaluation boards – to demonstrate the benefits of ROHM's products in certain applications such as electric vehicles or industrial applications. My task is to also develop good reference designs, and produce application notes, papers and articles to support our customers with the solutions we develop.
What is special about the Moroccan culture – in general and from a working perspective?
Thanks to its strategic geographic location, Morocco has historically been the bridge between continents and cultures. This gave us as Moroccans the ability to understand people from different countries more naturally as well as to interact and work with each other. Overall, we have a certain ability to adapt.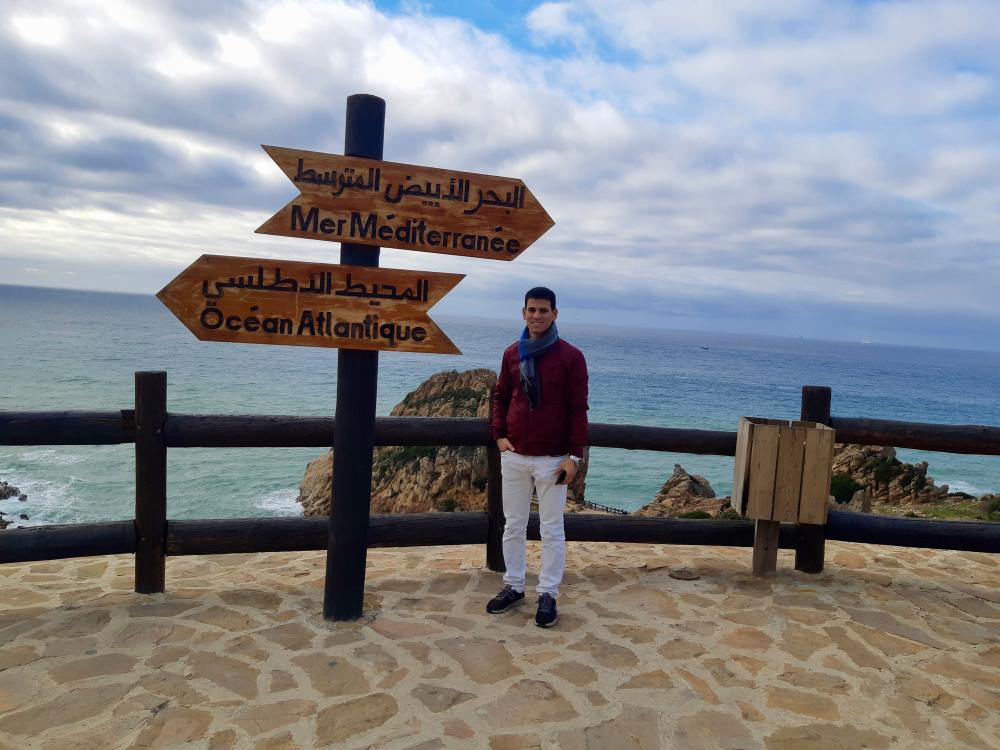 Abdelmouneim's favourite spot in Morocco is the point where the Atlantic ocean meets the Mediterranean sea – located in Tangier, a city in northwestern Morocco.
From a working perspective Moroccans tend to fulfill their tasks in a very flexible way. We usually find a middle ground when a certain rule is impossible to follow. In contrast, in Germany the working structure must be a 100 % in line with regulations and rules.
How would you describe the "ROHM spirit"?
ROHM is a highly diverse company – respecting different mentalities, beliefs, and origins. For example, in our Power Systems department alone, almost 90 % of our team has an intercultural background. I believe this diverse atmosphere increases creativity and enhances innovation a lot. That is a clear sign of a healthy work environment, and it has an important impact on the progression of the business.
Also, I experienced that everyone at ROHM is helping each other – working as ONE team. From day one, I received great support from different teams and colleagues within the scope off an intense and well-organized on-boarding program. This shows me that ROHM lives up to the "ONE ROHM Team Spirit" along with its employees.
Explore more about our activities in Europe: Electronics for the Future (rohm.com)
Interested in a career at ROHM? Visit our European career page: Jobs at ROHM Semiconductor GmbH (personio.de)