Back
Solving Challenges in the Logistics Industry with LiDAR
08/18/2023
The logistics industry is suffering from a serious labor shortage as demand continues to increase.
As such, a growing number of businesses are considering smart logistics systems using AGVs (Automated Guided Vehicles) and AMRs (Autonomous Mobile Robots). However, concerns are being raised regarding safety and system management.
In fact, high functional safety is required even with ISO as intelligent sensing technologies and modules that ensure safety are becoming indispensable.
ROHM's cutting-edge LiDAR technology that can sense at greater distances with higher precision while being less susceptible to sunlight noise is attracting attention with the aim of building safer, more secure smart logistics systems.
About Smart Logistics
Logistics systems are increasingly utilizing the latest IoT and AI technologies and data to both streamline and optimize logistics operations and transport and deliver cargo in a smarter, more sustainable way.
For example, driver assistance systems reduce the burden on the driver, improving safety. Also, collecting data in real-time using IoT technology could lead to more efficient delivery routes that enable faster delivery of more packages. And utilizing AGVs and AMRs to automate tasks such as handling and picking packages makes it possible to carry out logistics operations quickly and accurately without having to worry about labor shortages. Cutting-edge sensing technology comprises the core of smart logistics systems. While the volume of logistics continues to increase with the spread and expansion of e-commerce, serious labor shortages in the logistics industry have become the norm, resulting in longer working hours. The introduction of smart logistics systems is expected to help solve problems in the logistics industry by automating operations that save labor and increase efficiency, leading to reduced workloads, shorter working hours, and lower costs, but there are still several issues that need to be addressed before full-scale adoption can begin.
State-of-the-Art LiDAR (3D Distance Sensing) Technology that Supports Smart Logistics
LiDAR (Light Detection and Ranging) is emerging as an essential sensing technology for smart logistics.
LiDAR precisely measures the distance, shape, and position of an object by emitting a laser beam, reflecting it off the object, and measuring the time it takes for the light to return. It is also a critical component of SLAM (Simultaneous Localization and Mapping) technology that simultaneously self-locates and creates a map of the surrounding environment.
Adopting a good LiDAR provides the following advantages.
① Acquires high accuracy location information in real time
SLAM simultaneously performs self-localization and maps the surrounding environment based on information obtained from sensors. In the case of robots, the robot's location is first estimated and a map created based on this location. The map is then used to determine the robot's location more precisely.
Without SLAM, robots cannot recognize their surroundings nor act autonomously.
For example, when AGVs and AMRs are used to transport materials and inventory in the warehouse or deliver goods to the last mile of their destination, SLAM enables real-time detection of moving objects such as vehicles, pedestrians, and inventory, allowing for precise localization and tracking.
SLAM contributes to efficient and safe automation of picking, sorting, inventory control, and other tasks using robot arms by accurately determining their own position and the surrounding environment. In short, SLAM is an indispensable technology for achieving smart logistics systems.
The cornerstone of SLAM is state-of-the-art sensing technologies using LiDAR, cameras, and ToF. Among these, LiDAR which is characterized by superior range-finding accuracy and longer maximum detection distances is being increasingly used in AGVs and AMRs at logistics sites, where it is especially important to accurately determine the distances of objects in front as people, obstacles, and vehicles often come and go at a dizzying pace,
Advances in SLAM technology will further advance autonomous mobility systems to enable more intelligent smart logistics.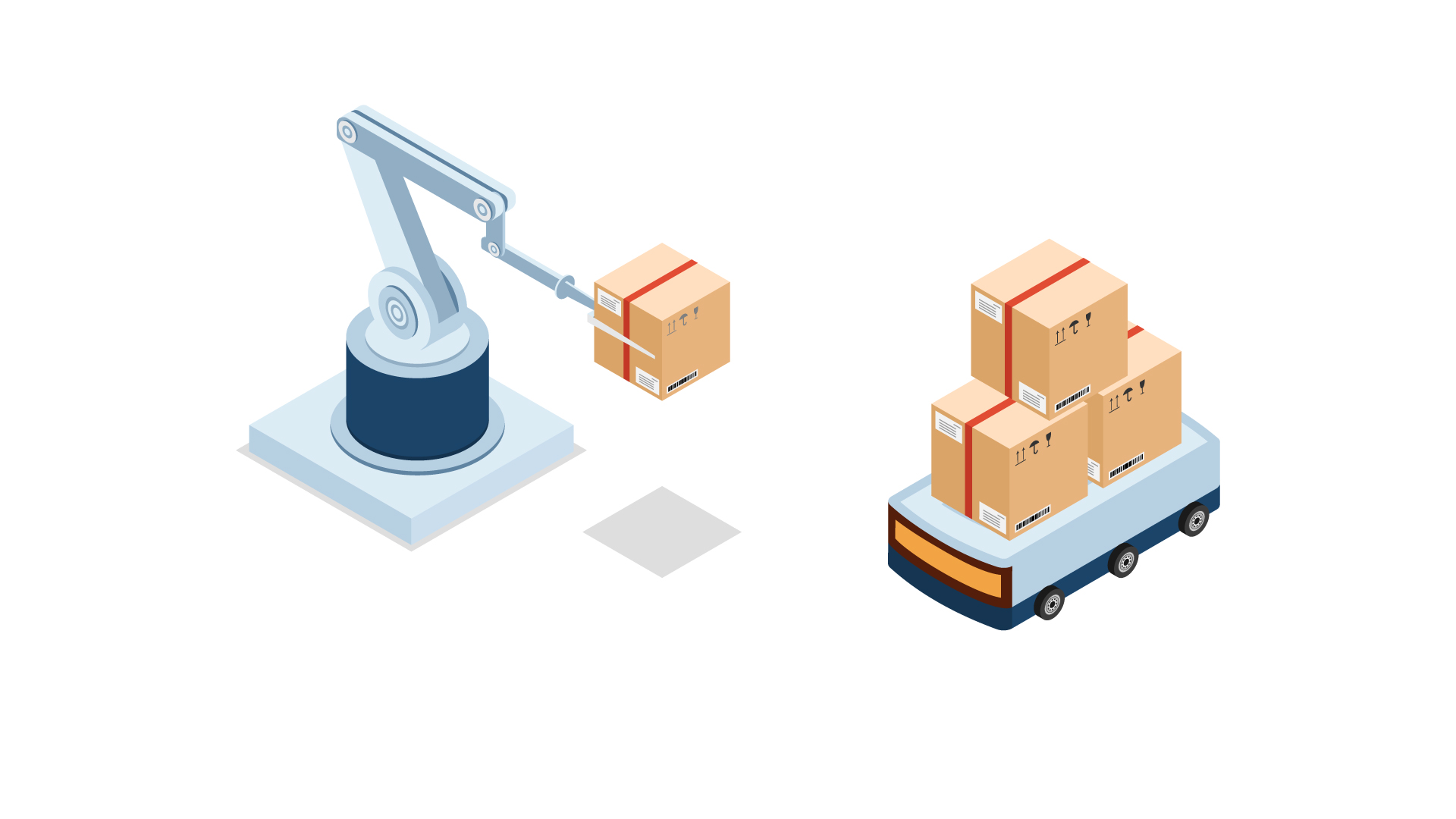 ② Enhances safety and security
Real-time detection of obstacles, hazards, and other potential risks can prevent collisions, accidents, and damage to goods and infrastructure. Additional uses include facility perimeter monitoring, intrusion detection, and security monitoring to improve the safety and security of the entire logistics system.
③ Improves efficiency and performance
Accurate real-time data on object position and orientation measured by LiDAR enables streamlined, optimized logistics operations. Supply chain visibility and traceability are also improved, helping to reduce labor costs and optimize resource allocation.
④ Contributes to sustainable logistics
Utilizing and analyzing data measured by LiDAR improves the efficiency of transportation, delivery, and loading. Fewer deliveries make it possible to support sustainable initiatives in all logistics operations, from labor/energy savings and lower exhaust emissions to accident prevention and the efficient utilization of resources.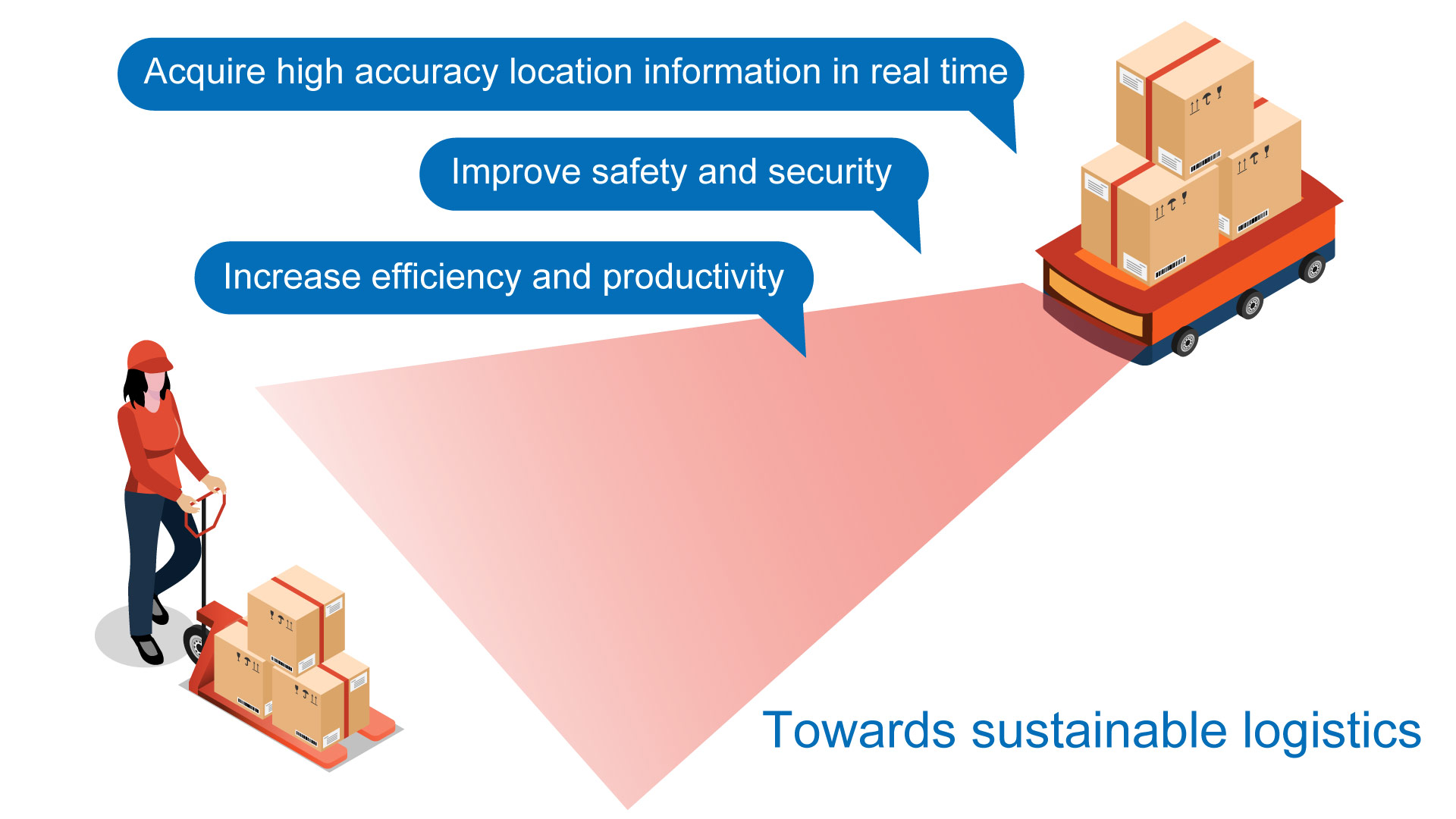 Five characteristics required of LiDAR
① Farther and more precise
Intelligent LiDAR technology is required to realize safer, more secure smart logistics services.
LiDAR is being introduced to supplement areas where cameras and radar cannot ensure safety, and the current trend is towards sensor fusion that combines camera + LiDAR and camera + radar + LiDAR.
What is demanded of LiDAR is the ability to detect farther objects in greater detail. Safe operation of AMRs, robots, and self-driving vehicles requires accurate detection of small faraway objects while maintaining a certain distance. What's more, it is necessary to recognize the movement of people and other equipment and estimate the drivable range.
Not only indoor, but outdoor operation must also be considered when using AGVs and AMRs as transport robots that move between buildings in factories and warehouses, or when employed as more advanced product delivery robots that are expected to interact with humans in more complex situations. In addition to reducing sunlight noise, it will be necessary to monitor traffic congestion, accurately map the surroundings when driving, and provide more detailed long-range sensing in adverse weather conditions under a variety of light sources and lighting conditions.
LiDAR utilizes an electromagnetic wavelength shorter than millimeter-wave that offers a variety of advantages, including higher spatial resolution for detection, superior measurement of the distance and position of faraway objects, and the ability to detect the orientation and shape of objects in 3D when combined with a scanning mirror.
② Reducing wavelength temperature dependence to just 1/3rd of standard products
The wavelength of laser diodes changes depending on temperature. ROHM's high power laser diodes have succeeded in reducing the temperature dependence of the oscillation wavelength to just 1/3rd that of standard products. This makes it possible to narrow the wavelength range of the sunlight cut filter, minimizing the effects of sunlight (noise) while extending range at the same light output or reducing light output (power consumption) at the same distance.
③ High-power laser diodes that achieve 'higher resolution'
The key to detecting more distant objects in greater detail is focusing light into a smaller area. ROHM's high power laser diodes utilize original technology to achieve a narrow emission width.
A high-density laser using a lens to converge light enables stronger, farther sensing that extends the measurement range compared to typical laser diodes.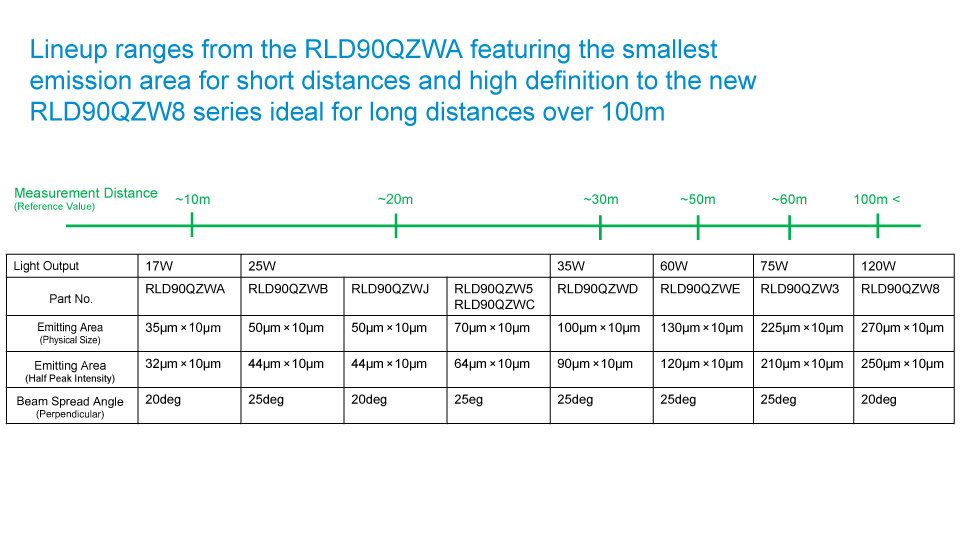 ④ 2 LiDAR technologies
ROHM is one of the few manufacturers that possess both high power laser diode and VCSEL technologies, allowing us to offer flexible solutions tailored to customer applications, needs, and problems.
⑤ Delivering even more intelligent LiDAR solutions
Combining GaN devices featuring excellent switching characteristics makes it possible to further improve the distance resolution and measurement range of LiDAR. GaN devices can be used to drive lasers with ultra-fine pulses of around 1ns, which cannot be achieved with conventional silicon. A 1ns time shift corresponds to a distance gap of 30cm, so a thicker pulse width prevents accurate distance sensing, but GaN devices can overcome this challenge. At the same time, the shorter time for current flow means less heat is generated, allowing higher currents to be driven that enables measurement over longer distances. ROHM has already established a mass production system for GaN devices and provides solutions such as gate driver ICs capable of high-speed control for maximizing performance. Reference designs and boards for the 2 types of laser diode driver circuits are also available that can help reduce design load.
The Future of Smart Logistics
Until now, most AGVs used in the logistics industry mainly ran on magnetic tape. Today, however, AMRs that can move freely and interact with people are being introduced and considered, with efficiency improvements through automation and labor savings expected to progress even further.
Logistics systems where humans and machines work together
LiDAR is indispensable to achieving logistics systems in which humans and machines can work together, and where functional safety is properly ensured. As strict functional safety is also required by ISO, laser diodes with low wavelength temperature dependence that are particularly resistant to the effects of sunlight (UV rays) are necessary for outdoor use.
ROHM high power laser diodes feature low wavelength temperature dependence, and when combined with a sunlight cut filter with narrow wavelength range minimizes sunlight noise, providing higher detection power and longer measurement distances vs conventional LiDAR. Utilizing ROHM's intelligent sensing solutions makes it possible to develop even higher performance equipment that improve efficiency over AMR, contributing to safer, more secure advanced smart logistics systems.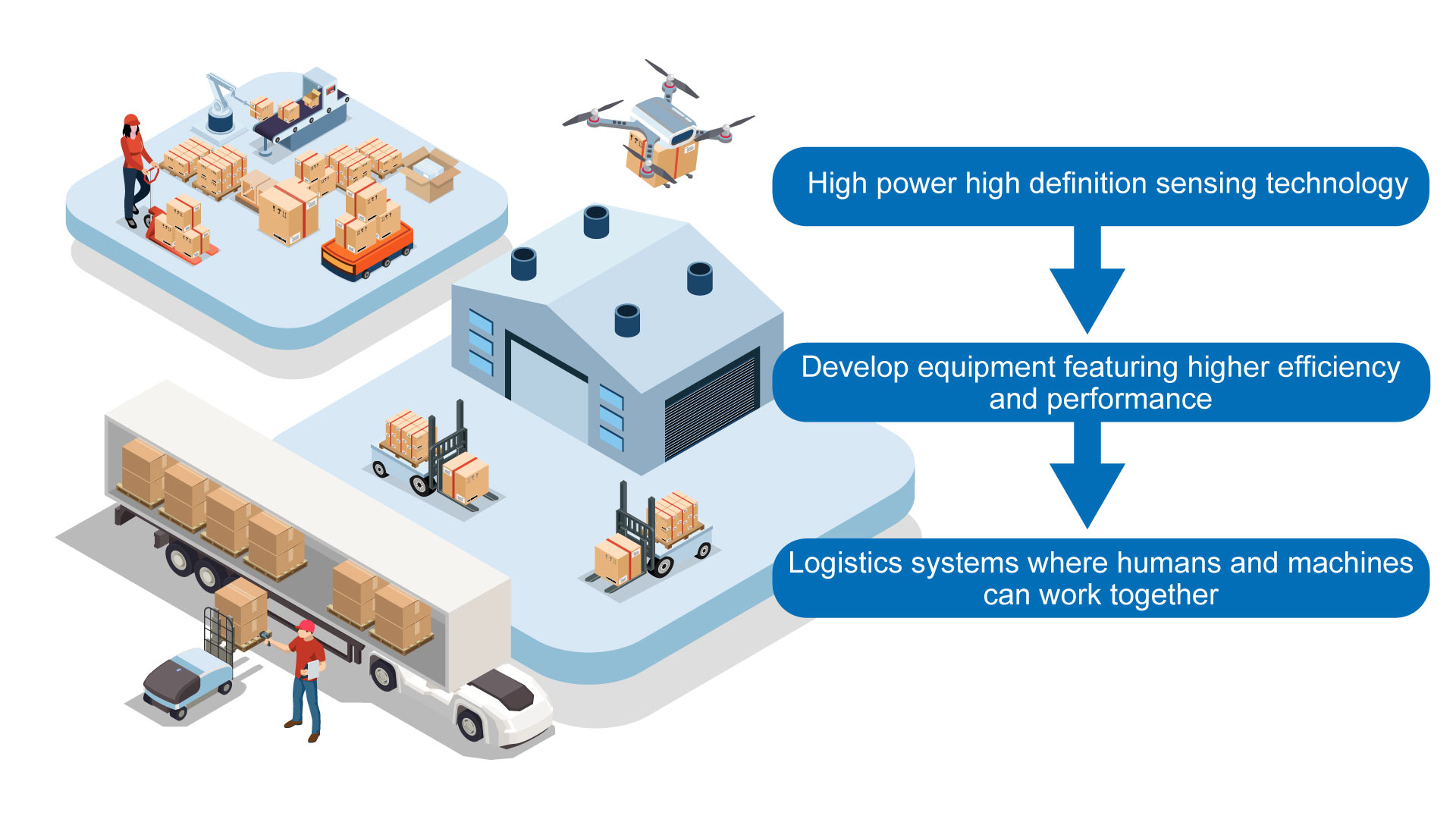 Towards smarter, more effective logistics systems
ROHM proposes sensing solutions including other semiconductor solutions that meet customer needs by communicating closely with logistics sites to share requests and problems. This contributes to more effective smart logistics.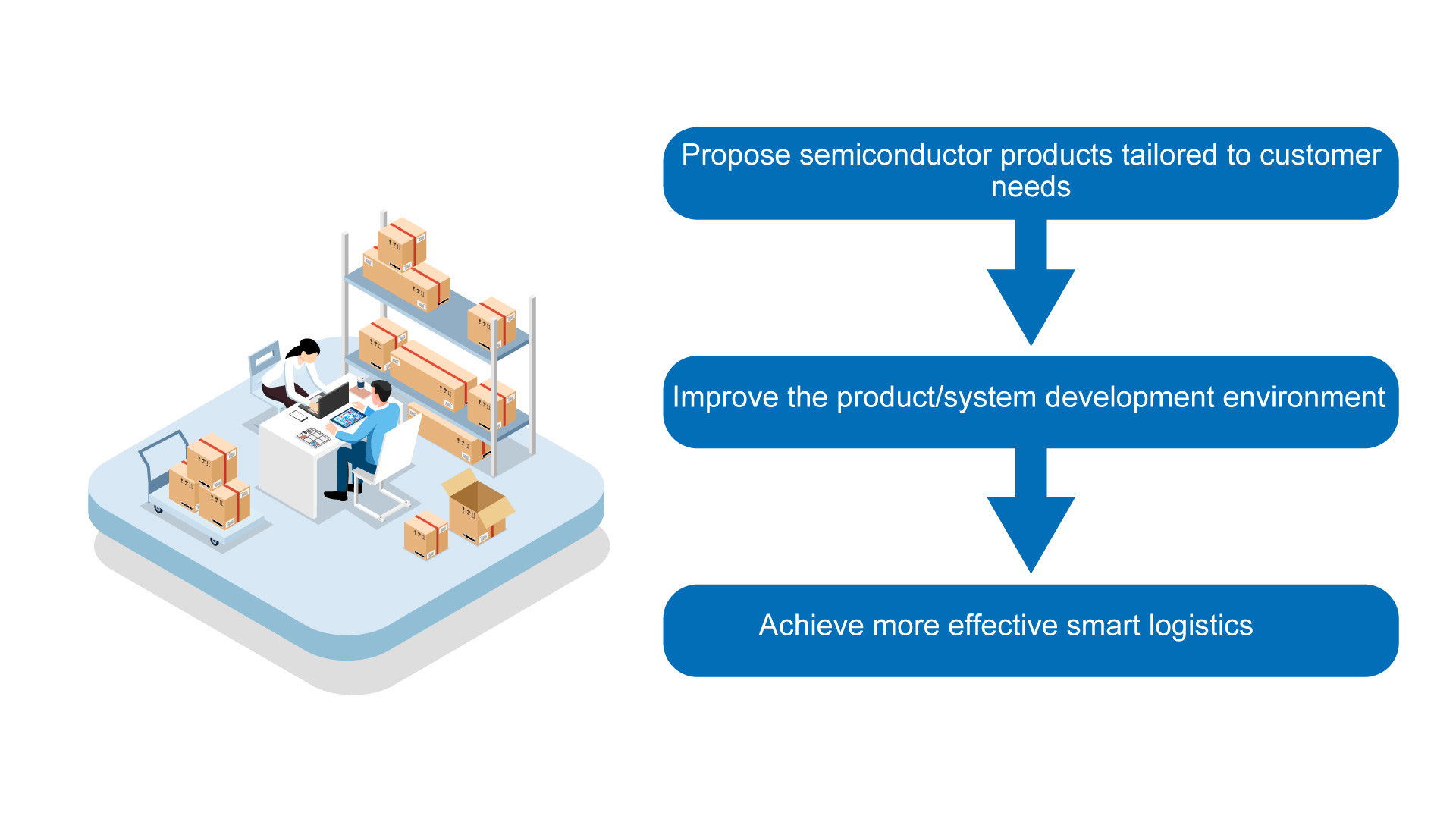 One-stop solutions for logistics sites
In addition to high-power laser diodes, GaN devices, and gate driver ICs mentioned above, ROHM offers a one-stop-shop of services from development to support, offering total solutions that combine a variety of power devices (i.e. Si MOSFETs and IGBTs , SiC products ) with power supply / motor driver ICs , wireless communication , and LEDs that make efficient use of limited battery power.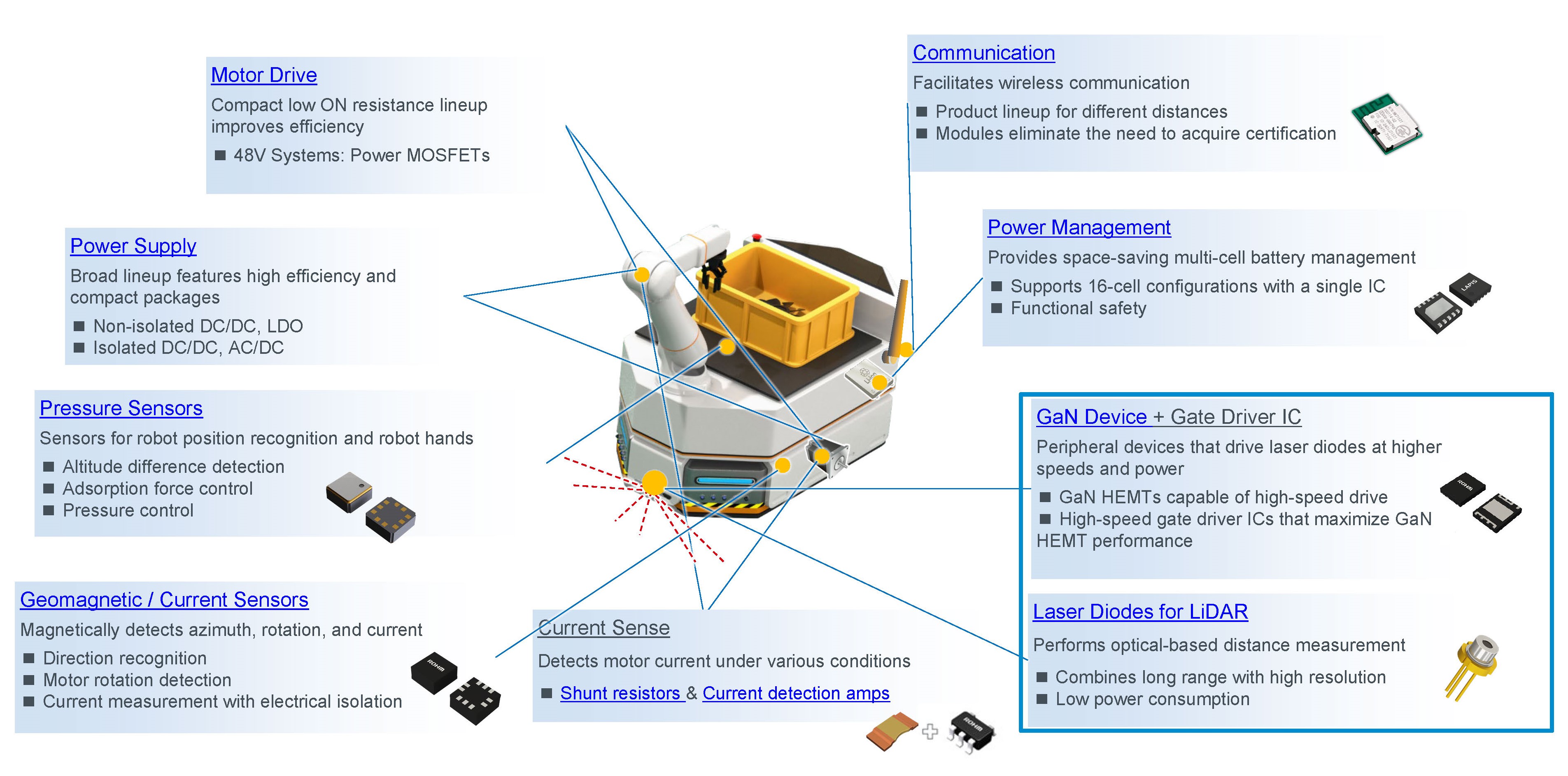 Summary
ROHM offers not only superior LiDAR technology indispensable for achieving smart logistics, but can also help customers solve equipment development problems related to sensors and motor drive with original intelligent energy saving and network technologies.
Product Information and Related Links
High-Power Laser Diode High-Speed Drive EcoGAN™ and High-Speed Gate Driver Reference Design for LiDAR REFLD002
GaN HEMT Laser-Driven Reference Design for High Resolution LiDAR Applications
Powering Industrial Innovations: Industrial Equipment Pioneered by Semiconductors
Industrial Equipment Pioneered by LiDAR 【Satoru Oyama×ROHM Conversational Video】