Back
Local customer support: Insights into ROHM's Spanish office"We feel under the umbrella of a good and serious company"
09/15/2021
Since its foundation, "Quality First" is ROHM's main mission. Jaime Manent, Office Manager for ROHM Iberia, explains what it takes to be successful on the Spanish market.
​​​​​Jaime, thanks for being part of our local support blog series. First of all, could you please briefly describe your position? What are your key tasks and how does your personal career path at ROHM look like so far?
Sure, I have been working as the Office Manager for ROHM Iberia (Spain and Portugal) for the last 28 years and my wish would be to collaborate at least another 28 years together with my lovely colleagues! Mainly, I am supporting our direct customers and distributors. It is a very fulfilling job, thanks to the very friendly and loyal cooperation with my local team and the rest of our global organization – and of course the good team atmosphere drive created by my direct boss Pierre Cotte, Sales Director France, Spain and Portugal at ROHM.
​​​​​​​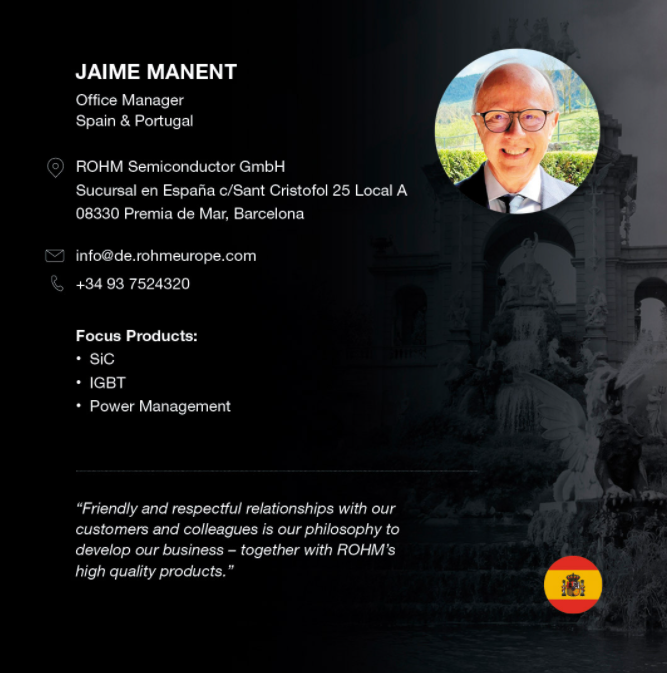 Could you please describe your local team in Spain?
Our team in Spain currently consists of five team members, including me. Two of them are responsible for sales and the other three are in-house sales coordinators. Our in-house coordinators are one of our most important assets to keep customer satisfaction at the highest possible level. They are the first in line to support our customers. Overall, our entire team is working together closely – speaking with one voice.
How would you describe the special spirit of ROHM's Spanish location?
Our office is located 25 kilometers away from Barcelona. It is a small town called Premia de Mar – on the seaside. We are well connected with good highway connections and public transports, which is good and convenient for our business.
Barcelona is an important business city, well known everywhere where many of our customers are located. From here, we establish and maintain friendly and respectful relationships with our local customers and all company colleagues. This way, we develop our business – together with ROHM's high quality products.
What do you and your local team enjoy about working for ROHM?
Most of all, we feel the umbrella of a good and serious company. The proof is that I have been with ROHM for 28 years, as I mentioned before. Two of my colleagues have been working for ROHM since 22 and 16 years respectively. Another colleague has worked for one of our key customers before he joined ROHM. I think this is the evidence that we enjoy working at ROHM. Also, our team oftentimes feels like a family – being close to each other when necessary, at any time.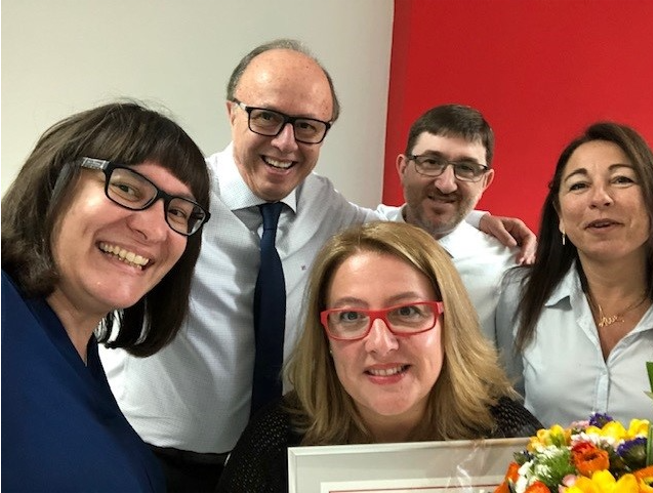 ROHM's Spanish team is working near Barcelona.
​​​​​​​
What exactly do you like about ROHM's culture?
Since I have been with ROHM for many years I sometimes get totally absorbed in the Japanese culture – I even feel a little bit Japanese 😉. I like to learn from our Headquarter colleagues. For example, we do all things with transparency – to offer a maximum level of traceability – both internally and externally to our customers in order to demonstrate our reliability.
Which are the products ROHM Spain is currently focusing on?
Our primary focus is on power management and power devices, for example, in the field of high-power devices. We mainly serve the automotive market but also offer industrial applications such as solar inverters and charging stations which are growing markets to secure our future business.
What are the typical challenges that your local customers need your help with?
Generally, our customers request our support regarding new developments, for example when they search for new parts to fit into their application. Additionally, they look for design advantages and equipment cost savings. Furthermore, they seek product integration for the reduction of external parts for their value analysis. Also, we are collaborating in our customers' design developments with the support of our technical products experts. ROHM's close tech support as well as its quality assurance and logistics teams contribute to win our customers' confidence in our products and services.
In one sentence, what do you presently associate with ROHM's values? What does ROHM mean for you?
Personally, ROHM means my life! On top, my job credo is reflected in our company's mission: Quality is our top priority at all times. This is what I always have in mind when representing ROHM. To give you an example: Our quality department is ready to reply to our customers on short notice to analyze and to exchange information continuously. Besides, ROHM's sales team is also ready to jump into action by starting to further discuss on urgent topics with our customers. That is what I mean: Quality doesn't only revolve around the quality of our products – but ROHM 's quality is related to all business processes, including customer service.
You would like to explore more facets regarding ROHM's European business activities? Visit our 50th Anniversary Landing Page: https://www.rohm.com/eu-fiftieth-anniversary