Totem-Pole Bridgeless PFC (Diode Rectification)
Description
It consists of an inductor for boosting, a switch with a totem pole connection for switching at higher frequencies, and a switching diode for lower frequencies. The switch acts as a boost converter when the input voltage is positive and negative half cycle respectively. The totem pole structure solves the recovery loss problem of rectifier diodes.
Overview
- Single stage PFC
- Low frequency leg with FRDs for reduced costs
- Efficiency higher than 98.5%
- Frequency from 48 to 150 kHz
Circuit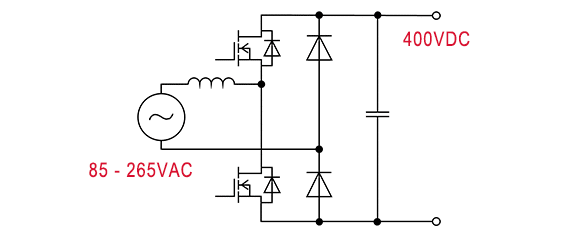 Key Products
Product Category
Product family
Product Number
Feature
Transistor
750V SiC MOSFET
SCT4XXXDx series

NEW

The latest SiC MOSFET device. Enhanced low on-resistance enable best in class performance. It supports 750 V withstand voltage, ensuring a higher operating margin than conventional products, and can be used safely.
650V SiC MOSFET
SCT3xxxAx series
Trench-gate SiC MOSFET with low on-resistance (50% reduction) compared to conventional products.
Diodes
650V Si FRD
RFS series
Lower Vf than RSV series, but ultra fast switching capability
RFL series
Improve fast switching capability than RFN series.
Diodes
600 V Si FRD
RFN series / RFNL Series
The low Vf type FRD is suitable for rectification, and achieves low loss even at high current.
Gate Driver
 
BM60212FV-C
High side/low side driver with high withstand voltage (1200V). A mirror clamp function and under voltage lockout function (UVLO) are built in.
 
BM61X4XRFV
1ch configuration, 3,750Vrms isolated type Gate Driver, can be used for switching devices with current source pins.
Simulation
Related Topologies