SML-D22MUW
2-color type mini-mold chip LED
Original device technology enables high brightness and high reliability.
Product Detail
Part Number
|
SML-D22MUWT86
Minimum Package Quantity
|
3000
Specifications:
Package Type
Dual Color / Mini-mold
Package size[mm]
1.6x0.8 (t=0.55)
Emitting color
Yellowish-Green / Red
Dominant wave-length λD(Multi)(Typ.)[nm]
570 / 620
Number of Brightness Rank
4
Luminous Intensity(Multi)(Typ.)[mcd]
10 / 16
Forward Voltage VF (Typ.) [V]
2
Power Dissipation [mW]
67 / 65
Operating Temperature[°C]
-40 to 105
Storage Temperature [°C]
-40 to 110
Broad chip LED lineup.
ROHM's SML-D2 series integrates 2 colors in a compact 1608 package - the same size as conventional single-color chip LEDs.
Key Features
Class-leading compact size contributes to smaller, thinner devices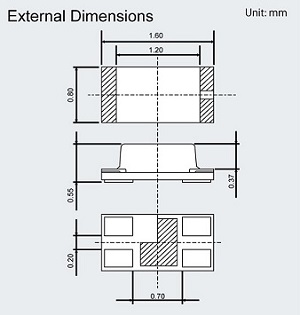 In addition to element miniaturization, the SML-D2 series leverages PICOLED ® *1)mounting and wire bonding*2)technologies to mount 2 chips (red and green) in a compact 1.6 x 0.8mm package – the same size as conventional single-color LEDs.
Also, the extremely close configuration of color elements results in excellent color mixing properties that make it possible to produce not only red and green colors, but a number of intermediate colors as well.
Solder penetration countermeasure ensures superior reliability

Incorporating a stopper called a 'resist' before the gold plating process blocks the gold pattern (that features good wettability).
This prevents solder penetration into the resin, eliminating failures due to short-circuits and contributing to greater reliability.
Backside electrode configuration supports high-resolution display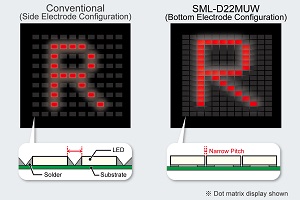 Adopting a backside electrode design allows mounting in narrow spaces, enabling high-definition display in dot matrix and other applications.
Lineup
Part No.
Forward Current
IF(mA)
Forward Voltage
VF(V)
Emission Wavelength
λD(nm)
Light Intensity
IV(mcd)

NEW

SML-D22MUW
5
2.0
570
10
5
1.9
620
16
☆ SML-D22YVW
5
2.0
588
25
5
1.85
629
16
☆:Under development

※Different color combinations can be considered
※The products are under development and therefore the specifications may change without notice
Applications
Consumer Electronics
Home Appliances
FA
<Terminology>
*1) PICOLED®
ROHM's ultra-compact LEDs ideal for portable equipment such as wearables and mobile devices.
*2) Wire Bonding
The process of mounting a chip directly on a substrate and connecting gold, aluminum, or copper wires.
Design Resources
Documents
White Paper
ROHM Automotive Lighting Solutions
Technical Articles
Schematic Design & Verification
About LED Devices
How to read LED characteristics data
About LED Package
About LED Parallel Circuits
Relationship between Recommended LED Soldering Pattern and Solder Amount
Electrostatic Breakdown of LEDs
Chromaticity Classification of LEDs in RGB Color Mixing
Degradation of luminous intensity of blue and white products due to long-term use of LEDs
Relationship between LED Chip Position and Directivity
About LED Optical Unit
The relationship between LED luminous intensity and luminous flux
LED Manual
Thermal Design
Thermal Resistance of LEDs
Tools
Models
SML-D22MUW SPICE Model
SML-D22MUW Ray File
2D/3D/CAD
SML-D22MUW 3D STEP Data
Parasolid X_T File
3D eDrawings Data
Characteristics Data
Electrical Static Discharge (ESD)
Packaging & Quality
Manufacturing Data
Reliability Test Result
Factory Information
Environmental Data
About Flammability of Materials
Compliance of the ELV directive
MSDS
About Non-use SVHC under Reach Regulation : Please contact us by filling in the form.
Compliance of the RoHS / ELV directive