CSL1901DW (New)
Low Current Emission Type, Orange Surface Mount Chip LED
CSL1901DW (New)
Low Current Emission Type, Orange Surface Mount Chip LED
Orange Surface Mount Chip LEDs featuring AlGaInP packed with milky white diffused resin.


Product Detail
Minimum Package Quantity
|
5000
Specifications:
Application
Home Appliance, Industrial Equipment
Package size[mm]
1.6x0.8 (t=0.55)
Luminous Intensity(Single)(Typ.)[mcd]
9.4
Number of Brightness Rank
3
Dominant wave-length λD(Single)(Typ.)[nm]
605
Forward Voltage VF (Typ.) [V]
1.8
Power Dissipation [mW]
44
Operating Temperature[°C]
-40 to 85
Storage Temperature [°C]
-40 to 100
Find Similar
Features:
Source of light for display unit.
Overview
The CSL1901 series reduces visual variations in brightness and color under low-light conditions by optimizing element characteristics of light emission at 2mA using original device technology. In general, when operating standard LEDs, which guaranteed specification at 20mA, at low currents results in brightness and color differences that vary from part to part. Compared to existing products (at 2mA), the CSL1901 series reduces brightness variations by half and color sifting by 3nm, minimizing design man-hours required for light emission while improving visibility in indicators and numeric displays.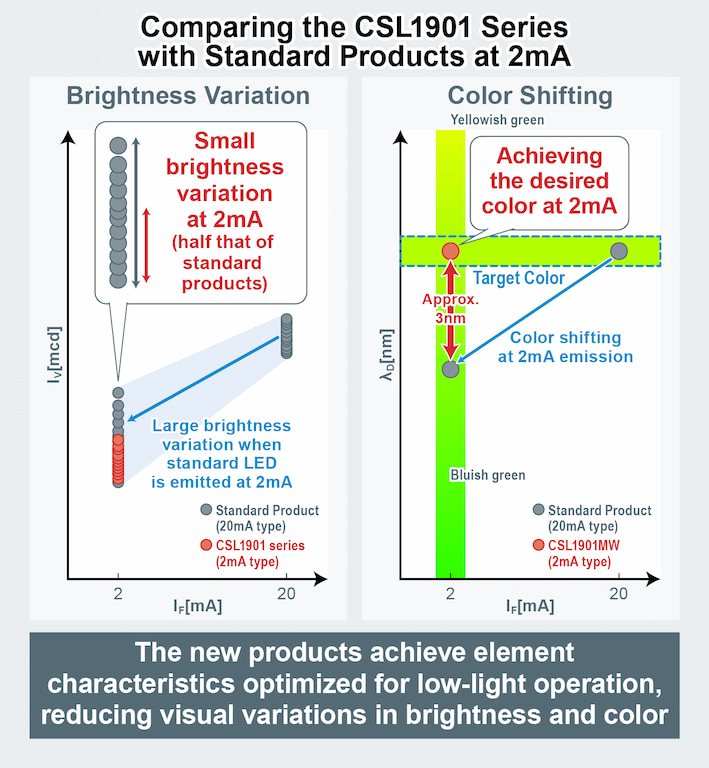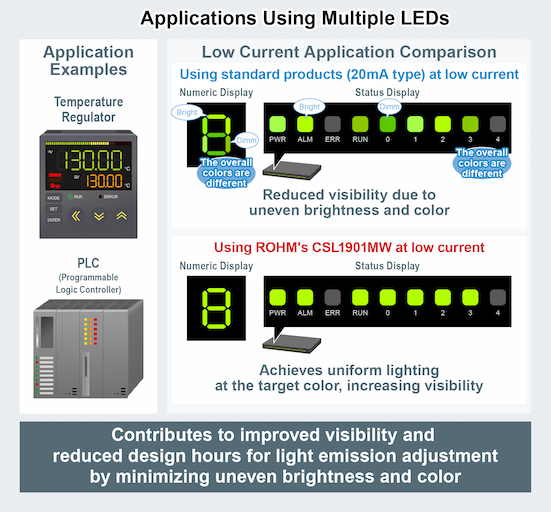 Target Applications
・ Indicators and numeric displays in a variety of applications
- FA (Factory Automation) equipment (PLC and other control devices)
- Machine tools, manufacturing/inspection equipment
- Communication control devices such as modems and routers