The Industry's First Mass-Produced "Full SiC" Power Modules
Switching loss reduced by 85% for minimal power consumption in industrial equipment
2012-03-22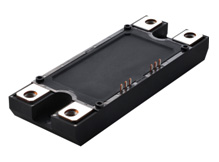 ROHM has recently announced the first mass production of SiC power modules (1200V/100A rated) comprised entirely of SiC power elements. Incorporating SiC inverters and converters for power conversion in industrial equipment provides a number of advantages over typical silicon-based IGBT modules:
● Switching loss reduced by 85%
● Approximately 50% less volume compared with conventional 400A-class Si IGBT modules
● Less heat generation due to lower power loss, reducing the size and complexity of cooling countermeasures – contributing to greater end-product miniaturization.
These new modules are also expected to make major strides towards addressing global environmental issues, including greenhouse emissions and resource shortages.
SiC technology is expected to have a significant impact in the power electronics sector (e.g. industrial equipment, solar cells, electric cars, and trains) due to its superior material properties (i.e. smaller power conversion loss) compared with silicon (Si). In fact, it is estimated that if all conventional Si semiconductors were replaced with SiC in Japan alone, the energy savings would be equivalent to 4 nuclear power plants*2. In response to this, ROHM has been working continuously for a number of years on developing SiC products and in 2010 was the first supplier in the world to successfully mass produce SiC SBDs and MOSFETs.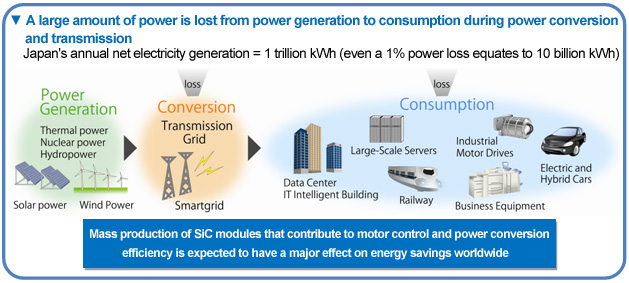 *1: March 2012 ROHM study
*2: Engineering Advancement Association of Japan study: Introducing SiC Power Devices in Key Areas in Japan by 2020
(Calculated by estimating the energy production of a 1 million kW-class nuclear power plant as being 8.8TWh per year)
Development of "full SiC" modules for use in power devices, however, has been impossible up to now despite significant efforts by several semiconductor manufacturers due to unstable reliability at high temperatures. ROHM was able to overcome these problems by developing unique screening methods and defect suppression technology that guarantees reliability, as well as a control system that prevents characteristics deterioration at high temperatures (up to 1700°C), making it possible to establish the industry's first mass production system for SiC power modules.
The new modules integrate a state-of-the-art dual-element SiC SBD/ SiC MOSFET pair that reduces loss during power conversion by 85% compared with conventional Si IGBT modules. In addition, high-frequency operation of at least 100kHz – more than 10 times greater than IGBT modules – is possible. And although the modules are rated at 100A, their high-speed switching capability, reduced loss, and improved heat dissipation characteristics make them the ideal replacements for 200-400A Si-IGBT modules. Replacing a conventional 400A-class IGBT can cut volume by 50%, and the lower heat generated requires less cooling countermeasures, contributing significantly to end-product miniaturization.
Mass production (and shipment) is scheduled to begin at the end of March.
Key Features
1) Switching loss reduced by 85%
Integrating cutting-edge SiC SBD and MOSFET elements cuts switching loss by 85% compared with conventional Si IGBTs
2) Compact, low-profile package


Improved design and processes ensure excellent heat dissipation characteristics, contributing to device miniaturization.



Circuit Diagram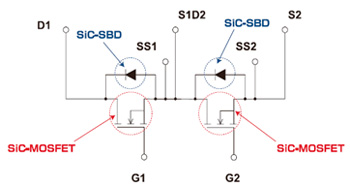 Terminology
IGBT (Insulated Gate Bipolar Transistor)
A bipolar transistor that incorporates a MOSFET at the gate.
MOSFET (Metal Oxide Semiconductor Field Effect Transistor)
The most common type of FET. Primarily used as switching elements.
SBD (Schottky Barrier Diode)
A diode that possesses rectifying properties due to the Schottky junction formed by contact between a metal and semiconductor. The absence of the minority carrier storage effect gives the diode excellent high-speed characteristics.