July 18th, 2023
ROHM ranks globally among the best suppliers of Bosch, the supplier of technology and services, and thus has been honored with a Bosch Global Supplier Award. ROHM received the award in the category "Sustainability". From its roughly 35,000 suppliers, Bosch singled out 46 suppliers from eleven countries for an award. This is the 18th time that the Bosch Group has rewarded outstanding performance by its suppliers in the manufacture and supply of raw materials, products, or services – notably as concerns quality, costs, sustainability, and innovation.
"A functioning economy needs robust supply chains. To ensure this, we and our suppliers deliver top performance on a daily basis – from the innovation phase to production to aftermarket deliveries," says Dr. Arne Flemming, Head of Supply Chain management at Bosch.
"We feel honored to have received a Bosch Global Supplier award for the third time. It reflects ROHM's strong, reliable and long-term partnership with Bosch," states Wolfram Harnack, President at ROHM Semiconductor Europe.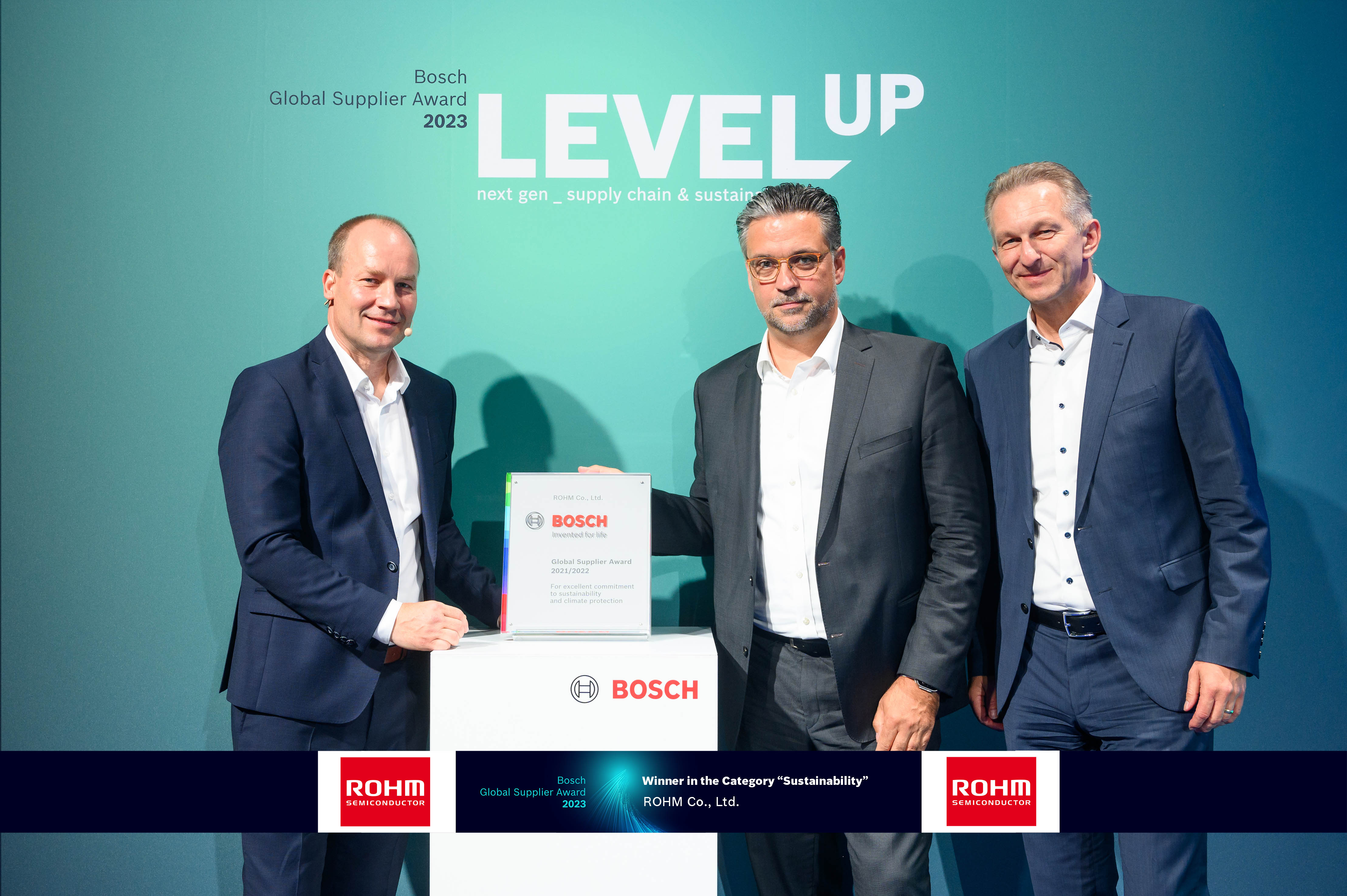 Dr. Arne Flemming (l.), Senior Vice President Corporate Supply Chain Management and Global Logistics Services at Bosch – and Host of the Event Bosch Global Supplier Award 2023 –
and Mr. Lutz Berg (r.), Executive Vice President and Head of the Mobility Solutions Purchasing Direct Materials at Bosch, present the Bosch Global Supplier Award 2023 to Wolfram Harnack, President at ROHM Semiconductor Europe.
​​​​​​​
About the Bosch Global Supplier Award:
Every two years, Bosch honors the pick of its suppliers from around the world with the Bosch Global Supplier Award. The supplier of technology and services rewards outstanding performance in the manufacture and supply of raw materials, products, and services. Based on a range of criteria, award-winners are selected in the categories "Purchasing of indirect materials and services," and "Raw materials and components". Bosch has been presenting these awards to honor supplier excellence since 1987, and they are highly regarded in the industry. In the special "Sustainability" category, an interdisciplinary jury evaluates suppliers' achievements with respect to sustainability. The finalists in this category have a rating of at least A- in the prestigious Carbon Disclosure Project (CDP) and are exemplary in their commitment to climate neutrality.
"Sustainable supply chains strengthen global prosperity and benefit society. We especially honor our suppliers' commitment to climate action with an award in the special 'Sustainability' category," explains Dr. Arne Flemming.
"ROHM has set up 'The ROHM Group Environmental Vision 2050' to make a strong commitment – in order to shape the environment into a sustainable society for future generations. To realize this, we have set three important themes: climate change, resource recycling, and coexistence with nature," adds Wolfram Harnack.
About supplier partnerships at Bosch:
For Bosch, suppliers are also partners in development and innovation who help the company stay competitive and meet sustainability targets. Bosch cultivates long-term relationships with its suppliers so that both parties can pursue and achieve these aims together. Partners who are willing to collaborate closely with the company can be involved at an early stage in strategies and development projects and gain useful insights into future requirements. The partnerships between suppliers and Bosch also strengthen global supply chain resilience. At the same time, they form an important basis for a functioning economy.
Bosch works with suppliers in some 60 countries. The company obtains materials and services from roughly 35,000 suppliers worldwide. The acquisition of components – mostly in the form of semi-finished products and finished parts – accounts for most of the resources used in the supply chain. In addition, Bosch buys raw materials, resale goods, software, services, and operating equipment. In 2022, the Bosch Group's purchasing volume amounted roughly 50 billion euros.