Kyoto and Santa Clara, California, – June 19, 2018 – ROHM is showcasing ROHM Group Sensor Technologies for applications such as 'Employee Location Management System' and 'Inventory Management System' at Sensors Expo, which is held at the McEnery Convention Center in San Jose, California from June 26 to 28, 2018.
In recent years, the demand for systems using sensors and wireless communication to manage and optimize factory and office operations by monitoring different environmental parameters, motion and position of people or objects is increasing. The systems in display use newly-developed multi-sensor beacons and algorithm to improve the accuracy of position detection using a beacon signal. This multi-sensor beacon includes ROHM Pressure Sensor IC BM1383AGLV, Geomagnetic Sensor IC BM1422AGMV, Hall IC BU52058GWZ, Ambient Light Sensor IC BH1721FVC and Kionix Accelerometer, KX126-1063. In addition to sensor devices, LAPIS Semiconductor low power MCU ML620Q504 and Bluetooth® Low Energy module MK71251-01 are used, thus contributing to achieve a very-low-power high-accuracy system.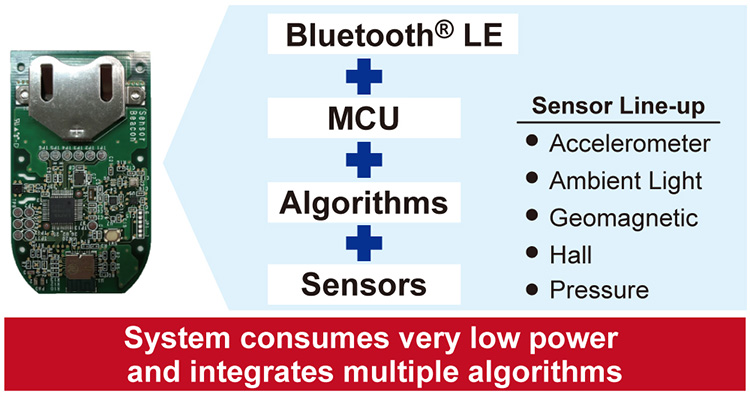 1) Employee Location Management System
Until recently, beacons and gateways have been used as systems to monitor employee location in factories. However, such systems estimate the employee location by using only the intensity of the signal from the beacons. Consequently, accurate location remained a challenge due to variance in signal strength and external noise. Therefore, ROHM developed a new algorithm that uses data from an accelerometer to detect not only whether a person is walking or running, but also whether that person is sitting or standing. Combining this algorithm with the location estimation based on signal intensity of the beacon makes it possible to recognize the employee location with improved accuracy. At Sensors Expo, ROHM will demonstrate the employee location management application.
ROHM will continue striving to improve the working environment by enabling to monitor the employee's direction of motion using a geomagnetic sensor, and to monitor their surrounding environment with ambient light sensor.
2) Inventory Management System
IoT and Automation are advancing in applications to track inventory status, and more accurate position detection is required.
On the other hand, the challenge of using a beacon signal with Bluetooth® Low Energy has been that it does not allow detection of whether the item is horizontal or vertical. To address this challenge, ROHM developed an algorithm that uses data from a pressure sensor and an accelerometer to calculate altitude and to reduce the impact of external noise such as draft created by air conditioners. This enables to detect exactly not only the location of the package but also which shelf it is on, and therefore enable inventory management systems with improve accuracy. At this Sensors Expo, ROHM will demonstrate an inventory management application using this solution.
ROHM will continue to improve inventory management systems by using additional sensors such as Hall IC.

Sensors Expo 2018
Dates: June 26-28, 2018
Location: The McEnery Convention Center, San Jose, CA
Booth number: 516
About: Sensors Expo & Conference has established itself as North America's premier event focused exclusively on sensors and sensor-integrated systems.
For more details, please click here.