The Industry's First Power Supply ICs for High-Fidelity Audio
Improves audio quality from power supply lines by combining proprietary analog and sound reproduction technologies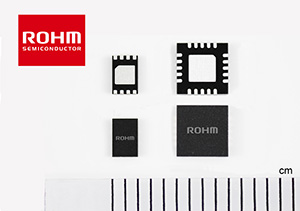 *ROHM March 20, 2018 study
Kyoto and Santa Clara, Calif., – March 20, 2018 – ROHM has recently announced the availability of high-fidelity power supply ICs optimized for audio devices requiring high-resolution playback. The BD372xx series are the first audio power supply ICs to combine leading-edge analog and sound reproduction technologies. In addition to integrating a newly developed fast response error amp circuit and low-noise architecture, multiple parameters that were shown to affect audio quality in the development and manufacturing processes were optimized via real-world listening tests, resulting in industry-leading performance in all key characteristics (voltage stability, noise level, and power supply symmetry) required by power supplies for audio equipment.
In recent years, the popularization of high-resolution audio sources has increased the demand for audio components and devices that can provide even more accurate sound reproduction. At the same time, the power supplied to audio equipment has a significant effect on sound quality. As such the power supply IC plays an important role in supplying clean power with minimal voltage fluctuation and noise. Providing clean power involves optimizing 3 key characteristics: voltage stability, noise level, and symmetry between positive and negative power supplies. However, until now there has not been an IC capable of meeting these needs, presenting an obstacle in achieving higher sound quality.
In response, ROHM has developed the industry's first audio power supply ICs that excels in all 3 characteristics by combining proprietary power supply analog design technology that leverages power processes with audio quality expertise. The result is a very clean power supply compared with conventional solutions, making it possible to achieve higher audio quality; including improved sound imaging (location and distance of sound source) and resolution (realism and depth).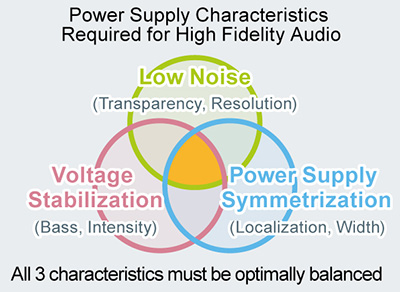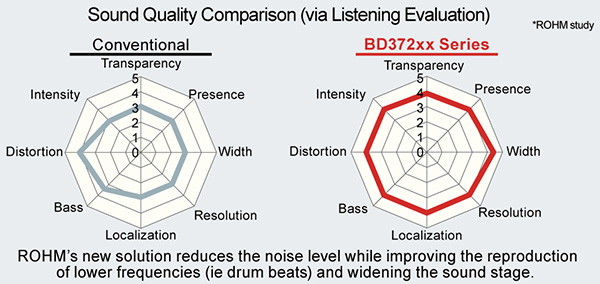 Availability: Now (Samples), June 2018 (OEM Quantities)
Key Features
1.Delivers higher sound quality by providing clean power
a) Improved voltage stabilization
Incorporating a newly developed error amp circuit capable of high-speed response over a wide band minimizes the effects of input voltage/output current fluctuations on the output voltage. The result is more faithful reproduction at the lower (bass) frequencies.
b) Reduced noise
Class-leading low noise is achieved by adopting a low-noise architecture that suppresses noise generated within the IC (4.6µVrms, 50x lower than conventional). This eliminates the influence of noise to deliver clearer sound with superior transparency.
c) Power supply symmetrization
Besides positive power supply ICs, a negative type is offered that can be configured to achieve ideal symmetry in characteristics when used together. This makes it possible to improve sound image localization and expand the sound stage.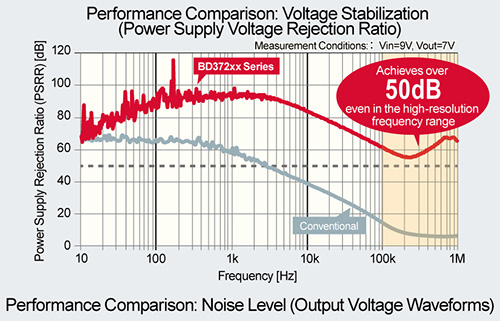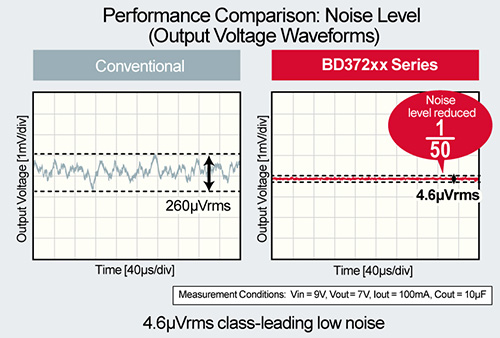 2.Lineup optimized for high-fidelity audio equipment
The BD37201NUX is ideal for low-voltage digital devices such as DACs and DSPs, while the BD37210MUV (positive power supply) and BD37215MUV (negative power supply) are optimized for analog devices (i.e. sound processors, current-voltage conversion amps) that operate using both positive and negative voltage supplies.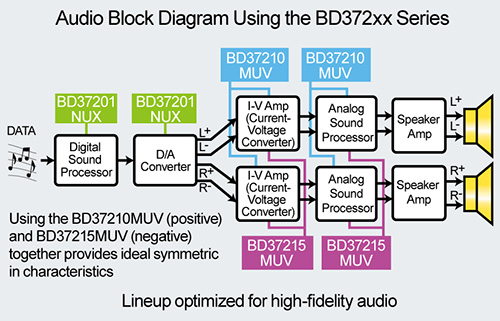 Applications
Hi-Fi audio systems, portables, home audio, wireless speakers, and other equipment requiring high fidelity playback