July 1st, 2020
New high-speed CMOS op amp ideal for anomaly detection added to high noise immunity EMARMOUR™ series
ROHM recently announced a high-speed ground sense CMOS op amp, BD77501G, optimized for industrial and consumer equipment requiring high-speed sensing, such as anomaly detection systems used in measurement and control equipment along with sensors that work with very small signals.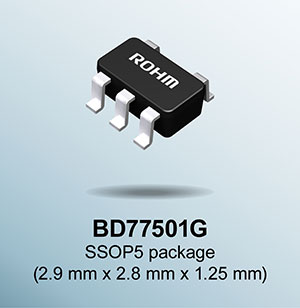 The proliferation of IoT in recent years has led to a significant increase in the number of electronic components used for advanced control in a variety of automotive and industrial applications. Among these, op amps are used and are capable of quickly amplifying minute sensor signals in anomaly detection systems that provide safety. However, board design can become problematic as conventional high-speed op amps are susceptible to oscillation due to capacitive loads (i.e. from wiring). At the same time, degradation of the noise environment resulting from increased electrification and mounting density is making it extremely difficult to implement noise design for small-signal devices.
In response, ROHM developed the EMARMOUR™ series of op amps and comparators*1 that have been well-received in the automotive and industrial markets due to its superior noise immunity that allows users to reduce design resources to address noise issues. This time, ROHM has expanded the lineup by adding a new high-speed type ideal for anomaly detection that prevents oscillation over the entire load capacitance range.
The BD77501G is the industry's first op amp that not only supports high-speed amplification (high slew rate: 10V/us) required in anomaly detection and other systems, but also completely eliminates oscillation caused by load capacitance (i.e. wiring). Unlike conventional high-speed op amps that can become unstable due to load-capacitance-induced oscillation, ROHM's new product ensures stable operation with no unwanted oscillation. In addition, whereas the output voltage for conventional products can fluctuate by ±200mV or more across the entire noise frequency band, the BD77501G provides unprecedented EMI Immunity*2 (noise immunity) that limits variation to less than ±20mV (1/10th). This enables high-speed signal amplification without being affected by load capacitance or external noise when installed in the latter stages of sensor applications, improving reliability and reducing design time.
ROHM is committed to expand the lineup of this product to automotive market in the near future.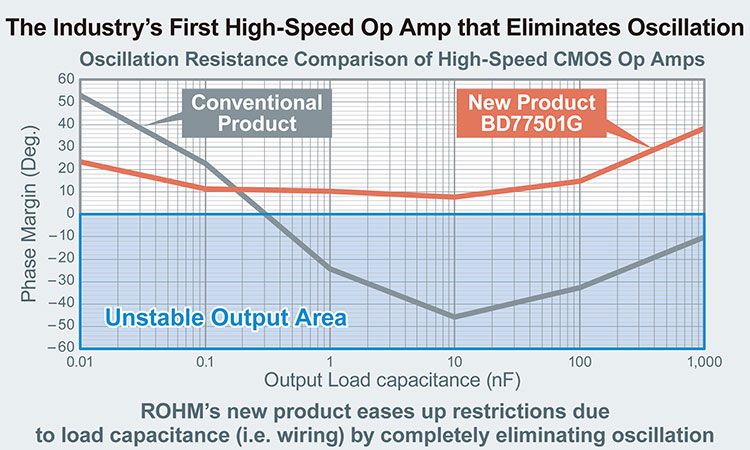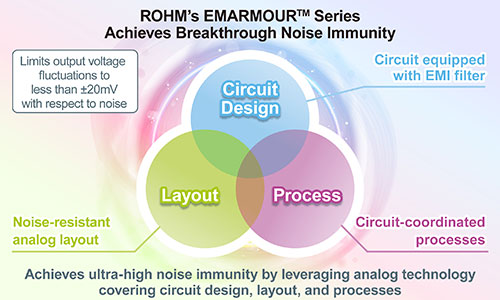 What is EMARMOUR™?
EMARMOUR™ is ROHM's unique brand to identify its products that leverage proprietary technologies covering circuit design, layout, and processes to achieve ultra-high noise immunity. This technology limits output voltage fluctuation to less than ±300mV across the entire noise frequency band during noise evaluation testing under the international ISO11452-2 standard. This unprecedented noise immunity reduces design resources while improving reliability by solving issues related to noise in the development of a variety of systems.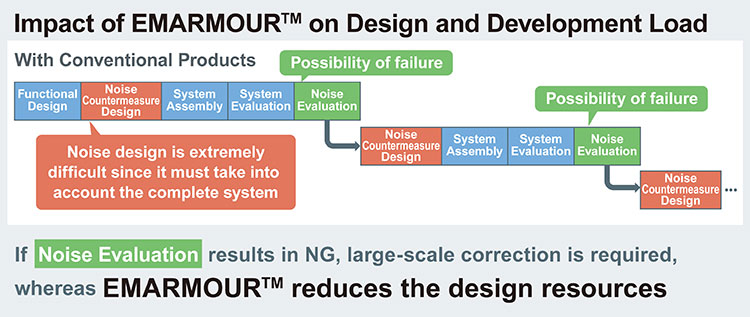 Key Features
1. The industry's first no oscillation and high-speed op amps that minimizes design time related to load capacitance
The BD77501G utilizes original Nano Cap™ power supply technology to achieve extremely stable control, making it the industry's first op amp that completely eliminates oscillation induced by load capacitance (i.e. wiring) while supporting high-speed amplification (high slew rate: 10V/us) required in anomaly detection and other systems.
Unlike conventional op amps that can be difficult to use due to restrictions imposed on the wiring and peripheral components resulting from instability caused by load capacitance, ROHM's new op amp eliminates oscillation to ensure stable operation and facilitate application design.
2.Superior noise immunity reduces noise design requirements (EMARMOUR™ exclusive)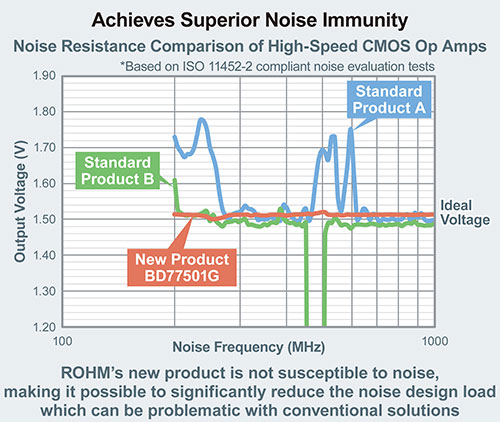 Whereas the output voltage of conventional products can fluctuate by ±200mV or more across the entire noise frequency band, ROHM's latest EMARMOUR™ series op amp achieves unprecedented noise immunity that limits variation to less than ±20mV. This eliminates the need for countermeasures (filter circuits) for each noise frequency, reducing the noise design resources for sensors (which play an important role in a variety of systems) facilitating application design while improving system reliability.
3.Eliminates 10 parts required for noise suppression(EMARMOUR™ exclusive)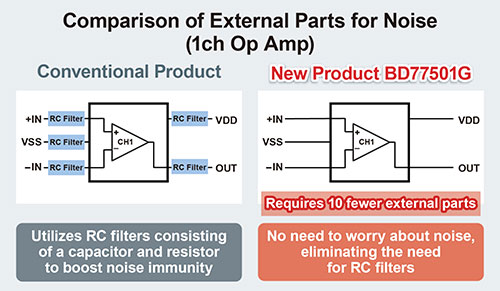 The BD77501G provides superior noise immunity that eliminates the need for external noise countermeasure components conventionally required for standard products (i.e. RC filters for the power supply, input, and output pins). For example, in the case of a 1ch op amp, ROHM's new product uses 10 fewer external components than conventional solutions.
Specifications
Availability: Now (samples), October 2020 (OEM quantities)
Application Examples
Facility management equipment such as abnormal current and gas detectors
Motors requiring high-speed control (signal transmission)
Inverter control equipment
Pre-drive buffers for driving transistors
...and other applications in the industrial and consumer fields requiring high-speed signal transmission and amplification without the need to consider load capacitance.
What is Nano Cap™?
Nano Cap refers to extremely stable control technology achieved by combining advanced analog expertise covering circuit design, processes, and layout utilizing ROHM's vertically integrated production system. Stable control eliminates the problem of unstable operation related to capacitors in analog circuits, contributing to a reduction in design time for a wide range of applications in the automotive, industrial equipment, consumer, and other fields.
Terminology
*1) Op Amps / Comparators
Op amps (operational amplifiers) are designed to amplify input signals. They are often used to amplify minute signals, such as those output from sensors, to a voltage level that can be recognized by an MCU.
Comparators are commonly employed to determine the threshold value of input signals. They output a High/Low signal after performing threshold judgment of the sensor output signal.

*2) EMI (Electromagnetic Interference) immunity
EMI immunity is a parameter indicating the degree of tolerance to ambient noise. Noise generated in the environment can cause malfunction in systems with low EMI immunity, making it necessary to take protective measures such as incorporating filters (i.e. resistors/capacitors) or shields (metal plates). In contrast, high EMI immunity ensures stable operation without worrying about the effects of noise, providing a significant advantage by virtually eliminating the design load for noise countermeasures.
*Nano Cap™ and EMARMOUR™ are trademarks or registered trademarks of ROHM Co., Ltd.