hifideluxe munich 2019 – ROHM highlights high-performance D/A converter IC for high-end audio
ROHM Semiconductor will showcase the latest audio D/A converter IC (Audio DAC chip) and a hearing demo at hifideluxe munich 2019, which will be held at the same time as HIGH END, the trade fair for audio equipment in Munich, Germany (May 09 – 11, 2019).
The increased adoption of high-resolution audio sources has strengthened the demand for high-fidelity audio equipment that can deliver an equally high sound quality. Moreover, higher-level designs of audio ICs are required to pursuit of high-fidelity audio.
The basis of 50 years of expertise in developing audio ICs has allowed ROHM to establish 'sound quality design technology' capabilities for high-fidelity audio equipment that is close to the original sound source. ROHM offers products designed with an emphasis on sound quality; including sound processors and power supply ICs under the audio device brand, "ROHM Musical Device MUS-IC".
During last year's hifideluxe, ROHM showcased the D/A converter IC, which is one of the most important components to determine the quality of audio equipment, for the first time as a test chip.
This year, ROHM will demonstrate the newest D/A converter IC "BD34301EKV" which has achieved an outstanding performance and will be mass-production this fall.
Overview of ROHM exhibition
Date and Time: 09th – 11th May (09-10th: 12:00-20:00 / 11th: 11:00-18:00)
Location: Room 522, 5th floor, Marriott Hotel Munich
Exhibition Highlights
32bit, 2ch ΣΔ D/A Converter IC "BD34301EKV"
■ Available for 22.4MHz DSD signal and 768kHz sampling PCM signal.
■ Excellent numerical performance: SNR =131.6dB, THD+N= -115dB.
■ Intense expression of the performer's music with our sound quality design.
BD34301EKV can be found at: https://www.rohm.com/mus-ic/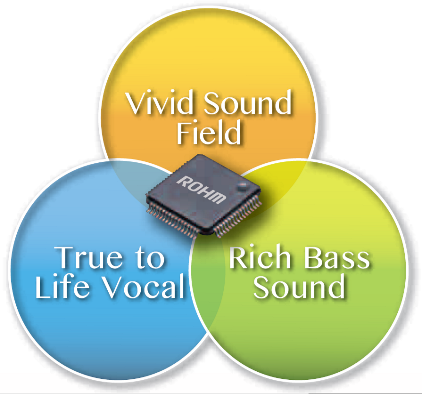 DAC Demo Board BD34301EKV Concepts
About ROHM's audio device brand MUC-IC
MUS-IC (ROHM Musical Device MUS-IC), combining 'Music' with 'IC' (Integrated Circuit) is ROHM's original brand. This brand is shaped by the four key concepts of 'sound quality design technology' in addition to ROHM's corporate culture of 'quality first', 'contributes to music culture' and 'vertically integrated production system'; this product is comprised of only the highest grade of audio ICs.
'MUS-IC' Web Page: https://www.rohm.com/mus-ic/