ROHM and Equate Health Partner to Develop a Breakthrough Cuffless Optical Blood Pressure Monitor
Ultra-low power consumption and sensitivity enable continuous, real time monitoring with superior accuracy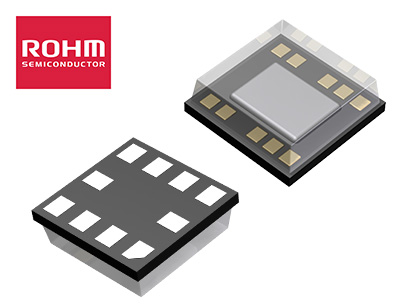 Santa Clara, Calif., and Dublin, Calif., – January 08, 2018 – ROHM and Equate Health today announced their partnership on an unprecedented cuffless blood pressure that combines ROHM's 2nd generation heart rate sensor with Equate Health's AI and machine learning tools.
Conventional methods, such as those using a sphygmomanometer to first occlude the artery before performing measurement while releasing pressure, can present a number of difficulties (i.e. positioning of the cuff) and often involve bulky instruments that consume significant amounts of power. In contrast, this novel solution monitors blood pressure by incorporating ROHM's high-performance BH1792GLC optical heart rate sensor featuring a current consumption of just 0.44mA (during measurement), 1024Hz sampling rate, and integrated optical filter that enable high accuracy, low power pulse detection. Sensor data is then processed using Equate Health's targeted algorithms based on proprietary AI/machine learning tools.
"We are pleased to enter into this partnership with Equate Health. It is our belief that by pooling our resources we will be able to provide consumers with the ability to monitor their blood pressure easily and with a high degree of accuracy and reliability," said Satya Dixit, Senior Director of Solutions Marketing at ROHM. "This collaboration aims to create proof-of-principle for science- and technology-driven health monitoring devices that will allow users, along with their medical providers, to make informed decisions regarding their healthcare and well-being."
Dr. Sam Ramakrishnan, CMO of Equate Health, states, "The unique way to measure blood pressure will solve a major issue of non-compliance among patients and at the same time simplify measurement, so much so that even those who are unable to access clinical providers or equipment will be able to purchase this device off the shelf and quickly determine their blood pressure. Another major segment of the population, namely those that are currently dealing with labile hypertension, may also benefit from ambulatory blood pressure monitoring."
ROHM will be exhibiting at CES 2018 in Las Vegas at the Tech West Sands Expo, Veronese #2505, from January 9-12.
About Equate Health Inc.
Equate Health leverages data analytics and machine learning to promote health and well-being. The identification of key trends, patterns and correlations form a key element in our armamentarium. Using evidence based criteria, behavioral science and user experience, they design feedback and interventions that are conducive to maintaining health and prevent the onset of disease. Machine Learning and Predictive Analytics enable a mobile and cloud based platform to deliver optimal information towards the betterment of health.