embedded world2018

ROHM Semiconductor will exhibit its products and solutions at embedded world 2018
from February 27th – March 1st in Nuremberg, Germany.
Industrial IoT and Machine Health
ROHM Semiconductor provides a wide range of products suitable for Industrial IoT / Industrie 4.0.
This includes a wider range of Sensors, Communication ICs, Motor Drivers and GPICs (like low noise OpAmps)
Machine Health demo
A dedicated demo to show how sensors can be used in the automation process. For example, acceleration sensors can measure vibrations of motors or buildings to get information about system condition or color sensors can be used to detect specific objects.
Motor driver demo
Demonstrating Arduino compatible motor driver kit to control and evaluate a wide range of stepper or brushed DC motor drivers.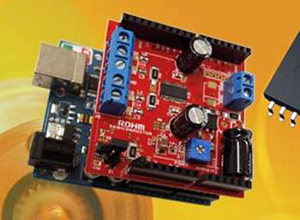 Get your free Motor Driver Shield !
Please bring the voucher as printed or mobile version to the ROHM booth and present it to the receptionist
One voucher per visitor
To the first 50 arrivals with this voucher
Wireless charging
15W, the world's first Qi 1.2 certified wireless power transmitter IC BD57020MWV and receiver IC BD57015GWL. It consists of its latest transmitter and a receiver module, a LED load module, a Quick Start guide and various power adapters. This kit gives you the opportunity to test and integrate wireless power solutions in your applications whilst accelerating the adoption of new technology in power applications. Different combinations are available to match the user's application needs.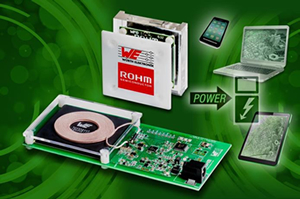 Power Management solution
Rohm will show their holistic portfolio of power management ICs for embedded systems in industrial and automotive applications including ROHM's Power Management Integrated Circuits (PMICs) that provide highly integrated, high-performance solutions.
These PMICs are designed to offer optimum integration for System on Chip (SoC) Solutions including Intel and Renesas. A first platform in ADAS with highest functional safety ratings that has been designed by one of our most valued customer will be shown on the ROHM booth.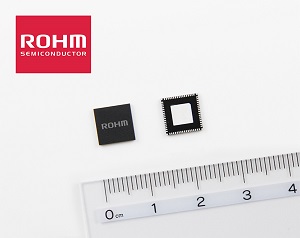 Timing Controller ICs for Automotive
In recent years the adoption of LCDs in vehicles for the instrument cluster, navigation, electronic mirrors, and other systems has risen significantly, while the growing number of applications has increased the demand for larger, higher resolution displays. To achieve these needs, it is necessary to increase the number of driver and controller channels. However, this makes system configuration and operation verification more difficult, strengthening the demand for chipset solutions. In addition, in applications such as clusters or electronic mirrors where malfunctions can lead to serious accidents functional safety is required.
ROHM's new chipsets integrate a gamma correction IC, timing controller (T-CON), source driver, and gate driver for driving HD/FHD class displays (the highest resolution currently on the market), along with a power management IC (PMIC) to ensure optimum drive operation. Each IC is designed to share information as needed, achieving automotive-grade reliability and for the first time supporting functional safety in devices of displays. This chipset ensures high reliability for LCD monitors used for side mirrors and speedometers.
In addition, chipset optimization allowed ROHM to cover a wide range of specifications while at the same time integrate a Fail detection function in the timing controller to verify operation, making it possible to configure high resolution LCD panels.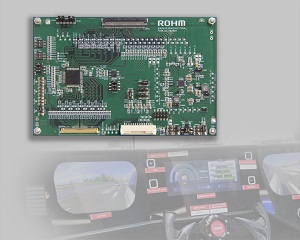 RASMID™(ROHM Advanced Smart Micro Device)
ROHM has been a pioneer in miniaturization technology, and is continually cultivating new methods to achieve the smallest devices in the industry. We will show the world's smallest class package line-up of discrete semiconductors.
> RASMID™