Back
Passion for the next generation of products
08/15/2019
Women in Tech: How Yoko Nomaguchi built her career at ROHM.
"I really like to discuss with people. This is why I enjoy presenting products and solutions to our customers. The feeling to walk out of a meeting knowing that my proposal will be applied in the next generation of a product series is very rewarding. All the time and efforts invested finally pay off. I would love the students of today, who are considering whether to become engineers or not, to experience such a successful moment. I am sure it would motivate them to finish the difficult exams ahead," says Yoko Nomaguchi.
When Yoko was a child, she used to like science subjects in school, such as mathematics, physics and chemistry. She finally majored in electrical and electronic engineering at the Kyushu Institute of Technology. During her studies, she developed an increasing interest in semiconductors and programing and decided to work as an engineer. She joined ROHM in 1998 and currently leads a team of 8 members called Sensor & Processing Division.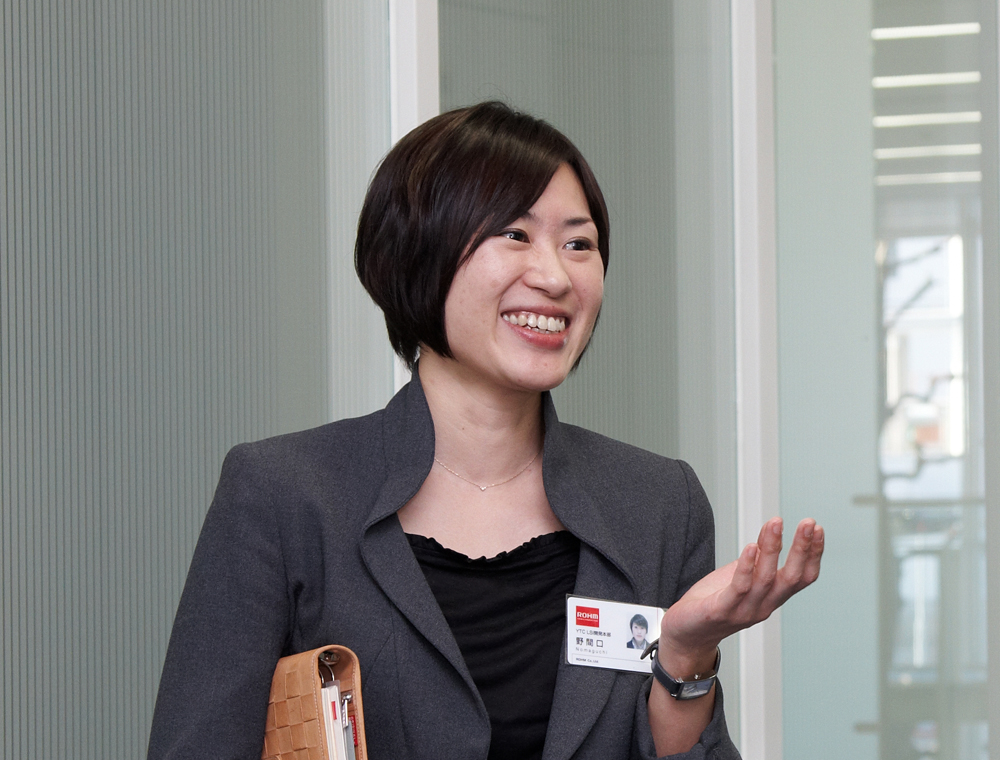 Caption: Yoko Nomaguchi
It is not an exaggeration to say that her achievements are remarkable. Especially looking at the fact that female engineers are still very rare - not only in Japan but also the rest of the world. Yoko's task is to manage her team members and provide technical support. Even if this is already a lot to do, she thinks ahead: Can we develop better products? And is this really our best solution?
Yoko grasps new technology trends, meets new clients and introduces ROHM and our service opportunities to potential customers. However, at the very beginning of her career some customers, who met the young talent for the first time, were worried about her engineering skills. But she convinced them all with professionalism, sincerity and her solution-oriented style. Once the groundwork was laid, she never felt being female was an obstacle in her career.
Still there are still some clichés to overcome. "It is said that female engineers generally have a higher skill to summarize and condense data" Yoko explains and adds: "First of all, it is important for women to be confident for their own skills. We, the women have to bring our strengths to the table: a different perspective, superior communication skills and the ability to balance priorities such as a fulfilled family life and an ambitious career".
Balancing work and personal life
Let´s look into this more closely: What is the challenge for female engineers to continue working? One of the limiting factors is "time" according to Yoko.
Developing technologies and products is typically time-consuming. Already at the university, science and engineering students spend more time on studying than their fellow students who picked different subjects. This obvious fact continues in work life as it takes a lot of time to study and solve the various problems for the commercialization of a single product. Of course, these circumstances are the same for men and women, but for women the situation gets more demanding once they decide to get married and found a family. A change to improve working conditions is needed in Japan as well as in most of the countries around the world to help women overcome this balancing act.
Yoko is convinced that choosing ROHM was a good decision. The reason why is very simple: There is no special treatment. The development levels are transparent and she could climb the job ladder in the same way male engineers do at ROHM. Currently she is considering going abroad. She believes that this experience will be of advantage for her future. Precisely by collecting insights into other markets, that will give her the possibility to develop the attractive commercial products of tomorrow with her colleague in the world.
We wish Yoko all the best and thank her for this motivating statement she has made thinking of the female engineers following in her footsteps:
"Working as a female engineer may not be easy. But the adoption of electronics in many industries increases. This baseline gives engineers reams of opportunities to play an active role in designing our future. To all the ladies out there, this is the perfect time to pursue a career in engineering. I honestly hope that the number of female colleagues will increase – they are needed!"