2-Level full bridge inverter (3-phase application)
Description
The three-phase full-bridge inverter topology is the simplest and most widely used structure for systems connected to the grid. It consists of three sets of "bridges", each of which consists in two switches and their corresponding reverse-parallel diodes.
In order to generate a three-phase AC waveform, the three sets of bridges operate in phase shifted by 120 degrees and can be represented by six states. Since each state has its own voltage and current values, it is also called a six-pulse (6P) inverter.
Overview
- 3-phase 2-level topology
- Widely used topology
- Body diode of MOSFET act as parallel diode
Circuit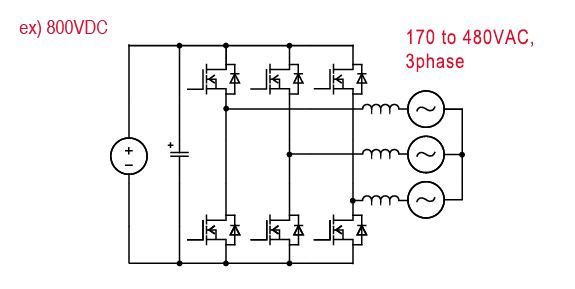 Key Products
Product Category
Product Family
Product Number
Feature
Upper arm and lower arm
1200V SiC MOSFET
SCT4xxxKx series
The latest SiC MOSFET device. Enhanced low on-resistance enable best in class performance. It supports 1200V withstand voltage, ideal for higher voltage applications.
SCT3xxxKx series
1200V SiC MOSFET with high voltage torelance and low power dissipation.
Gate Driver
Galvanic Isolated gate driver
BM61x4xRFV
1ch configuration, 3,750Vrms isolated type Gate Driver, can be used for switching devices with current source pins.
Simulation
Related Topologies