BD70522GUL
Nano Energy™, Ultra Low Iq Buck Converter For Low Power Applications
BD70522GUL
Nano Energy™, Ultra Low Iq Buck Converter For Low Power Applications
The BD70522GUL is a Buck Converter featuring 180nA quiescent current and supports output current up to 500mA. The Constant ON-Time (COT) control with ULP (Ultra Low Power) mode provides superior transient response and extends battery life by providing excellent light load efficiency below 10μA load range. The output voltage can be selected from 9 pre-set voltages by VSEL pins. When the input voltage gets close to the output voltage, the IC enters 100%ON mode where the switching operation stops.

ROHM and NGK INSULATORS, LTD. have collaborated on the ultimate maintenance-free IoT device that combines ROHM's Nano Energy™ ultra-low current consumption technology for power supply ICs with NGK's chip-type ceramic rechargeable battery EnerCera®.
EnerCera® × Nano Energy™ Collaboration Page
Product Detail
Part Number
|
BD70522GUL-E2
Minimum Package Quantity
|
3000
Specifications:
Integrated FET / Controller
Integrated FET
Synchronous / Nonsynchronous
Synchronous
SW frequency(Max.)[MHz]
1
Operating Temperature (Min.)[°C]
-40
Operating Temperature (Max.)[°C]
85
Package Size [mm]
1.76x1.56 (t=0.57)
Find Similar
Features:
Nano Energy™
180nA (Typ) Quiescent Current
Up to 90% Efficiency at 10μA Output Current
Up to 500mA Output Current
9 Selectable Output Voltages (1.2V, 1.5V, 1.8V, 2.0V, 2.5V, 2.8V, 3.0V, 3.2V, 3.3V)
Power Good Output
100%ON Mode for Low Input Voltage
Discharge Function on VOUT.
Overview
In recent years, the number of battery-driven portable devices such as smartphones, wearables, and IoT has risen dramatically. This increases the demand for smaller components that can provide greater design flexibility along with the necessary space for integrating new features while also achieving lower power consumption to prolong battery life.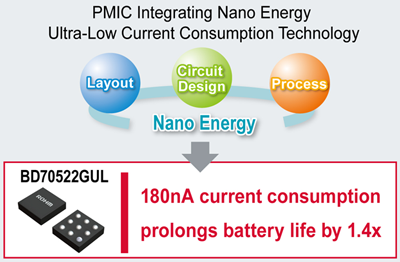 ROHM has recently announced the availability of a DC/DC converter with integrated MOSFET that achieves the lowest current consumption in the industry, making it ideal for compact battery-driven devices including IoT, wearables, and portable equipment.
The BD70522GUL is an ultra-low-power converter designed to meet the needs of the IoT market to deliver 10-year operation on a single coin battery. Combining its vertically integrated production system that leverages power expertise with proprietary Nano Energy technology developed utilizing industry-leading analog expertise in circuit design, layout, and processes has allowed ROHM to deliver an unprecedented current consumption of just 180nA (nano→10-9). This makes it possible to increase battery drive time by 1.4x over conventional products at no-load (standby), contributing to longer battery life in electronic devices powered by coin-type batteries (i.e. CR2025). At the same time, power conversion efficiency greater than 90% is achieved over the industry's widest range, from light to max. loads (10uA to 500mA).
Key Features
1.Industry-low 180nA current consumption – achieved utilizing proprietary Nano Energy technology
Utilizing Nano Energy, an original technology created by leveraging original low-current analog technologies covering control circuitry, analog element layout optimized for the power supply IC, and 0.35um BiCDMOS power processes, made it possible to achieve a breakthrough current consumption of 180nA.
As a result, in the case of no-load (standby) operation battery life can be extended by 1.4x over conventional solutions. (ROHM study)
2.High efficiency over a wide load current range
In addition to the low-loss MOSFET, a Seamless Switching Mode Control (SSMC) function is built in that smoothly and automatically switches the load mode based on load current, allowing ROHM to develop a DC/DC converter capable of delivering a power conversion efficiency of more than 90% over the industry's widest load range (10uA to 500mA) – while consuming less than 1uA. This contributes longer battery life in a wide range of devices and applications.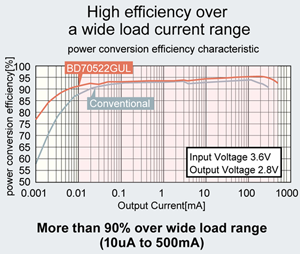 Target Applications
Wearables and portable devices
Compact battery-driven IoT (i.e. sensors nodes)
industrial equipment (e.g. alarms, electronic shelf labels)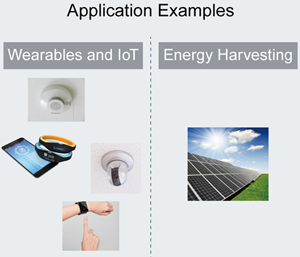 Evaluation Board
BD70522GUL-EVK-101

The BD70522GUL converter is a power supply solution designed for battery powered devices. 180nAquiescent current and ULP (Ultra Low Power) mode enable excellent light load efficiency at 10µA load, extending battery life, while output currents up to 500mAare supported. Users can select from among 9 preset output voltages via the VSEL pin. And when the input voltage gets close to the output voltage, the IC enters 100% ON mode that stops switching operation.
Reference Design
REFLVBMS001-EVK-001