BU33UV7NUX
Synchronous Boost DC/DC Converter
BU33UV7NUX
Synchronous Boost DC/DC Converter
BU33UV7NUX is a synchronous buck-boost convertor with low power consumption and provides a power supply for products powered by either two-cell alkaline/ NiCd/ NiMH or one-cell Li-ion or Li-polymer battery. Output currents can go as high as 500mA while using two alkaline, and discharge it down to 1.8 V. BU33UV7NUX has reset circuit. (Detection voltage:1.5 V, Release Voltage:1.9 V) BU33UV7NUX output voltage is fixed 3.3V by internal resistor divider. Vout is connected with Vin when VIN voltage is higher than 3.3 V.
Product Detail
Part Number
|
BU33UV7NUX-E2
Minimum Package Quantity
|
4000
Specifications:
Integrated FET / Controller
Integrated FET
Synchronous / Nonsynchronous
Synchronous
SW frequency(Max.)[MHz]
0.8
Operating Temperature (Min.)[°C]
-40
Operating Temperature (Max.)[°C]
85
Package Size [mm]
3x2 (t=0.6)
Find Similar
Features:
Synchronous Boost DC/DC Converter
Iomax500mA @Vout=3.3V, Vin=1.8V (Ta=25°C)
Disconnect Function during EN-OFF and UVLO
Auto-PFM/PWM (MODE=H(=VIN)),
FIXED PFM (MODE=L(=0V))
Reset Function (Detect Voltage = 1.5V)
Pass-Through Function (VIN > VOUT)
Thermal Shutdown
10-pin "VSON010X3020" package
BU33UV7NUX is a boost DC/DC converter with built-in MOSFET featuring the lowest current consumption in the industry, making it ideal for electronic devices powered by dry-cell batteries such as electronic dictionaries, remote controls for home appliances, and gadgets (i.e. toys, accessories).
Samples/Evaluation Board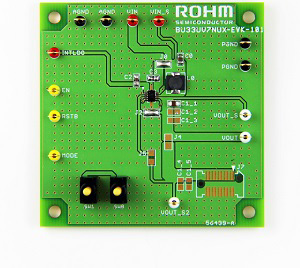 In addition to samples of the BU33UV7NUX , an evaluation board integrating the BU33UV7NUX will be available for purchase through online distributors.
Specifications
Part No.
Input Voltage Range
Output Voltage
Current Consumption
Max. Load Current
Operating Frequency
Operating Temp. Range
BU33UV7NUX
0.6V to 4.5V
3.3V
7µA (MODE=L)
13µA (MODE=H)
50mA (MODE=L)
500mA (MODE=H)
800kHz
-40 ℃ to 85 ℃
Features
1.Low current consumption and low-voltage drive contribute to longer battery life
In order to prolong operating life with dry-cell batteries, ROHM leveraged original analogy design technologies and power system processes to achieve a current consumption of just 7uA, the smallest in the industry among functionally equivalent products. This makes it possible to increase battery life in conventional remote controls powered by 2 alkaline dry-cell batteries by approx. 1.3x over existing solutions, providing an extra 175 days of operation (ROHM study, assuming standby mode and a load current of 50uA). In addition, the BU33UV7NUX can be driven by input voltages as low as 0.9V and supports both single dry-cell and button-type lithium-ion battery sets. Plus, the built-in battery leak detection function makes it particularly suited for dry-cell applications.
2.Load current mode switching improves efficiency in a wide range of applications
A load current mode switching function is included that allows existing remote controls to support the latest high-performance LCD-equipped sets while delivering superior energy savings.
Adopting a low-power mode for standard products (50mA max. load current, 7uA current consumption, PFM*1 control), and automatically switching to high-power mode for high-performance (500mA max. load current, 13uA current consumption, PFM/PWM*1 switching control), make it possible to achieve high efficiency power conversion as high as 94% under a wide range of conditions.
<Terminology>
*1) PFM (Pulse Frequency Modulation) / PWM (Pulse Width Modulation)

PFM is a voltage control method that can provide the benefit of reduced switching loss at light loads, while PWM is characterized by constant frequency that makes it easy to predict generated noise and subsequently set up countermeasures such as filters.
Applications
<Target Applications>
…and other sets driven by 1-2 dry-cell (1 to 3V) or button-type li-ion batteries
Electronic dictionaries
Remote controls
Electronic gadgets (i.e. toys, accessories)
Wearables
Electric toothbrushes
Evaluation Board
BU33UV7NUX-EVK-101

The BU33UV7NUX converter provides a power supply solution for products powered by two-cell alkaline, NiCd, NiMH, one-cell Li-ion, or Li-polymer batteries. It can operate even if the input voltage drops to 0.6V. The BU33UV7NUX has a built-in reset circuit that can be set to detect reset at 1.5V (reset release voltage: 1.9V).