BD71631QWZ
Linear Charger for Low Voltage Battery
BD71631QWZ
Linear Charger for Low Voltage Battery
BD71631QWZ is a linear charger for low charge voltage battery. The battery charge voltage, charge current, termination current are set using external resisters.

ROHM and NGK INSULATORS, LTD. have collaborated on the ultimate maintenance-free IoT device that combines ROHM's Nano Energy™ ultra-low current consumption technology for power supply ICs with NGK's chip-type ceramic rechargeable battery EnerCera®.
EnerCera® × Nano Energy™ Collaboration Page
Product Detail
Part Number
|
BD71631QWZ-TR
Minimum Package Quantity
|
2500
Specifications:
Supply Voltage(Min.)[V]
2.9/4.0 (Charge Current 30mA/300mA)
Supply Voltage(Max.)[V]
5.5
Charge Voltage [V]
2.0V~4.7V(±2%)
Operating Temperature (Min.)[°C]
-30
Operating Temperature (Max.)[°C]
105
Package Size [mm]
2.4x1.8 (t=0.4)
Find Similar
Features:
Adjustable Termination Current: 50μA to 10mA
Low Quiescent Battery Current: IBATT = 0μA (typ)
NTC Thermistor Input for Temperature Qualified Charging
Open-Drain Charge indicator LED Output
Fixed 10 hour Safety Timer
Thermal Shutdown
Under Voltage Lockout Protection
Battery Over Voltage Protection
Overview
The BD71631QWZ achieves low voltage charging over a wide range from 2.0V to 4.7V by improving the stability of the internal circuit.
Unlike general battery charger ICs that provide a fixed voltage, the BD71631QWZ allows the charge voltage to be easily set by simply changing the external resistor, reducing design load when changing batteries. Additionally, original package technology results in a compact package just 0.4mm thickness, which is 60% lower than conventional products in market. This is contributing to smaller, thinner devices. In addition, each charging characteristic like charge/termination current can be set for CCCV charging, providing an optimal charging environment for thin, compact IoT and wearable devices utilizing the latest rechargeable batteries.
Key Features
1. Compatible with new all-solid/semi-solid state rechargeable batteries requiring low voltage charging
The BD71631QWZ allows the charging voltage to be easily set from 2.0V to 4.7V by simply changing the external resistor, ensuring compatibility with not only single-cell li-ion batteries, but also all-solid/semi-solid and other new rechargeable battery types that demand low voltage charging.
2. Package size optimized for applications equipped with thin rechargeable batteries
The BD71631QWZ utilizes original package technology to achieve a thin, compact 1.8mm × 2.4mm × 0.4mm form factor. As a result, mounting height has been reduced by 60% and footprint by 50% compared to standard products in a 3.0mm × 3.0mm × 1.0mm package. Ensuring that the height is the same as peripheral components contributes to smaller, thinner devices. This makes it particularly suitable for wearables and compact IoT devices equipped with ultra-thin sheet-like rechargeable batteries.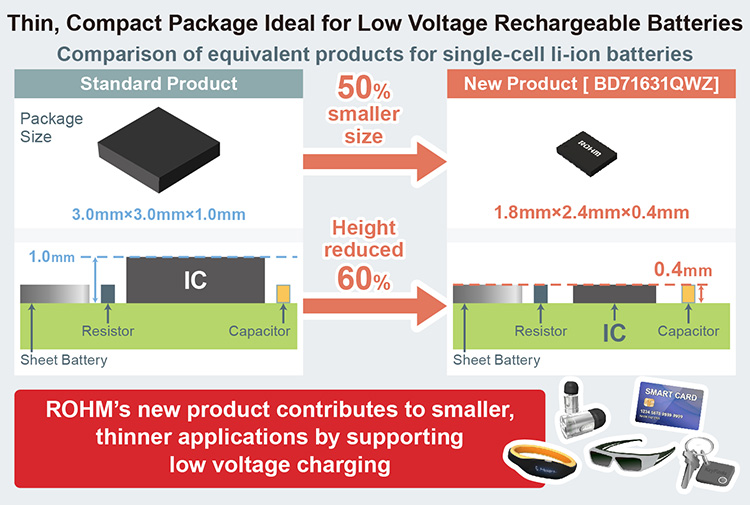 3. Achieves optimal CCCV charging according to the characteristics of the rechargeable battery
The BD71631QWZ enables the charge characteristics to be independently set, like charge current/voltage, termination current, recharge voltage for CCCV using an external resistor to achieve optimal charging based on the characteristics of rechargeable batteries. In addition, even if the battery needs to be changed during application design, it can be designed without reselecting components, reducing the number of workload required. Moreover, reducing the battery standby current down to 0μA in the standby state and incorporating various protection functions contributes to longer operating times in devices equipped with rechargeable batteries and improved safety during charging.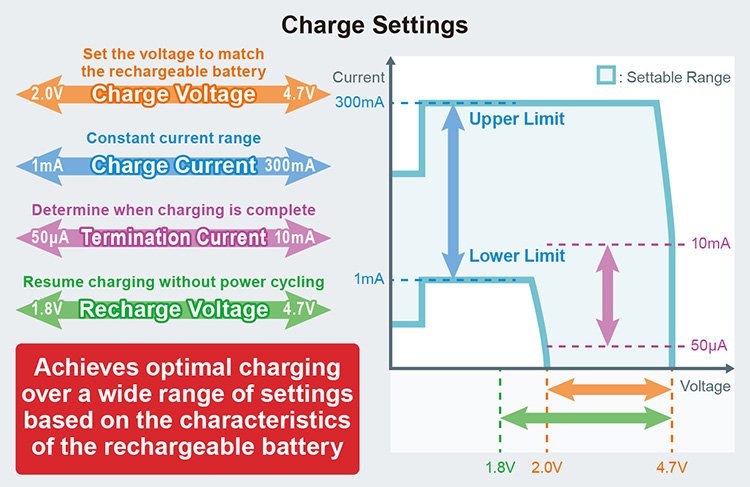 Application Examples
・Devices equipped with low voltage and single-cell li-ion rechargeable batteries
・Wearables such as wireless ear buds, electronic pens, e-cigarettes, etc.
・Smart displays/tags and other compact IoT devices
Reference Design / Application Evaluation Kit
Evaluation Board - BD71631QWZ-EVK-001

This EVK is for evaluating the linear charging IC BD71631QWZ, and charges 4.2V from the 5V input voltage. BD71631QWZ accepts a power supply input range of 2.9V to 5.5V and generates a charging battery voltage ranging from 2.0V to 4.7V using external resistors. If the charging current is VIN ≥ 4V, it can be used up to 300mA under the condition of VIN-VOUT ≥ 1V and up to 100mA under the condition of VIN-VOUT ≥ 0.3V. If 2.9V ≤ VIN ≤ 5.5V, it can be used up to 30mA under the condition of VIN-VOUT ≥ 0.3V. The charging current can be set with an external resistor. The termination current can be set from 50μA to 10mA using external resistors. Additional protection functions include a built-in Fixed 10-hour Safety Timer, UVLO(Under Voltage Lock Out), TSD(Thermal Shutdown Detection), and Battery Over Voltage Protection.
Reference Design - REFLVBMS001-EVK-001