LMR1802G-LB
LMR™ Series, Low Noise, Low Input Offset Voltage CMOS Operational Amplifier
LMR1802G-LB
LMR™ Series, Low Noise, Low Input Offset Voltage CMOS Operational Amplifier
LMR1802G-LB precision single CMOS operational amplifier features low noise, low input offset voltage and low input bias current that are suitable for equipment operating from battery power and using sensors that an amplifier.
Product Detail
Part Number
|
LMR1802G-LBTR
Minimum Package Quantity
|
3000
Specifications:
Power Supply (Min.) [V] (+5V=5, ±5V=10)
2.5
Power Supply (Max.) [V] (+5V=5, ±5V=10)
5.5
Circuit Current (Typ.) [mA/ch]
1.1
Input Offset Voltage (Max.) [mV]
0.45
Input Bias Current (Typ.) [nA]
0.0005
Slew Rate (Typ.) [V/µs]
1.1
Input Voltage Range [V]
VSS to VDD-1.0
Output Voltage Range [V]
VSS+0.005 to VDD-0.007
Voltage gain (Typ.) [dB]
140
Equivalent input noise voltage (Typ.) [nV/√Hz]
2.9
Output current (Typ.) [mA]
3.5
Operating Temperature (Min.) [°C]
-40
Operating Temperature (Max.) [°C]
125
Package Size [mm]
2.9x2.8 (t=1.25)
Find Similar
Features:
Long Time Support Product for Industrial Applications.
Low Input-Referred Noise Voltage Density
Driving High Capacitive Load
Full-Swing Output
The LMR1802G-LB, developed utilizing ROHM's market-leading analog technology covering circuit design, processes, and layout, reduces input equivalent noise voltage density by half (2.9nV/√Hz at 1kHz, 7.8nV/√Hz at 10Hz) compared to conventional products, significantly improving the detection performance of sensor signals. In addition, best-in-class phase margin (68°) and capacitive load tolerance (500pF) provide excellent stability (difficult to oscillate, easy to handle).
※ ROHM July 2018 study
Key Features
Easy to use despite low noise results in the industry's best performing CMOS op-amps
This latest product combines ROHM's superior analog technology covering circuit design (new circuit at the differential input stage), layout (analog design cultivated over many years), and processes (optimized for low noise) to achieve ultra-low-noise. The input equivalent noise voltage density of 2.0nV/√Hz at 1kHz and 7.8nV/√Hz at 10Hz are approximately half that of products on the market, ensuring superior low-noise performance.
In addition, in the past when pursuing lower noise in op-amps there were problems such as poor phase margin and capacitive load characteristics, as well as oscillation that made circuit design difficult, but introducing a new circuit at the differential input stage allowed ROHM to achieve industry-low noise along with a class-leading phase margin of 68° and capacitive load tolerance of 500pF.
This doubles the detection capability of sensor signals over conventional solutions, enabling accurate amplification of voltages on the order of µV, improving performance with sensors that demand higher precision.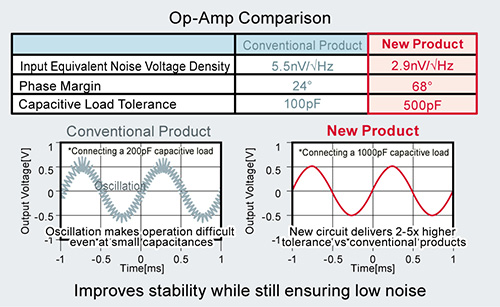 Minimizes input offset voltage and input bias current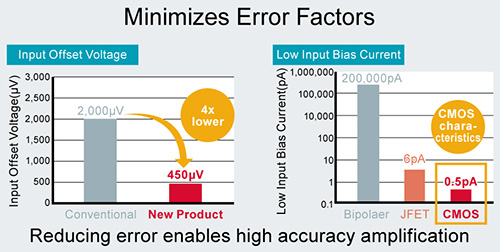 In terms of op-amp configuration, the output voltage should be 0V when the input is 0V, but an offset voltage is often generated as an error. Also, if the sensor's output impedance is high the sensor output voltage will be affected if the input bias current of the op-amp is large. Consequently, these two error factors must be made as small as possible to ensure optimal performance.
The LMR1802G-LB offers an input offset voltage of 450µV and input bias current of only 0.5pA (4x and 2x less than conventional products, respectively), providing high accuracy amplification.
Application Examples
Distance measuring equipment utilizing sonar and optical sensors
Security systems, IR remote controls, night vision, and other sets equipped with IR sensors
Devices demanding high accuracy operation (i.e. HDD)
Equipment management systems including flow meters and gas detectors
Other industrial and consumer sets integrating sensors requiring high accuracy detection
Terminology
CMOS (Complementary Metal Oxide Semiconductor)

Typically features smaller input current vs bipolar types, making it suitable for low-voltage operation.
Reference Design / Application Evaluation Kit
Reference Board forLow-side Current Sensing Circuit

In the fields of automobiles and industrial equipment, low-side current sensing circuits are used for functions such as current (voltage) control, overcurrent limit, and remaining battery level detection. Shunt-resistor low-side current sensing circuits are the most general solution. The REFSENS002 is a shunt resistor and low offset operational amplifier current sensing reference design. Design data, including heat generation evaluations, is published on Web site, so please use it as a design reference to help reduce design man-hours.