Back
Massa Magic in Monaco
05/14/2019
ROHM Semiconductor's contribution to the success of Venturi Formula E Team and to the car of the future
Monaco is famous for its Formula 1 street race course. But it is also a very modern principality. And the passion for powerful engines you can feel all over the place is not limited to combustion engines only. In fact Monaco warmly welcomed the Formula E racing series last weekend.
For the Monegasque Venturi Formula E team, the race was a home game - with high hopes to entertain the masses around the track and Prince Albert of Monaco, who watched the race in the Venturi garage. The race finished with a perfect ending: The first podium for Venturi driver Felipe Massa in Formula E.
This success is the result of hard work. It took a tireless driver, a strong Venturi Formula E team, and many smart engineers, including the engineers at Venturi's technological partner ROHM.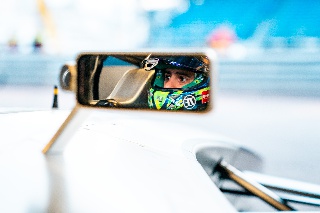 The automotive sector has been very important for semiconductor companies like ROHM since many years. But e-mobility is more than ever driving the need for effective semiconductor solutions. Especially power semiconductors promise new possibilities.
Already at electronica 2018 in Munich, Germany, ROHM showed its power solutions for automotive, for example the solutions for power supplies for automotive ECUs (electronic controller units): Electric vehicles (EVs) and hybrid electric vehicles (HEVs) use higher voltages compared to conventional cars. Voltages of up to 60V have to be converted down to 3.3V, the voltage usually used for micro controllers. ROHM provides buck DC/DC converters for converting voltages from 60V to 3.3V in one step. This is more efficient than the usual multi-step process and needs less space.
SiC for more efficiency in less space
Another important topic in e-mobility is silicon carbide (SiC). Schottky-diodes and MOSFETs based on the wide-band gap semiconductor enable smaller and lighter devices that are at the same time more efficient than silicon based solutions. Applications include onboard chargers or charging stations.
ROHM has always been an industry leader with SiC power devices: In December 2010 the company was the first in the world to succeed in mass producing SiC MOSFETs. In the automotive market, ROHM quickly established automotive-grade quality and began supplying SiC Schottky barrier diodes for on board chargers in 2012 and SiC MOSFETs for DC/DC converters and onboard chargers in 2017.
ROHM's latest advancement is the addition of ten new models of the SCT3xxxxxHR series. This series has allowed the company to achieve the industry's largest line-up of AEC-Q101 qualified SiC MOSFETs that provide the high reliability necessary for automotive onboard chargers and DC/DC converters.
The development of SiC and other advanced technologies will continue. The goal is clear: To see more EVs and HEVs on the streets of our cities – not only in Formula E, but in our everyday life.