Back
12 Display Technology Trends shaping the Automotive Future – Part 1
11/20/2020
More and more displays are part of today's cars. Our overview of automotive display technology trends highlights the most important ones and outlines how ROHM Semiconductor is part of this development.
More than 30 years ago, the first navigation systems found their way into the car, later growing to center information displays (CIDs). In the meantime, more applications have been realized with displays such as instrument clusters, head-ups and e-mirrors. Parallelly, displays are also used for other applications in the car, for example for entertainment purposes.
At a Glance: 12 Automotive Display Technology Trends
Part 1
1. Larger display, higher resolution
2. Head-up displays, electronic mirrors and more
3. The display – central component for future user interface concepts
4. Innovative chip solutions
5. Changing architecture
6. Reducing complexity​​​​​​
Part 2
7. Display interfaces
8. A new serial protocol
9. Mechanical stability: Ensuring driver's safety
10. Image analysis is crucial
11. Access to Information – anytime
12. Technology beyond data
1. Larger display, higher resolution​​​​​​​
Mobile devices have influenced the demands on displays in all areas of life and significantly increased consumer expectations, also in cars. Technological innovations from the consumer market are being adopted in cars more and more.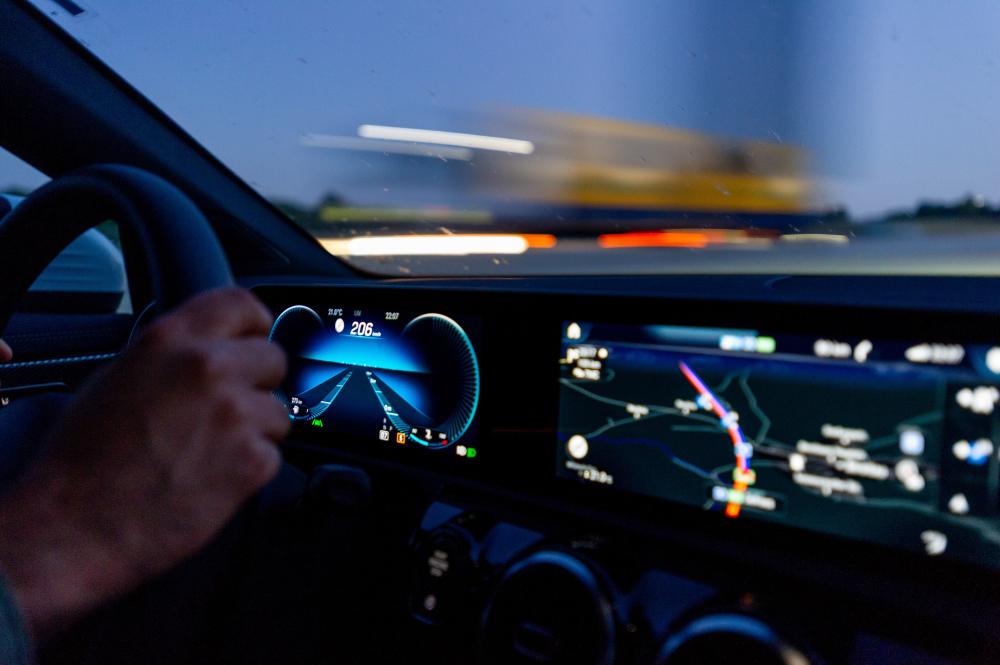 Trending: Larger automotive displays with higher resolution
Especially in medium and high price segments, significantly more displays are used in today´s car models. The trend is moving towards larger displays with higher resolution. Above this, we see a development towards merging several displays into one for a uniform and elegant overall impression. One popular scenario for this is the combination of the instrument cluster and the central display (CID): The driver sits in front of an integrated display landscape that starts behind the steering wheel and extends to the center console of the dash board.
2. Head-up displays, electronic mirrors and more
Electromechanical switches and controls are nowadays increasingly being replaced by electronic controls that include displays with a touch feature. This involves even smaller display controls, such as those for controlling the air conditioning, the position of the exterior mirrors, or the buttons on a multifunction steering wheel.
While many electronic displays replaced conventional elements of the car interior, new developments have emerged as well. A famous example is the head-up display, which could not exist without display and projection technology.
Another new development consists of electronic mirrors: Replacing rear-view or exterior mirrors with camera and display systems as they can considerably extend their functions such as a better viewing angle for increased safety. Since the mirrors protruding from the vehicle can disappear, even fuel savings can be achieved. These may be small in the case of passenger cars, but for trucks and buses the savings can be considerable.
3. The display – central component for future user interface concepts
As the functions and possibilities in the car become more and more extensive, new impulses for user interfaces are needed. This leads to many innovations in the area of touch and gesture control that only make sense with the appropriate display technology: The display is the central component for future user interface concepts.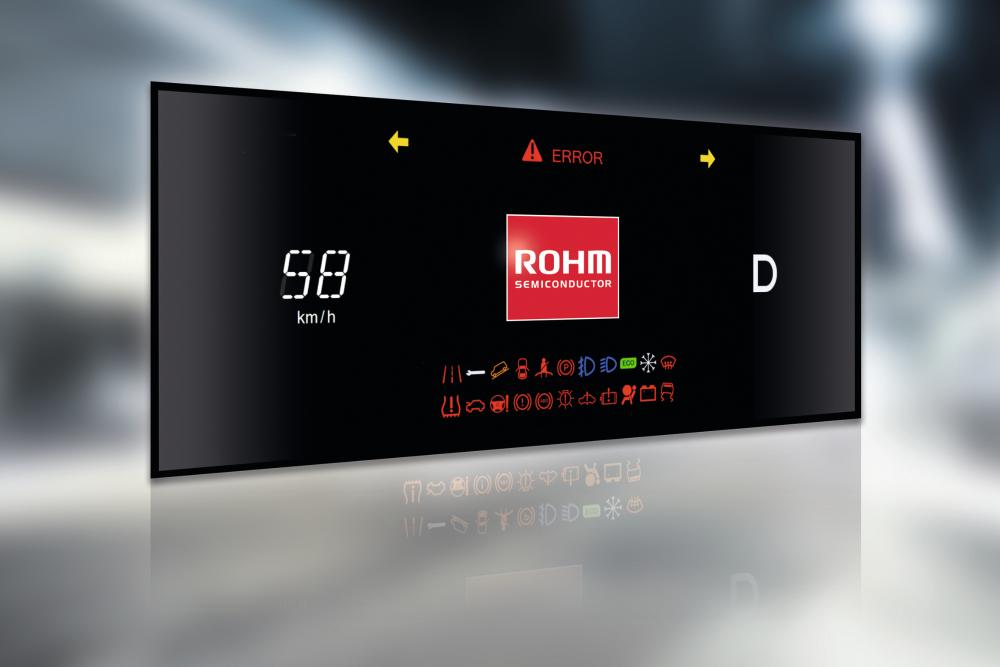 Automotive displays are the core for future interface concepts
So far, the focus of all the mentioned display trends is on the needs of the driver. But there is also a growing market targeting displays designed for the passengers. ROHM, for example, experiences a strong demand for exclusive and technically sophisticated display solutions, mostly for entertainment applications enabling new business models for the car makers based on content delivery.
4. Innovative chip solutions​​​​​​​
Wherever the display is installed, ROHM offers a wide range of innovative chip solutions for processing the video stream and driving the display panels as well as for their backlighting. At the same time, ROHM ensures each application's connection to high-speed networks while suppling them with the appropriate power, especially with regards to their control functions under the very high and constantly expanding safety standards in the automotive sector.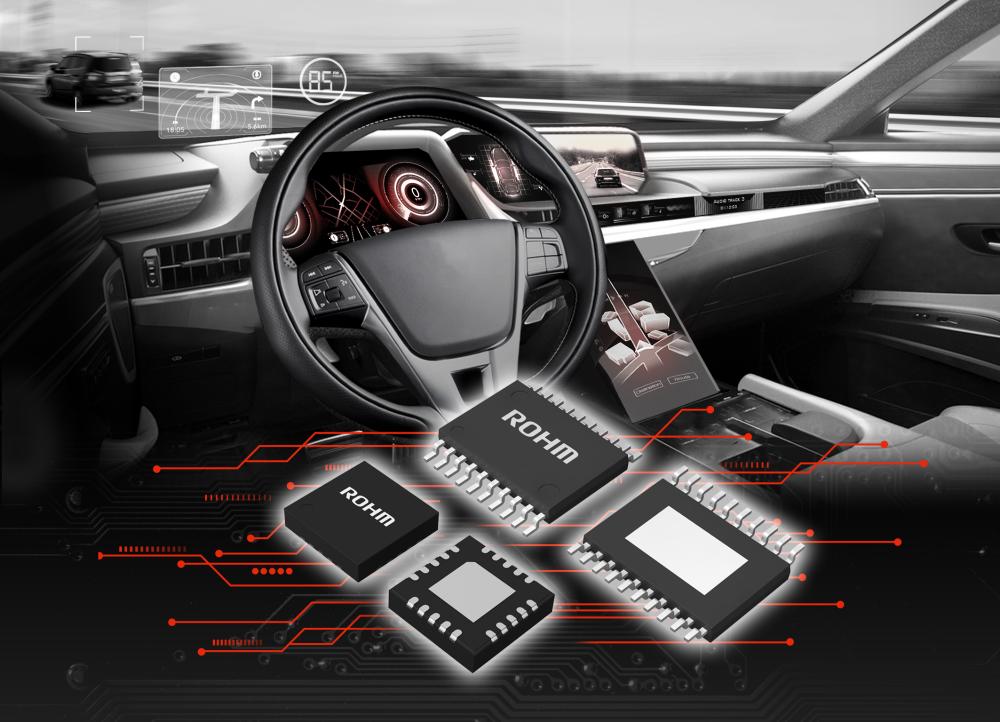 Over time, more and more applications have been realized with automotive displays – and innovative ROHM chip solutions inside
To support system designers, ROHM provides them with an appropriate software suite to simplify programming and configuration of the display – with a special focus on safety requirements. In addition, extensive documentation and application notes with design examples are available, as well as the necessary safety manuals for successful certification.
5. Changing architecture​​​​​​​
Until a few years ago, most display systems had a System on Chip (SoC) with an integrated Graphics Processing Unit (GPU) located next to the display panel. Technical feasibility, security aspects, commercial aspects, but also project and system responsibilities played a decisive role.
Tier1 suppliers delivered a closed, consistent system with all functions integrated. An instrument cluster, for example, contained all functions in one system and was realized and delivered by one supplier to the OEM for assembly.
This so-called "distributed architecture" is undergoing a fundamental change. The trend towards stand alone or remote display screens supports the new domain architecture. Displays mainly serve to display content – such as rendered graphics and video streams – that is no longer created by an SoC or GPU within the display system, but by a computing unit, a domain controller, that is farther away in the car, for example under the back seat.
6. Reducing complexity
The more the complexity on the display side decreases, the more the freedom for interior designers increases. Synergies can be created on an architecture level, along with the growing number of displays in the car. One benefit origins from the combination of all GPUs in one location or even in one SoC from which all displays are served. A bigger variety of options for different car models can be realized, customization is done easier and in some cases by a simple software change on the same hardware platform.
Domain architecture requires connection lines between the domain controller and the displays. Those lines must cope with increasing data rates as the video resolution increases. The display finally needs to receive the video stream and play it off with all safety rules required. In addition, the majority of the displays requires a control and auxiliary data channel to operate correctly.
In some cases, two or more displays can be served via one connection line. Usually, these displays belong together, either by their function and/or because of their location.
ROHM provides so called Serialiser and Deserialiser but also Video splitter products to connect the displays but also integrates the required functions for a multidisplay topology, reducing the number of cables and connectors.
With its competence in the field of display technology, ROHM Semiconductor contributes to shape the automotive future – in the long run.
Interested in more display trends shaping the automotive future? Click here to explore part 2: https://www.rohm.com/blog/automotive-display-trends-parttwo