Back
Revolutionizing Manufacturing and Logistics with Industrial IoT (IIoT)
11/04/2020
The Internet of Things (IoT) connects a variety of devices to the Internet.
Although exposure in the media and on the web has significantly increased awareness for IoT, it is still not widely known that applying this concept to the industrial sector (IIoT) can greatly improve productivity and return on investment.
Here we will introduce the concept of IIoT, which is expected to revolutionize the manufacturing industry, as well as the impact IIoT will have on manufacturing and logistics.
What is Industrial IoT (IIoT)?
As its name implies, Industrial IoT is IoT specialized for the industrial sector.
In a previous blog article (What is IoT?) we introduced ROHM sensors and wireless technologies, but IIoT can also provide alerts on equipment failures and improve production and operating efficiencies by collecting, accumulating and analyzing data and information from connected devices and equipment. This translates to shorter lead times, lower risks for defective products, improved traceability, and reduced maintenance costs.
Now let's take a look at some examples.
Smart Logistics
It often takes considerable time and effort to get manufactured products to the customer.
In fact, if the entire distribution process were carried out manually, both the labor costs and possibility of error would increase dramatically. By utilizing IoT technology, smart logistics can monitor the 'what', 'when', and 'where' of products in real time, minimizing many of these risks.
As an example, visualizing and streamlining the entire distribution process makes same-day or next-day shipping of products ordered online possible.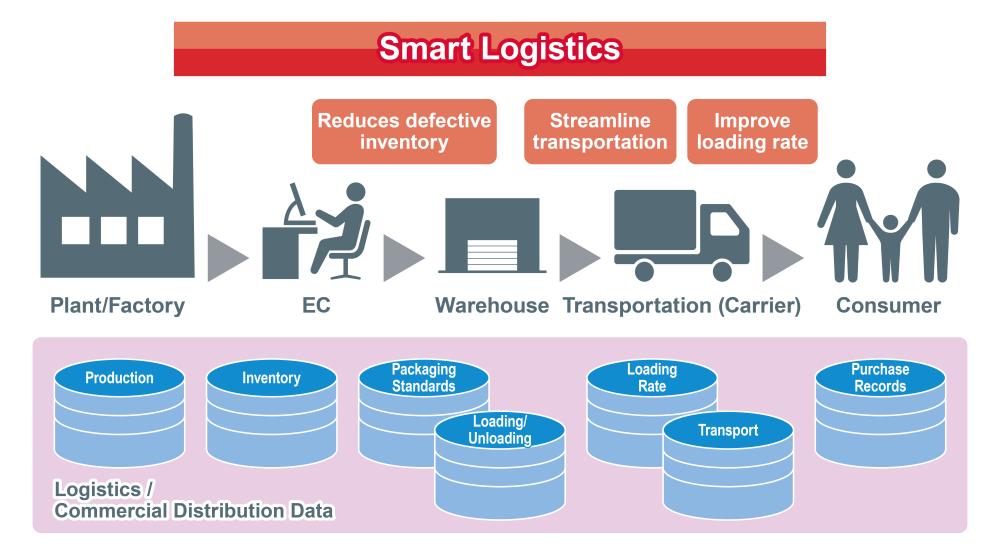 Smart Factories
Up to now, Factory Automation (FA), which automates part of the manufacturing process with machines, has been adopted and contributes to the development of the industry. Adding IoT promotes further evolution by creating smart factories.
Smart factories utilize sensors and wireless communication technologies to visualize and share information on equipment, people, and products in the manufacturing process, as well as AI for managing and simulating this information to optimize production lines. Further improvements in production efficiency are being pursued through 'automation' and 'autonomization' that notifies workers and instructs and controls robots.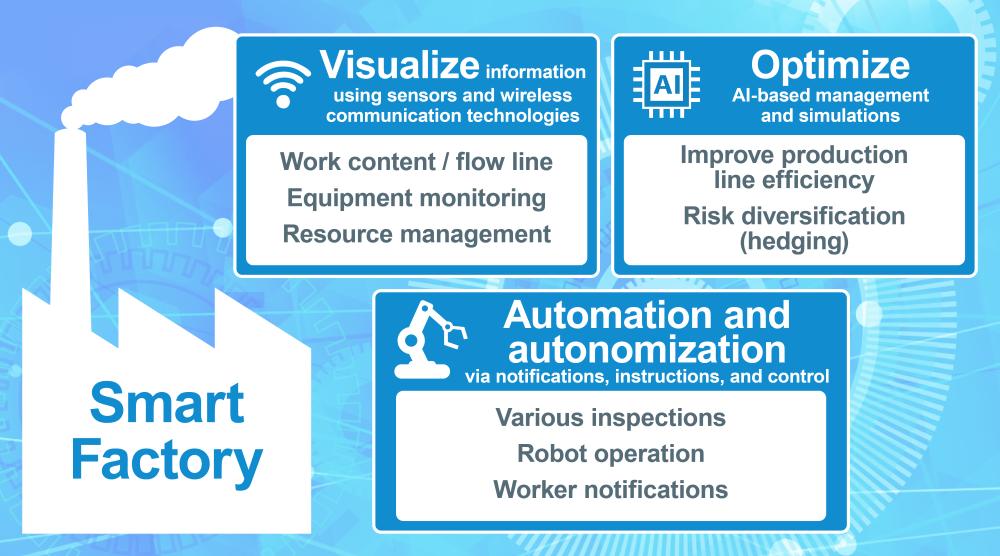 IIoT Provides Not Just Greater Convenience
Why is IIoT believed to provide a greater return on investment than consumer-related IoT? Because consumer IoT is focused on convenience, while IIoT is implemented primarily to improve efficiency, enhance traceability, and reduce costs.
To increase efficiency and traceability in factories, visualization will make it possible to investigate and track the 'what', 'when', 'where', and 'how' to facilitate quality and safety assurance.
At the same time, to reduce maintenance costs, integrating sensors in equipment can be used to detect signs of failure and issue notifications and warnings to decrease maintenance frequency and prevent accidents. In addition, the expertise and knowledge of experienced engineers and technicians can be readily passed down to the next generation through the accumulation of information, image analysis, and other means.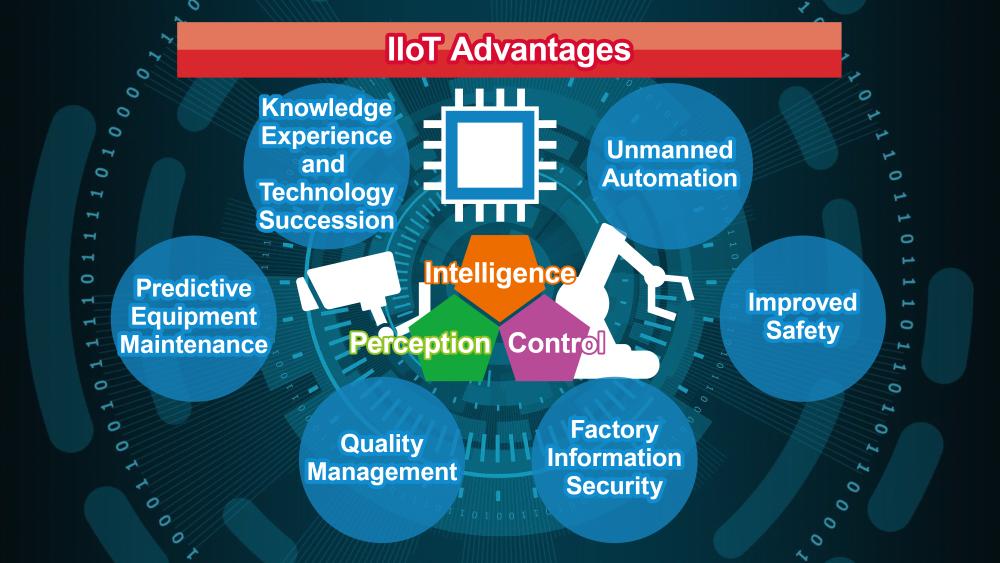 Trends in IIoT
Looking at the global landscape, China has been particularly aggressive in implementing IIoT.
In 2011 the Chinese government announced a policy of introducing IoT to promote modernization, actively implementing it in factories and the medical sector.
After 2020 there are plans to optimize the procurement and management of resources and materials by leveraging 5G, the next-generation wireless standard that promises wide band low latency communication over a wide area, together with AI and advanced camera systems for detecting areas and employee movement in logistics processes in real time.
In Germany, where the Fourth Industrial Revolution (Industry 4.0) was launched, many companies, including major organizations in the manufacturing and machinery industries, are working on IoT through public-private partnerships.
At the same time, the US is spearheading efforts towards implementing Internet for the industrial sector, or Industrial Internet. The Industrial Internet Consortium (IIC), which is driving this initiative, is comprised of over 200 members, many of them prominent companies in the US, Europe, and Japan. And in addition to implementing the industrial internet through the use of IoT technology, new values and services are expected to be created from open activities.
What's more, in Japan smart logistics is one of the projects under the government's Strategic Innovation Program, which has begun research and development. The goal of this project is to achieve an efficient platform for collecting various data from manufacturers, logistics companies, and distributors and providing it to businesses who wish to use it.
In this project, it is expected to improve productivity in logistics and retail businesses by 20% over the current level by significantly reducing loss through the sharing of inventory management status within the supply chain and improving delivery conditions (i.e. driver shortages, undeliverable).
Advanced Technologies Used in IIoT
Next, we will cover 3 leading technologies important for achieving smart logistics and smart factories.
Smart Tags (RFID)
As smart tags become increasingly popular, consumers are more likely to see them in stores.
They can also play an important role in smart factories and smart logistics.
For example, attaching smart tags to products and reading them in bulk can lead to dramatically improved efficiency during delivery and inspection. Of course, this data can also be employed for asset management, making it possible to reduce the number of personnel and man-hours needed for management.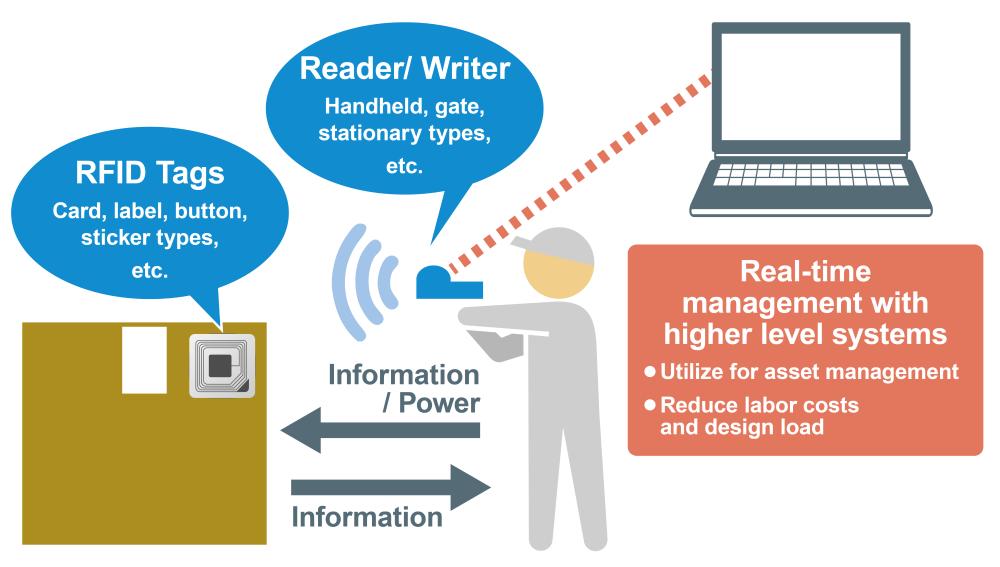 Robots
Developing and using robots are essential for realizing IIoT.
Advancements in sensing technologies, camera functionality, and AI have given rise to robots that can move autonomously in factories and facilities to perform operations. And robots are now being used for transporting and inspecting goods as well.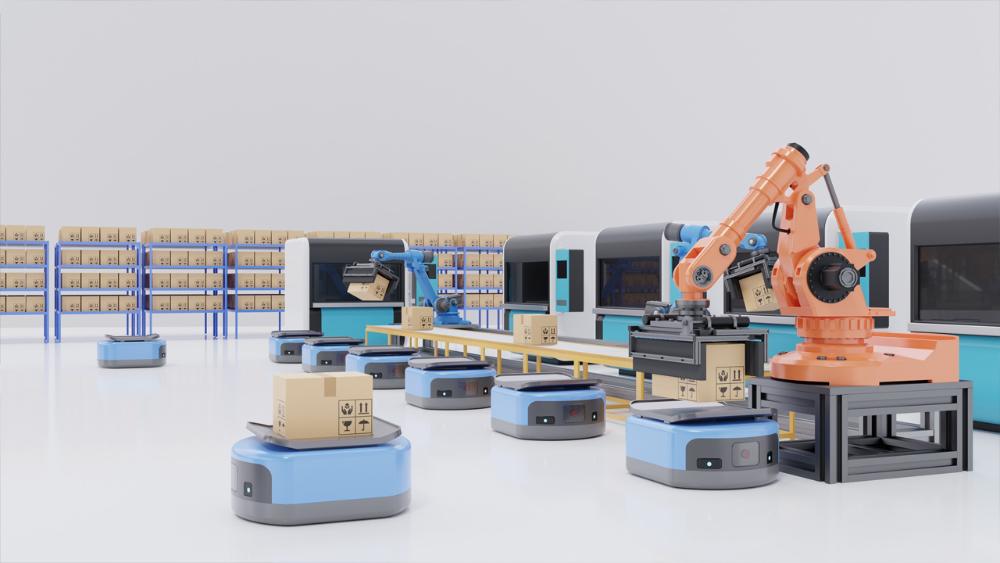 Drones
Drones are attracting much attention as a way to revolutionize logistics in the future.
According to a research firm, the global market for drones is about 18 billion USD, including both private and military demand. This is expected to continue to increase, rising to an estimated 27.5 billion USD by 2025. The transportation and delivery services sectors in particular are projected to grow at a high CAGR (Compound Annual Growth Rate) of 29.7% from 2020 to 2025.
In fact, drone service has already begun in Europe, China, the US, and other countries, primarily in the suburbs. From major online retailers to transporting medical supply companies, services both unique and familiar are being offered, such as food and ice cream delivery.
In Japan, the government is currently conducting freight transportation experiments on remote islands, depopulated/urban areas, and even during disasters, making it likely that practical application will advance once regulations are relaxed.
IIoT Challenges and ROHM Solutions
Perhaps the most important issue in obtaining results commensurate with the investment cost of IIoT is how to utilize the collected information.
To this end, as introduced in the beginning in our definition of IoT, information collected from sensors is transmitted through high reliability networks using wireless communication modules and processed by servers (the cloud). As such it is necessary to configure systems towards the concept of driving applications.
To meet the requirements of IoT, ROHM supplies a broad range of solutions utilizing a variety of sensors and wireless communication technologies for both IoT and IIoT, along with evaluation kits that facilitate verification; and for smart logistics and factories we offer products such as thermal printheads.
ROHM Thermal Printheads are Being Adopted for IIoT
Thermal printheads are not only used in manufacturing and logistics to print labels for products and packaging materials, but are also employed to print date of manufacture (date codes) directly on the packaging materials themselves. Regarding printing performance, from the viewpoint of work efficiency, it has been required to print relatively large quantities at high speeds (even if a little dirty), but in recent years in consideration of safety and security along with the trend towards IIoT it is necessary to print complex labels such as 2D bar codes that not only contain the date code but also detailed information and to improve traceability.
However, with conventional thermal printheads it is often imperative to reduce print speed (work efficiency) to improve print quality (information quantity and resolution), making it difficult to achieve high efficiency printing of large quantities of information.
ROHM's TH300x series of high definition high speed thermal printheads, released in 2019, is capable of ultra-high-speed printing at 1m/s at a high resolution of 305dpi on environmentally friendly paper and other media. In addition to achieving both high print speeds and high print quality, these heads also feature 7 times the corrosion resistance (longer life) of standard products. What's more, their robust design enables use even in special environments, allowing them to be adopted in thermal printers for printing date codes in food packaging, logistics, and quality control applications.
Related Links
What is IoT? In this article we introduce 4 important elements, usage cases, and prototyping methods.
https://www.rohm.com/blog/-/blog/id/7405801
ROHM Thermal Printheads
https://www.rohm.com/products/printheads
Industrial IoT Solutions
https://www.rohm.com/solution/industry/industrial-iot