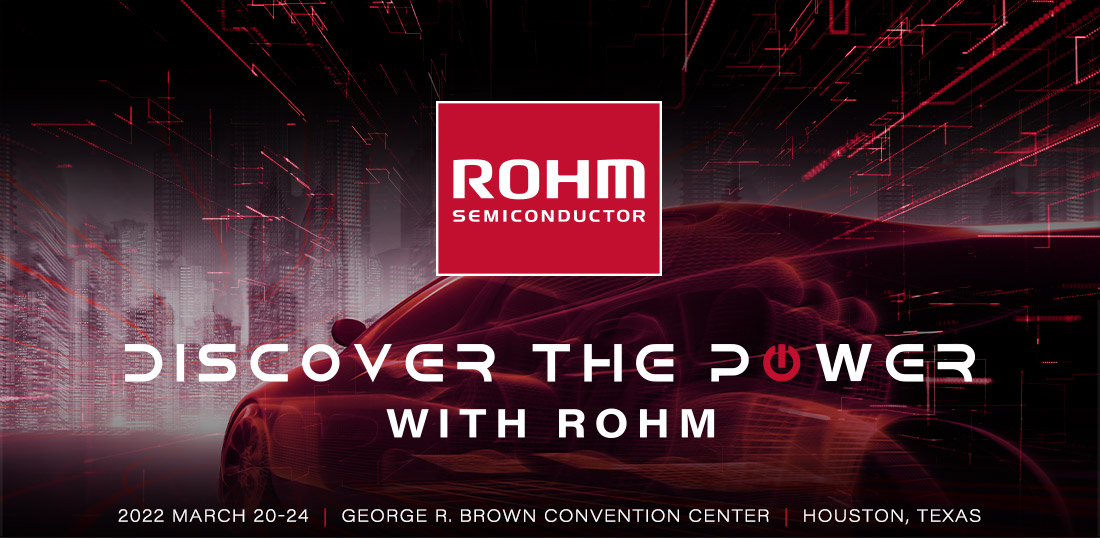 Join ROHM at the APEC 2022 (booth#524) conference, where we showcase our latest solutions and technologies for power applications for automotive and industrial. Register here
Power is quickly becoming one the most important factors in many areas, driving technological innovation brought on by the need to conserve power as devices and systems consume ever increasing amounts of power in pursuit of greater sophistication and functionality. ROHM has been at the forefront of power in the semiconductor industry for many years, continuously releasing breakthrough products ahead of the competition, including next-generation SiC.
booth highlights
Demos
USB PD (BD93F10MWV-EVK-001, BD91N01NUX-EVK-001)
ROHM offers power receiver controller ICs that support dedicated standalone USB PD Type-C Sink operation.
Scalable PMIC (BD9680x)
ROHM configurable PMICs for automotive SoCs feature multichannel output that enables customization based on application requirements
Buck DC/DC for EVs/HEVs and Industrial Equipment (BD9V101MUF-LB)
The BD9V101MUF-LB is a current mode synchronous buck converter with integrated high voltage power MOSFETs that utilize proprietary Nano Pulse Control to enable direct conversion from 60V to 3.3V at 2.1MHz through minimum pulse widths as small as 20ns
Nano Energy Buck (BD70522GUL)
ROHM ultra-low power DC/DC converters utilize Nano Energy technology to deliver class-leading low power consumption, making them ideal for portable and dry-cell battery applications
LED Drivers (BD18347EFV-EVK-101)
ROHM's 4ch linear LED driver ICs with built-in MOSFET feature an optimized design that minimizes board area and significantly reduces design load, making them ideal for LED rear lamps, fog lamps, and turn signals used in the latest 2- and 4-wheel vehicles.
EMARMOUR™ High EMI Tolerant Op Amps
ROHM high noise immunity EMARMOUR™ CMOS op amps feature superior noise immunity that completely eliminates oscillation caused by load capacitances while supporting high-speed amplification required in abnormality detection and other systems.
3pin/4pin Half Bridge Board (P02SCT3040KR-EVK-001)
ROHM proposes solutions boards that include drive circuitry, power supply control, protection circuits, and other systems using state-of-the-art SiC MOSFETs and gate drivers. The P02SCT3040KR-EVK-001 integrates an isolated gate driver IC, flyback power supply IC, and multiple SiC MOSFETs.
IGBT with SiC SBD (RGWxxTSxxC)
The RGWxx65C series of hybrid IGBTs with built-in SiC Schottky barrier diode achieves significantly higher efficiency while dramatically reducing turn ON loss. What's more, AEC-Q101 qualification supports automotive applications, and low saturation voltage further improves efficiency.
MidNite Solar (B17 Inverter)
The most advanced battery-based inverter/charger system on the market, MidNite Solar's MNB17 utilizes ROHM's proven SiC technology to drive efficiency and reduce system cost while providing high performance and superior reliability