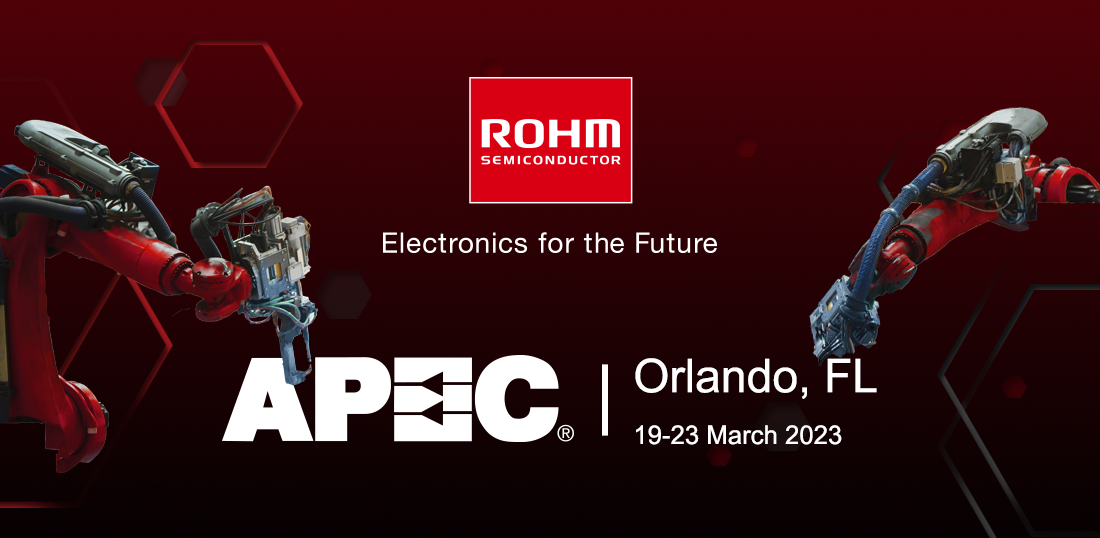 Join ROHM at the APEC 2023 (booth#832) conference, where we showcase our latest solutions and technologies for power applications for automotive and industrial. Register here.
Power electronics is playing an increasingly important role in the automotive industry, as governmental regulations force many car manufacturers to shift towards electric vehicles, and it also plays a vital role in the industrial sector brought on by the continuing advancement of IIoT. At the same time, market growth is being driven by the demand for power management to handle higher voltages that are being adopted across various industries and by the use of SiC-based devices in developing countries. A market leader for many years, ROHM continues to innovate and release breakthrough products and solutions ahead of the competition, from pioneering SiC power modules and discretes to next-generation GaN and proprietary high efficiency power technologies.
SEMINARS
Challenges and Solutions for Packaging State-of-the Art SiC Power Devices
Speaker: Ming Su
Wednesday, 3/22 12:00 – 12:30 PM
Room: W205B
Mid-Voltage GaN HEMT (EcoGaN) and Gate Driving Technology
Speaker: Kengo Ohmori
Tuesday, 3/21 3:45 – 4:15 PM
Room: W205B
Booth Highlights
Demos
Nano Pulse Non-Isolated DC/DC
Takes advantage of ROHM's 150V GaN HEMT with EcoGaNTM to improve power conversion efficiency while decreasing size even at high frequencies.
4th Gen SiC
Leverages original double trench structure along with significantly lower gate-drain capacitance (Cgd) to reduce ON resistance and switching loss by 40% and 50%, respectively.
Scalable PMIC
Configurable multichannel AECQ PMIC optimized for automotive SoC.
Nano Cap LDO
Automotive-grade design utilizing proprietary Nano CapTM technology opens up new possibilities for miniaturization and stability by achieving stable operation at output capacitances of 1uF or less.
USB-PD I/F
USB Power Delivery compatibility enables power supply up to 100W, expanding applicability.
LED Driver IC
Unique low power consumption technology together with both DC and PWM dimming capability supports a wide range of automotive backlight specifications.
Gate Driver IC
The all-in-one configuration that provides isolation via magnetic coupling contributes to greater inverter miniaturization.
GaN + IC IPM
Combines Nano PulseTM ultra-high-speed pulse control + QuiCur™ fast load response + EcoGan™ high-speed switching technologies to reduce the number and size of external components.
PMIC
New ISO 26262 and ASIL-B compliant PMIC for next-gen automotive cameras delivers anomaly detection in the industry's smallest form factor, reducing mounting area by 25%.