Superior analog technologies cultivated over many years
Leveraging our resources allows us to develop power supply systems optimized for the needs of today and tomorrow
Advanced analog technologies infused into groundbreaking chips

ROHM pursues excellence through a cross-divisional development system

Achieving the extraordinary

Creating breakthrough products

Combining a variety of technologies on a system level
Advanced analog technologies infused into groundbreaking chips
 Data utilization based on IoT and AI (Artificial Intelligence) is increasingly being used to achieve a more comfortable lifestyle and healthy society through the advent of smart cities and proliferation of electric vehicles. In the near future this will likely require more power than ever before.
 In order to fully utilize the advantages of the sophisticated electric and electronic equipment that will emerge in the future stably and efficiently, further evolution of power and power supply systems is needed. ROHM leverages extensive analog expertise garnered over many years to deliver power supply and motor driver ICs featuring superior performance that contribute to continued advancement in the power electronics sector.
 When developing these high efficiency, high reliability ICs, precise control of the power waveforms is required. Through the development of ICs for consumer electronics, ROHM has refined its proprietary analog technologies to allow flexible and fine control of electrical signals. In addition, we have established a unique development system that accurately incorporates advanced analog technologies into each process, including circuit design, layout, and process development. These technologies and development system will allow us to develop ICs that accelerate the evolution of power systems.
ROHM pursues excellence through a cross-divisional development system
 When developing a new product ROHM calls upon experts with considerable expertise in specialized areas such as circuit design, layout, and process development, who are guided by a dedicated project supervisor tasked with overseeing the entire process. The chip functions, performance goals, and implementation methods are discussed at roundtable meetings and multiple evaluations are carried out to achieve design targets. This development method is also applied to power supply ICs, becoming the foundation for creating the most advanced ICs on the market.
Circuit design, layout, and process development are thoroughly combined to achieve exacting power control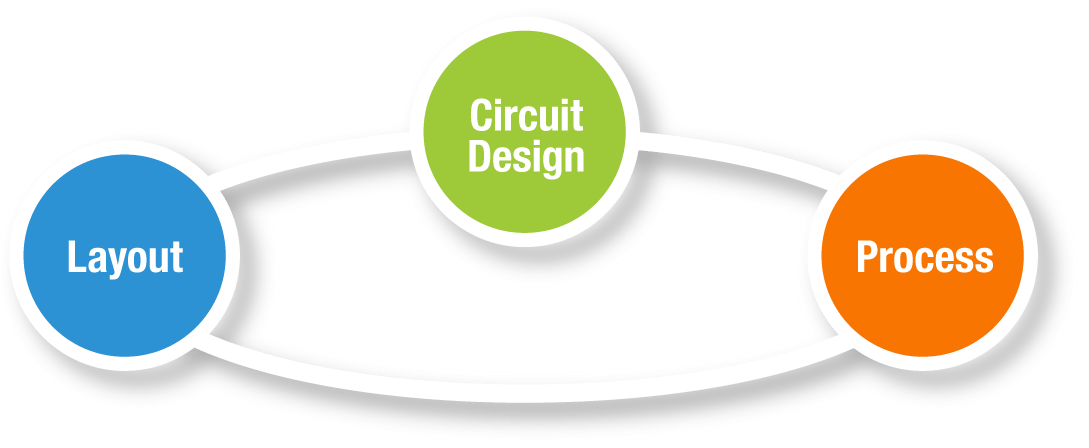 This cross-divisional coordination method is believed to be ideal for developing analog products such as power supply ICs. The signals and power waveforms of analog semiconductors are not only affected by the characteristics and layout of the devices that make up the circuit, but also by the differences in the length and shape of the wiring that connects them. However, like the idiom 'easier said than done', this ideal development is often difficult to put into practice, often requiring much time and effort, with repeated discussions and meetings.
Achieving the extraordinary
 So why is ROHM committed to pursuing such a time-consuming development approach? The answer lies in the many years of producing custom semiconductors for consumer devices that meet the needs of our customers. To achieve the strict development goals demanded by customers, the entire development process requires a strategic approach and a specific set of technologies which must be implemented in an integrated fashion. ROHM's corporate culture is deeply rooted in an organizational framework and development approach that continuously pursues high performance. From silicon ingot pulling (which is the starting point for semiconductor chip production) to the internal circuit and layout design, mask production, wafer processes, testing, and packaging, ROHM utilizes a vertically integrated manufacturing system in which all process are performed in-house. ROHM sees its strength in a production system that manages both product supply and quality, unlike the division of labor which has become the norm in the semiconductor industry.
 ROHM is currently shifting its core business from custom development that meets the needs of customers in the consumer device sector to planning and proposing products and technologies for the automotive and industrial equipment markets. However, the philosophy that enabled us to develop customized semiconductor solutions for consumer products remains unchanged. Supplying superior ICs to the industry is our mission that we strive to achieve through continual daily improvement.
Creating breakthrough products
 We are embarking on a new initiative to develop products that leverage ROHM's unique strengths. The first under this new approach is the Nano Series of power supply ICs.
 This development project was driven by the motto of 'Creating power supply ICs that lead the times', utilizing technology that meets not only current needs but will also serve as the foundation for future power supply systems. As a result, we developed an ultra-high-speed pulse control technology called Nano Pulse Control™ that achieves a step-down ratio far exceeding conventional limits along with Nano Energy™ technology that delivers ultra-low current consumption. Solutions incorporating these ROHM strengths are expected to spur innovation in new and exciting ways and open up a world of possibilities.
 Let's look at a development example that clearly shows this effect. First, with Nano Pulse Control™ we have achieved DC/DC converter ICs (BD9V100MUF/BD9V101MUF) that can convert 60V input to 2.5V in a single step. An ultra-short pulse width of 9ns provides a single-chip solution with high step-down ratio that enables conversion in a single step which would normally require 2 or 3 steps. This is expected to be used in 48V automotive power supply systems and industrial equipment currently being adopted in the European market to dramatically reduce the size and complexity of converters.
DC/DC converters featuring ultra-high 24:1 step-down ratio utilizing ROHM's advanced analog technology Nano Pulse Control™
 In addition, adopting Nano Energy™ in buck DC/DC converters makes it possible to drive IoT devices and wearables for as long as 10 years on a single button battery. IoT devices that periodically collect and transmit data spends most of the time in the idle state. ROHM's BD70522GUL buck DC/DC converter IC reduces standby power consumption to a mere 180nA while achieving a power conversion efficiency greater than 90% over a wide range of operating conditions, from low to high loads. This can lead to innovations in the IoT and wearable fields by eliminating the need for frequent battery changes.
Combining a variety of technologies on a system level
 In the area of power supply ICs for audio, technology parameters related to the design and construction were thoroughly examined at the system level in order to improve audio quality as part of our new initiative.
The MUS-IC series of high fidelity audio ICs is the result of this system-level approach, which considers the effects of each development process in order to determine the ideal design and product conditions.
 The quality of the power supply has a considerable effect on the sound quality of audio equipment. Power supply ICs must therefore produce clean power with minimal voltage fluctuations and noise. However, this is by no means an easy feat to achieve. Individual differences that may not appear in the electrical characteristics of a power supply IC can be readily discerned by ear by audio professionals.
 ROHM has established 8 criteria for evaluating the sound of power supply ICs, including localization, presence, and resolution. A thorough investigation was carried out to determine which technological aspects of design and structure affected the sound quality. As a result, 28 parameters were identified. Based on these findings, ROHM established audio design technology capable of achieving the desired sound quality by adjusting each parameter. These power supply ICs are offered under the ROHM's MUS-IC brand.

 Other chips can benefit from this system design approach as well, such as high-EMI tolerance op amps designed to amplify the signals of automotive sensors without being affected by noise interference. Signals obtained from sensors that acquire data on the state of various equipment and driving conditions are often extremely small. It is therefore necessary to use op amps to amplify the voltage to a level that can be processed by the MCUs in onboard computers. However, there are many sources of noise in a car, which can lead to errors and malfunctions if the noise is amplified with the signal. In response, ROHM was able to improve noise resistance by 3.5 to 10x and eliminate the need for special noise countermeasures by thoroughly aligning circuit design, layout, and process development.

 As we head into the future, ROHM's analog technology continues to evolve. At the same time, ROHM is working to further decrease the size and weight while improving the efficiency of power supply and driver ICs. Stay tuned for further strides in chip performance from ROHM.