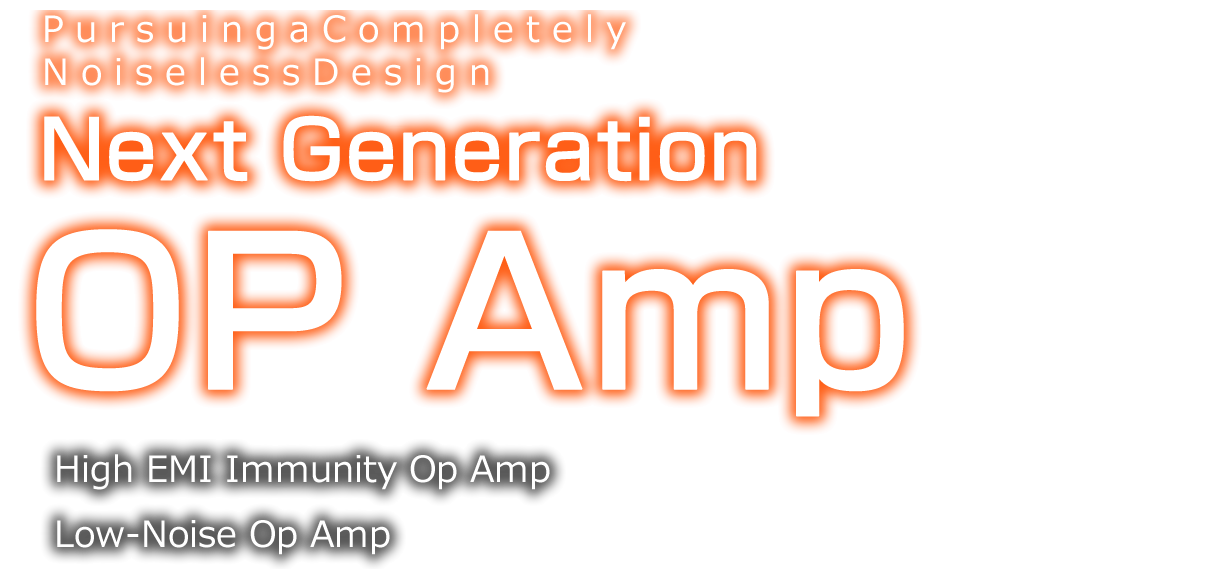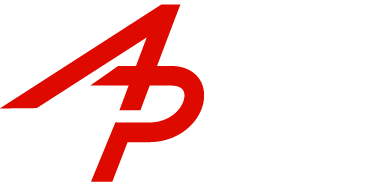 Revolutionary noise design achieves refined operation featuring greater accuracy
2 Op Amps that pave the way to the sensing technology of tomorrow
The importance of sensors continues to grow in the automotive and industrial equipment fields.
Op Amps are essential for amplifying weak sensor signals, and achieving more accurate operation requires that the Op Amp itself have high immunity against EMI (electromagnetic interference) from external sources, and the Op Amp itself must not emit noise.
At ROHM, we have developed bipolar Op Amps for automotive use that minimizes the effects of EMI along with a CMOS Op Amp for industrial applications featuring the industry-low noise and breakthrough noise tolerance.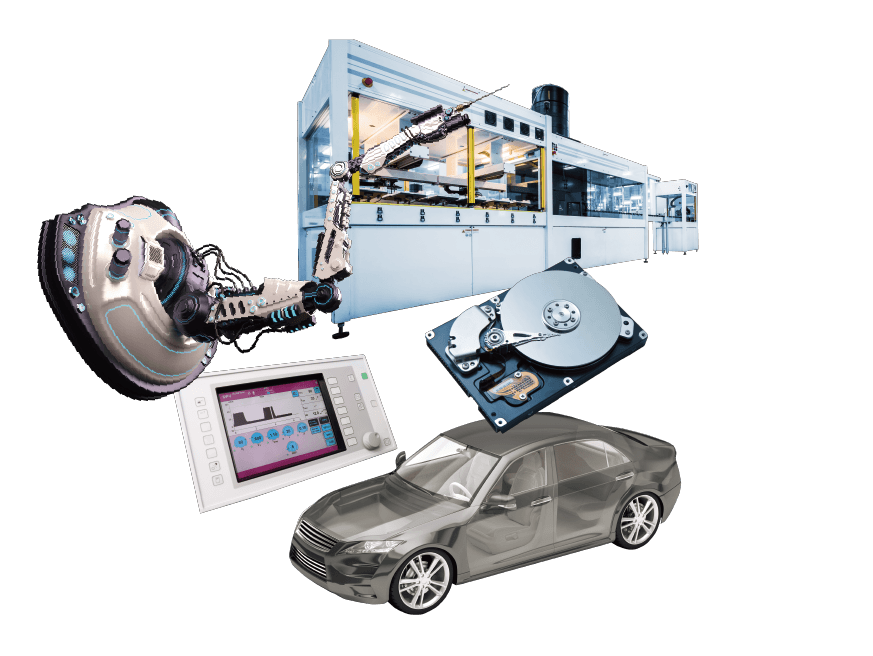 Pickup Product
Low-Noise CMOS Op Amp

dummy
2ch Automotive-Grade Ground Sense
Op Amps Featuring High EMI Immunity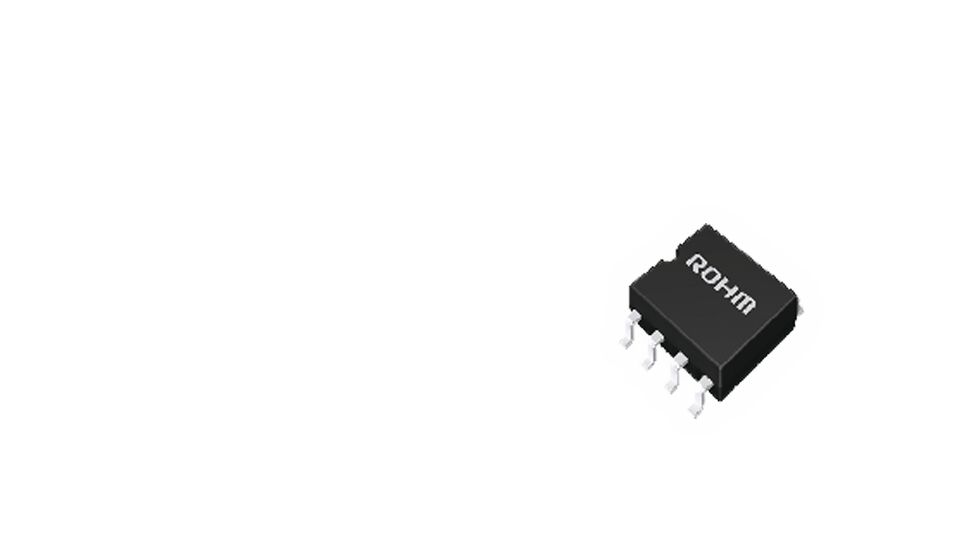 4ch Automotive-Grade Ground Sense
Op Amps Featuring High EMI Immunity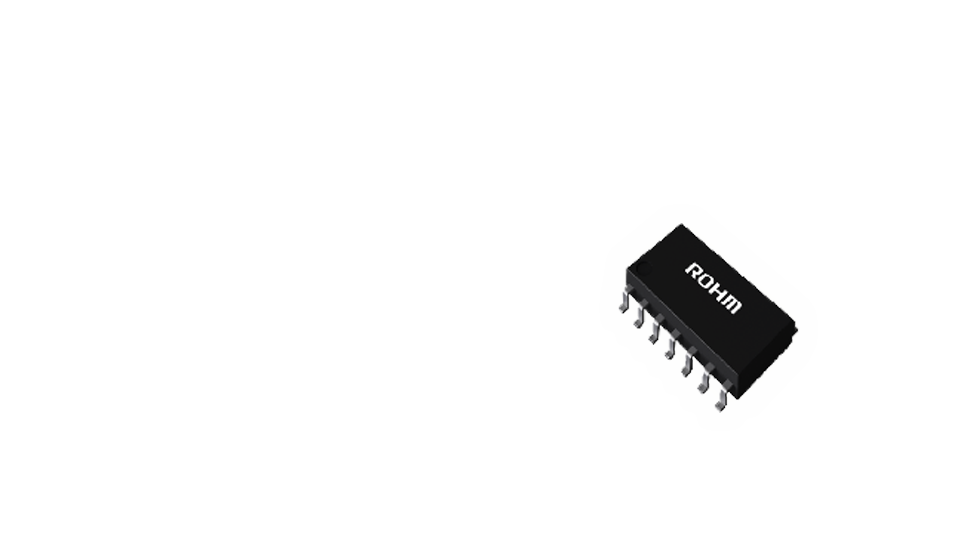 Technical explanation
Development Background
In recent years, the importance of and demand for sensors has risen due to advances in the field of automotive electronics, such as the introduction of ADAS (Advanced Driver Assist Systems). In addition, the use of IoT is rapidly expanding in the industrial equipment field. Advanced control utilizing sensors has become indispensable. In these areas, improving control accuracy and reducing power consumption are key issues, and peripheral circuits are being designed to operate at increasingly lower voltages.
Signals output from sensors are very small, making them susceptible to the effects of noise from surrounding electronic and communications equipment. This often causes noise to be amplified with the input signal, increasing the possibility of erroneous recognition that can lead to malfunctions. At the same time, to achieve high accuracy voltage amplification it is extremely important that the Op Amp itself does not generate noise. In response, leveraging considerable expertise allowed ROHM to develop automotive-grade Op Amps featuring high EMI tolerance that eliminates the needs for noise designs as well as models that provide unprecedented* noise performance ideal for industrial equipment.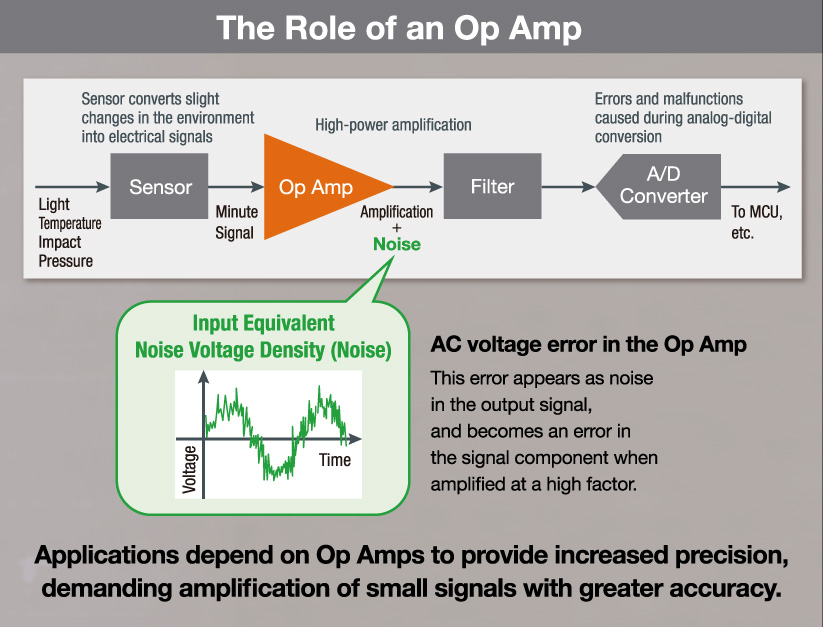 Technical Background
ROHM utilizes a comprehensive production system that integrates all processes, from product planning and circuit design to layout, prototype evaluation and test development. In the development of these 2 types of Op Amps, the development process covering circuit design and element layout is carried out in seamless cooperation with the product process (i.e. packaging),taking into consideration element form and materials. Conducting a thorough review of each process and optimally combining remedial measures allowed ROHM to develop Op Amps with exceptionally high EMI immunity as well as a CMOS op amp that provides the lowest*noise in the industry.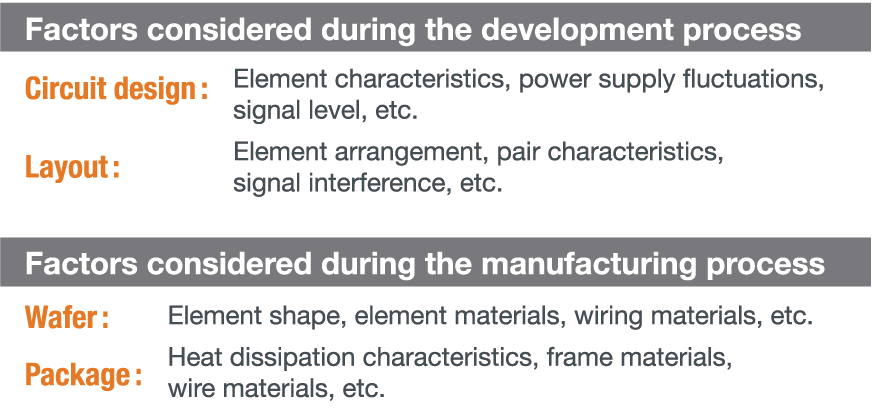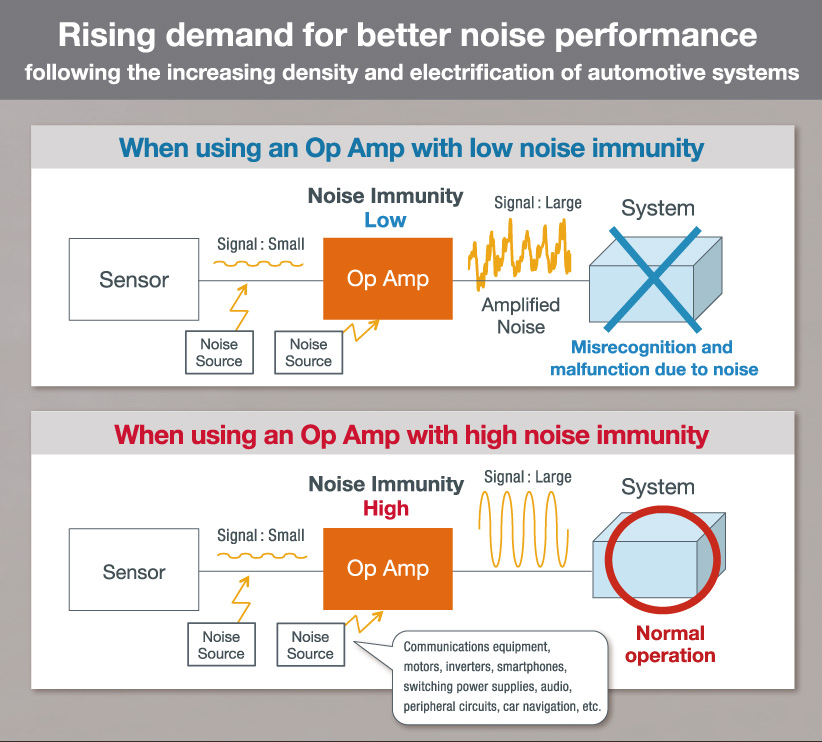 *ROHM October 2018 study

Industry-leading* noise immunity significantly reduces the design load for countermeasures against noise
As shown in the graph of the output voltage fluctuation at different noise frequencies at right, in contrast to the measured peaks of standard products A to E that are easily affected by frequency-based noise, ROHM's new product minimizes fluctuations based on frequency, making it possible to limit output voltage variations to less than ±1% (vs ±3.5 to ±10% with standard products).
Achieving high EMI immunity greatly reduces the burden placed on designers of automotive electrical systems to develop noise countermeasures that typically require much time and effort. This reduces the cost and space previously required for external components such as the CR filter and shielding.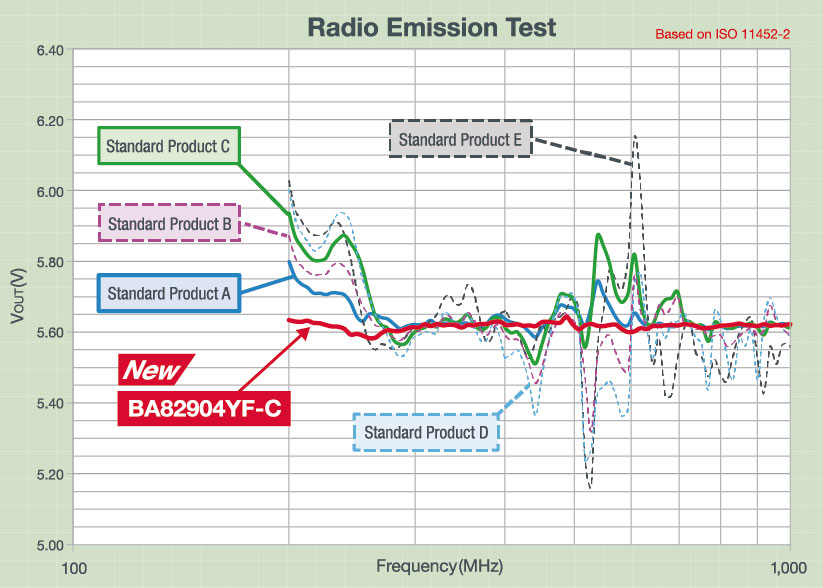 *ROHM October 2018 study
Significantly improving noise immunity by conducting a thorough review of circuits, layout, element size, and other factors
ROHM thoroughly analyzed previous products, added noise countermeasures circuits, reviewed the layout, and selected processes that generate optimal capacitances to dramatically improve EMI immunity. The key to success was to utilize a flexible approach in selecting the optimum solution, rather than simply following the industry trend of reducing chip size. This breakthrough noise immunity could never be achieved with just one countermeasure, but was instead the culmination of 3 factors.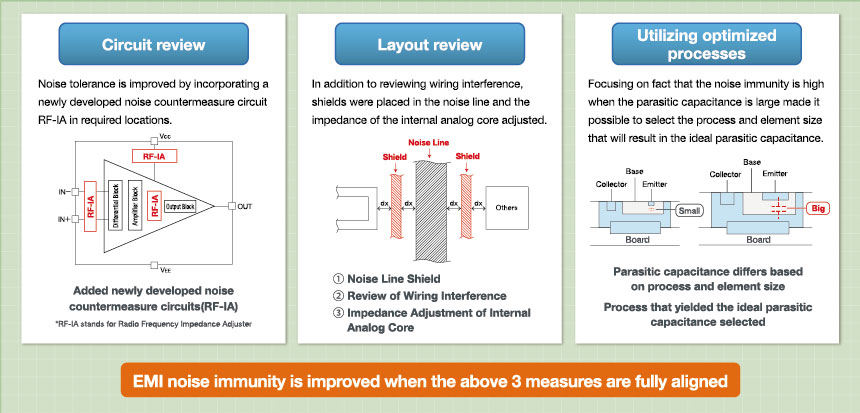 Significantly reducing the time, effort, and costs for noise countermeasures
Breakthrough EMI noise immunity eliminates the need for an external CR filter and shield previously required, contributing to greater space savings while reducing peripheral component costs.
Also, previously when integrating noise countermeasures, if noise evaluation fails after implementing functional and noise designs, it was necessary to start from the beginning, placing a considerable burden in terms of time, effort, and cost.
In response, ROHM's new Op Amp allows users to significantly reduce design man-hours and costs, contributing to shorter delivery times for set design.
Provides superior versatility and complies with international standards for reliability
ROHM's new high EMI immunity Op Amp maintains the same performance as conventional products, ensuring worry-free operation even when used as a replacement.
In addition, qualification under the international automotive standard AEC-Q100 ensures superior reliability.

Achieving greater accuracy through the industry's lowest* noise
To meet the increasing need for high accuracy sensor control, ROHM developed a CMOS Op Amp that significantly reduces the noise generated within the Op Amp itself. Typically, noisegenerated by the internal transistors and resistors can cause errors during signal amplification, which can degrade amplification accuracy.
In response, ROHM improved both the circuit design and manufacturing processes to achieve the lowest* noise in the industry, as shown in the graph at right.
As a reference, 2.9nV/√Hz is approx. 6× less than the conventional value, while 7.8nV/√Hz is 5× less. In addition,the new design suppresses the input bias current and input offset voltage (that are sources of error during amplification) while improving the phase margin of the oscillation margin (which is in a trade-off relationship with conventional noise) to an industry-best 68°. The result is not only lower noise, but significantly greater accuracy and operational stability as well. These improvements make it possible to design a peripheral circuit that can maximize sensor performance.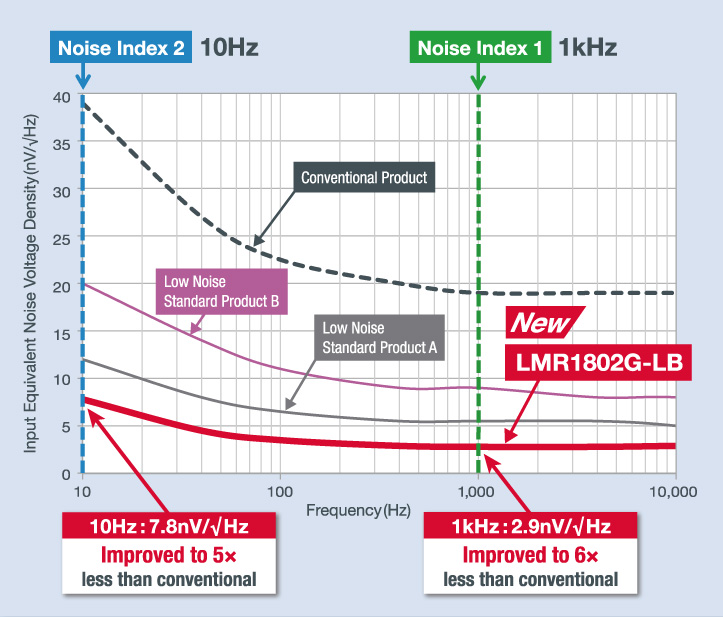 *ROHM October 2018 study
Achieving the lowest* noise in the industry by combining aspects of both circuit design and the production process
An analysis of ROHM's previous low-noise Op Amps was conducted from the standpoint of the manufacturing process.
As a result, it was discovered that minimizing electron scattering due to impurities makes it possible to suppress flicker noise. This significantly improves noise characteristics in the low frequency band. In addition, by adjusting the size of the transistor and circuit structure and decreasing the resistance value, ROHM was able to reduce thermal noise (white noise) generated from the internal transistors, resistors, and wiring. The key to achieving lower noise was approaching this challenge from both manufacturing and design aspects, allowing ROHM to deliver the lowest* noise characteristics on the market which would not be possible otherwise. The advantages of ROHM's vertically integrated production system are on full display here as well.

*ROHM October 2018 study
Significantly reduces input bias current and input offset voltage
The main cause of input bias current is said to be element leakage current that prevents damage caused by static electricity, but by optimizing the element size ROHM was able to limit the current to 0.5pA (around half that of conventional models).
For input offset voltage, ROHM conducted a review of the circuit design in order to increase voltage gain and minimized the effects of device variations by increasing the transistor element size.
Furthermore, selecting a production process that can optimize the input offset voltage is another factor allowing ROHM to achieve a low value of 450μV (1/4th of conventional).

Improved phase margin ensures superior stability
The 3rd feature is excellent stability. One problem with conventional Op Amps is that the phase margin becomes smaller as noise is reduced, increasing the likelihood of oscillation.
ROHM's new product achieves a high phase margin of 68°through optimized phase compensation integrated into several areas in the circuit in order to suppress oscillation. In addition, the capacitive load characteristics which is an indicator of how easily oscillation can occur has been raised to 500pF.