BD86852MUF-C
PMIC for Automotive Camera
BD86852MUF-C
PMIC for Automotive Camera
BD86852MUF-C is a power management IC with primary buck converter (DC/DC1), secondary buck converters (DC/DC2 and DC/DC3), external linear regulator control block and the power-on reset function for CMOS sensor and image sensing power supply. Output voltage and sequence are selectable and applicable to various image sensor power supply. This device adopts small package VQFN24FV4040 which is optimal for camera module. In addition, this device has a pin that can be programmed to turn on/off the spread spectrum providing a lower noise regulated outputs.
Product Detail
Part Number
|
BD86852MUF-CE2
Minimum Package Quantity
|
2500
Functional Safety:

A product that has been developed for automotive use and is capable of supporting safety analysis with regard to the functional safety.
Specifications:
Output Voltage1 (Min.)[V]
3.3
Output Voltage1 (Max.)[V]
3.9
Output Current Capacity 1 [V]
2
Output Voltage2 (Min.)[V]
1.1
Output Voltage2 (Max.)[V]
1.2
Output Current Capacity 2 [V]
1
SW frequency(Max.)[MHz]
2.2
Circuit Current(Typ.)[mA]
3
Operating Temperature (Min.)[°C]
-40
Operating Temperature (Max.)[°C]
125
Package Size [mm]
4x4 (t=1)
Common Standard
AEC-Q100 (Automotive Grade)
Find Similar
Features:
AEC-Q100 Qualified (Grade 1)
Output Voltage:
VO1: 3.3V or 3.9V (±2%)
VO2: 1.1V or 1.2V (±2%)
VO3: 1.8V (±2%)
Output Current:
VO1: 2A (Max)
VO2: 1A (Max)
VO3: 1A (Max)
Functional Safety Supportive Automotive Products
Primary DC/DC (VO1)
DC/DC with built-in FET
High Efficiency with Synchronous Rectification
Dual Secondary DC/DC (VO2, VO3)
DC/DC with built-in FET
High Efficiency with Synchronous Rectification
Each Protection Function
Spread Spectrum for EMC
Fail Detection Pin (for each output)
Selectable Output Voltage and Sequence
Overview
The BD86852MUF-C PMIC (Power Management IC) for cameras is designed to optimally manage the power supply systems of CMOS image sensors from all major manufacturers. This allows voltage settings and sequence control to be performed with a single IC, reducing mounting area by 41% and contributing to the miniaturization of vehicle camera modules. In addition, a camera PMIC heat concentration distribution circuit can be configured to lower power consumption by achieving a high conversion efficiency of 78.6% that suppresses heat generation.
Key Features
1. Reduces board area by integrating functions optimized for CMOS image sensors
CMOS image sensors – a key component of vehicle cameras – not only require different drive voltage settings and sequence control depending on the manufacturer, but are typically configured utilizing many external components. The BD86852MUF-C is equipped with pins for setting the sequence control and drive voltage of major CMOS image sensors. This significantly reducing mounting area over conventional solutions by requiring fewer external parts, contributing to smaller vehicle camera modules.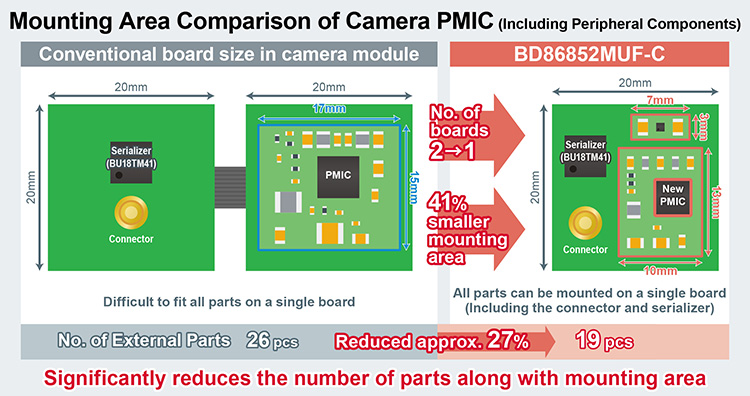 2. High conversion efficiency results in lower power consumption
This IC distributes heat concentration by utilizing an external LDO to supply power to the CMOS image sensor. Suppressing heat generation of the entire circuit achieves a high conversion efficiency of 78.6%, 4% more than standard products, which translates to lower power consumption in vehicle camera modules. In addition, the distance between the CMOS image sensor and LDO can be shortened, decreasing disturbance noise in the power supply line to ensure stable power supply to the CMOS image sensor.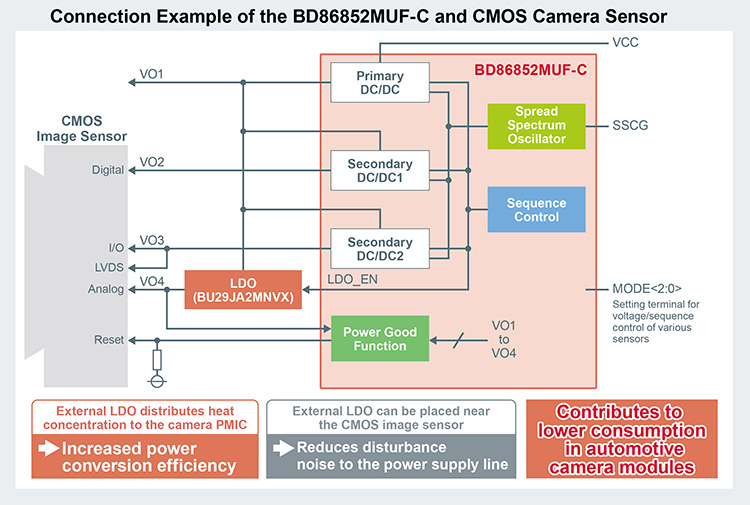 3. Built-in spread spectrum function reduces the number of man-hours required for EMI countermeasures
The internal switching regulator (DC/DC converter) includes a spread spectrum function that reduces EMI noise peaks due to switching by approx. 10dB.
Achieving noise reduction without having to change the board minimizes the development load for EMI countermeasures.
4. Integrated power supply system optimized for camera modules ensures high reliability
Three DC/DC converters are incorporated to supply the necessary power to camera modules. At the same time, sequence control is included that reduces the number of external components, along with multiple protection circuits such as a power good function for monitoring voltage conditions. This makes it possible to achieve providing high reliability.
Reference Design / Application Evaluation Kit
Evaluation Board - BD86852-TSB-001

BD86852-TSB-001 is an evaluation board for Power Management IC BD86852MUF-C that is suitable for Camera module application such as ADAS camera sensor. BD86852MUF-C integrate primary buck converter (DC/DC1), secondary buck converters (DC/DC2 and DC/DC3). Together with on board linear regulator, all power rails required for CMOS image sensor and image processor are available. The PCB layout has been miniaturized and optimized for use in camera modules.