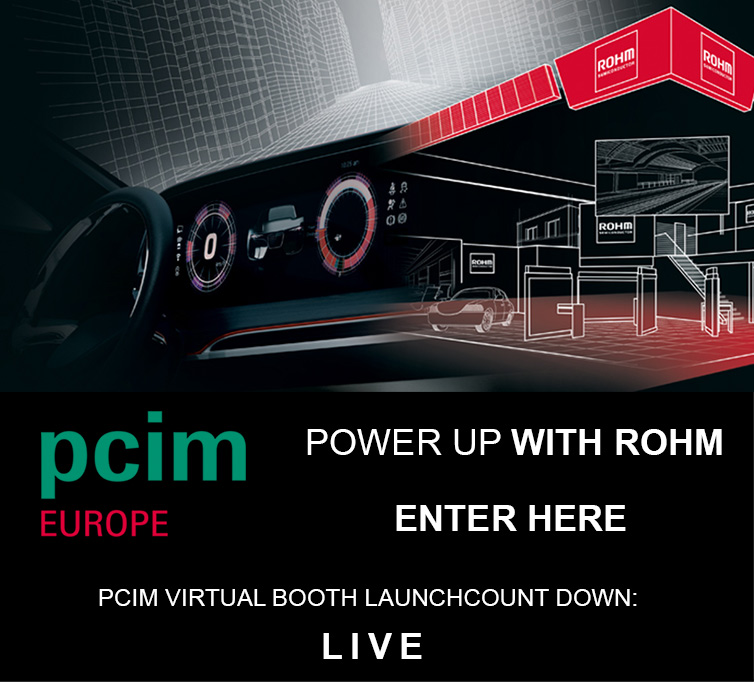 Do not miss out on this year's power highlight – PCIM 2021 Digital Days (3rd – 7th May, 2021).

You will find abundant content from live online seminars, highlight product videos, podcasts as well as our ever-changing virtual booth.
We also prepared a series of campaigns to engage with our audience, details will be announced on this page, our newsletter and on ROHM Europe LinkedIn channel soon, stay tuned!
ONLINE SEMINARS
CONFERENCE PROGRAM
Date: Monday, 3rd May 2021, 15:00 CEST Title: A High-Speed and High-Accuracy SiC MOSFET Model for Simulating Practical Power Circuits Presenters: Yohei Nakamura, Naotaka Kuroda, Atsushi Yamaguchi, Ken Nakahara, ROHM, J
Date: Friday, 7th May 2021, 10:50 CEST Title: Automotive Traction Inverter using 4th Generation SiC MOSFET Power Module Presenters: Kotaro Shibata, Atsushi Yamaguchi, Hirokatsu Umegami, Masashi Hayashiguchi, Noriaki Kawamoto, Akihiro Hikasa, ROHM, J
HIGHLIGHTED PRODUCTS