ROHM Semiconductor expands its range of Power Devices to offer complete Power Solutions
ROHM Semiconductor will showcase its latest power product designs at PCIM, the leading trade fair for Power Electronics, Intelligent Motion and Energy Management in Nuremberg, from May 07 – 09, 2019 (Hall 9, Booth 312).

Energy savings and reduced system costs in all kinds of systems are heavily influenced by the choice of power devices. With new developments from ROHM Group's extensive research and design initiatives, ROHM is able to offer customers not only a full line-up of efficient, compact products for their applications, but also a complete solution for the power channel. At PCIM 2019, ROHM will show power semiconductor solutions focused on E-mobility and power supply applications.
Highlights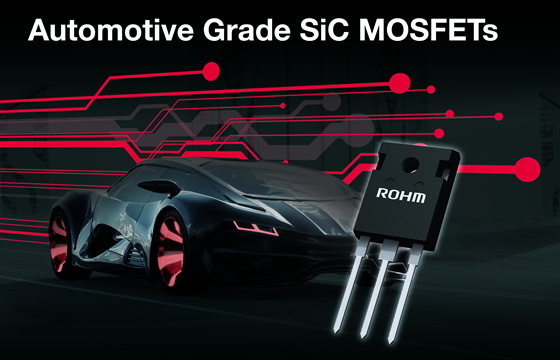 ROHM recently announced the extension of new automotive-grade SiC MOSFETs in its line-up, namely SCT3xxxxxHR series. This series has allowed the company to achieve the industry's largest lineup of AEC-Q101 qualified SiC MOSFETs that provide the high reliability necessary for automotive on board chargers and DC/DC converters.
ROHM 1,700V/250A Full SiC Power Module has the industry's highest level of reliability in high temperature and high humidity standards. With better switching characteristics than Si solutions it allows the miniaturization of heatsink and surrounded components in applications.
The new series of Isolated Gate Driver ICs for power MOSFETs will expand ROHM's current product portfolio, offering new solutions to increase the flexibility and improves the design of industrial and automotive power systems. The line-up has a 3,75KV isolation, AEC-Q100 gate driver device specifically designed to drive SiC power MOSFETs. It has a built-in active miller clamping to prevent parasitic turn on effects and integrates an under-voltage lock-out (UVLO) optimized to drive ROHM's SiC MOSFET. These functions improve the reliability of the system.
The new JN series of 600V super-junction MOSFET with fast recovery diode (FRD) implemented in its body diode has been released. JN series is an optimized MOSFET for inverter/converter applications, soft recovery characteristics of FRD and optimized parasitic capacitances contribute to reduce noise and prevent self-turn-on issue in bridge topology. ROHM offers JN series with variety of packages and wide RDS(on) variants.
ROHM's RGS series is automotive graded switching IGBT with high robustness against short circuit failure. RGS series acquires two types of collector-emitter Voltage - 650V guaranteed 8us short circuit withstand and 1200V with 10us short circuit withstand time. They can be selected according to battery size of electric vehicles. RGS series is suitable to automotive e-compressor and PTC heater application.
Based on long term experience with discrete power devices, ROHM Semiconductor also offers a broad lineup of SoC and application power management ICs for automotive, industrial and consumer market. The broad product portfolio also includes isolated DCDC regulators as well as optimized ACDC converters which allow to build-up high efficient power supplies based on SiC technology. In addition ROHM continues to expand the technical boundaries with new innovative concepts like Quick Buck-Boost converters or ROHM's new Nano Pulse ControlTM technology.
Video
Power Lab, ROHM Semiconductor Europe
Presentations
ROHM's Presentation will cover topics from industrial applications to E-mobility: