*ROHM April 27th, 2023 study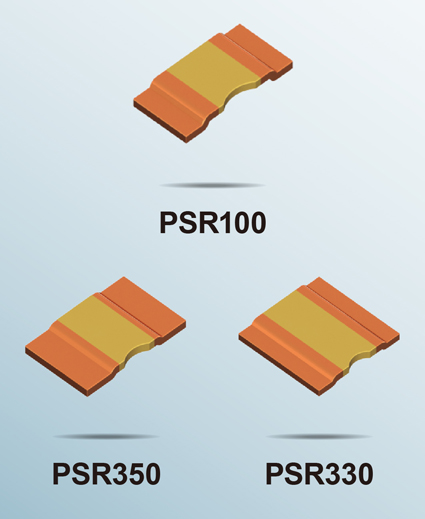 ROHM developed the industry's thinnest*(H:0.03inch) 12W rated metal plate shunt resistor (PSR350). It is optimized for high power applications in the automotive and industrial equipment markets. ROHM will also expand the PSR lineup to include a 0.2mΩ (PSR100) model along with a 15W type in the industry's smallest size (PSR330).
Shunt resistors have been used in power modules for industrial equipment for some time. Similarly, in the automotive sector the number of thin double-sided cooled power modules adopted in the main inverters of xEVs - demanding incorporate power device chips (IGBTs and SiC MOSFETs) and shunt resistors to decrease housing size - is rising.
Conventional metal plate shunt resistors reduce the cooling efficiency of power devices due to their relatively high profile. But decreasing height has proven difficult, as it is necessary to prototype and evaluate a variety of welding materials in different configurations. ROHM is able to take advantage of its strengths in manufacturing and design to create small-lot prototypes in a range of welding materials and patterns. This flexible development capability tailored to market needs makes it possible to develop the thinnest power shunt resistors on the market.
The PSR350 utilizes ROHM's vertically integrated production system together with material and process optimization to achieve a thickness of just 0.03inch (0.85mm), about half that of conventional products in the 12W class. The same technology is used to develop the smallest size (0.25inch × 0.25inch / 6.4mm × 6.4mm) 15W rated shunt resistor in the industry (PSR330). This decreases size by about 65% compared to conventional products in the same class, helping to reduce mounting area in a wide range of high power applications. At the same time, the PSR100 will be available in a 0.2mΩ model that extends the lower limit from the existing 0.3mΩ to enable detection of even higher currents.
Going forward, ROHM will continue to contribute to the miniaturization and energy saving of high-power applications by improving the performance of its broad family of metal plate shunt resistors.

PSR Series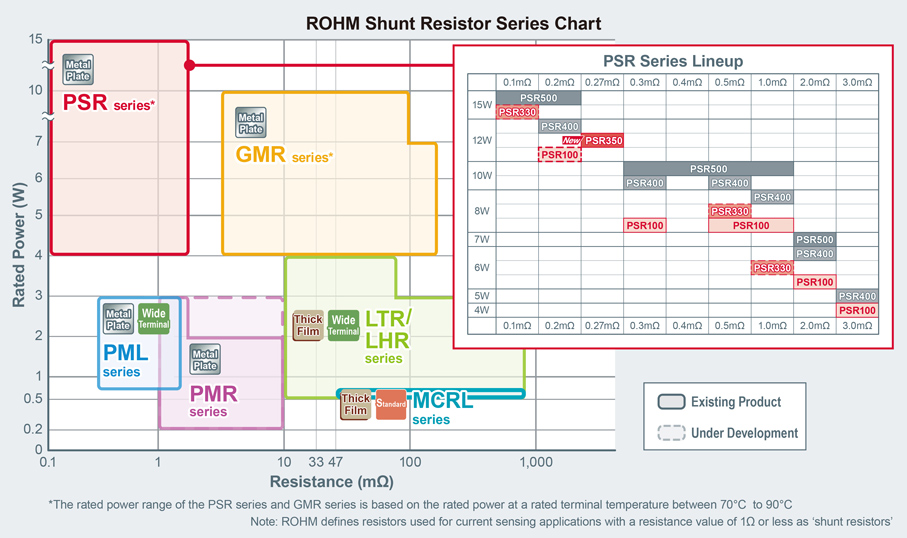 ROHM's PSR series covering the high-power range is increasingly being adopted in automotive and industrial equipment applications. Traditionally, there has been a trade-off relationship between rated power and size in resistors, making it difficult to achieve both at the same time. However, ROHM's vertically integrated production system allows for a quick development cycle through small-lot prototyping. Optimizing material selection along with the manufacturing process achieves high rated power in a compact size while also reducing the temperature coefficient of resistance compared to general products at the same rated power. This contributes to greater miniaturization and improved reliability in a variety of applications.
PSR Series Lineup
Part No.
Data
Sheet
Size Code
inch
[mm]
Resistance
[mΩ]
Rated Power [W]
(Rated Terminal Temp.)
Resistance
Tolerance
Temperature
Coefficient of Resistance*1
[ppm/°C]
Operating
Temp.
[°C]
Automotive
Grade
AEC-Q200*2
Low Temp. Side
High Temp. Side
PSR100
-
2512
[6432]
☆0.2
12 (120°C)
F
(±1%)
150±50
-65 to
+175
YES
0.3
8 (75°C)
4 (140°C)
0 to +150
0.5
0 to +100
1.0
0 to +100
2.0
6 (75°C)
4 (140°C)
0 to +50
3.0
4 (75°C)
3 (140°C)
0 to +50
☆PSR330
-
2525
[6464]
0.1
15 (120°C)
F
(±1%)
100±50
-65 to
+175
YES
0.5
8 (100°C)
0 to +100
1.0
6 (100°C)
0 to +50
PSR350
3222
[7.9×5.6]
0.27
12 (120°C)
F
(±1%)
0 to +250
-65 to
+175
YES
PSR400
-
3921
[10×5.2]
0.2
12 (75°C)
5 (130°C)
F
(±1%)
125±50
-65 to
+175
YES
0.3
10 (75°C)
5 (130°C)
0 to +100
0.5
0 to +100
1.0
8 (75°C)
5 (130°C)
0 to +75
2.0
6 (75°C)
4 (115°C)
0 to +75
3.0
5 (70°C)
3 (115°C)
0 to +75
PSR500
-
5931
[15×7.75]
0.1
15 (75°C)
10 (120°C)
F
(±1%)
200±50
-65 to
+175
YES
0.2
0 to +150
0.3
10 (75°C)
7 (120°C)
0 to +150
0.4
0 to +150
0.5
0 to +150
1.0
10 (75°C)
6 (120°C)
0 to +75
2.0
7 (70°C)
4 (115°C)
0 to +75
☆: Under Development
*1: +20°C to +175°C
*2: AEC stands for Automotive Electronics Council, an organization (comprised of major automotive manufacturers and US electronic component makers) responsible for establishing reliability standards for automotive electronics.
Q200 is a standard specifically intended for passive components such as resistors, capacitors, and inductors.
Application Examples
These new products are suitable for high current sensing in applications equipped with motors and/or li-ion batteries.
・ Automotive: Electronic Power Steering (EPS), Electric Compressors, Main Inverters, On Board Charger (OBC), DC-DC, Battery Management System (BMS)
・ Industrial Equipment: Power Modules, Power Tools, PV Inverters, Server Power Supplies, Uninterruptible Power Supply (UPS), Base Station Power Supplies
・ Consumer Devices: Home Appliances (e.g. Air Conditioners, Refrigerators, Vacuum Cleaners, Washing Machines)