May 7th, 2021
As part of efforts to achieve SDGs (Sustainable Development Goals or Global Goals), increased attention is being paid to next-generation power semiconductor SiC that is expected to significantly contribute to solving energy problems.
The adoption of SiC is accelerating in power devices to improve power conversion efficiency in industrial equipment that operate 24 hours a day and to increase power usage efficiency in the automotive market where the shift to EVs is currently underway.
SiC power devices differ in device structure and materials compared with the more familiar conventional silicon semiconductors, requiring the use of optimized technologies (high-speed drive, high withstand voltage, high power circuit design and expertise) to maximize SiC performance.
This significantly revised application note adds new explanations on usage techniques along with drive/topology circuits to the previously published material. Content covering numerous inquiries received on SiC Schottky barrier diodes and MOSFETs has also been added.
This application note can be used as a reference to address common issues that arise when designing circuits incorporating SiC power devices.
As such, it is a must-read not only for new users of SiC power devices, but also those who have downloaded the previous version of the application note.
This note is intended to make the design process smoother and sets more efficient.
Revision Updates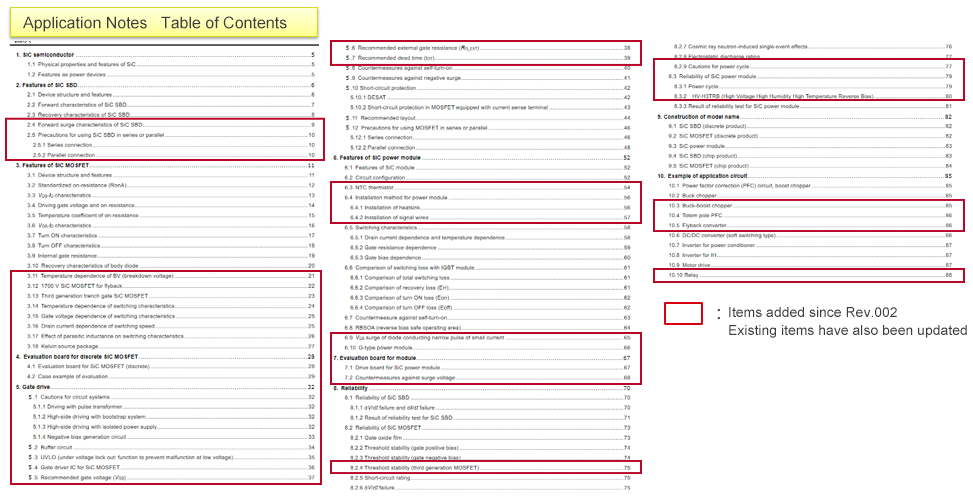 Click here to inquire about our products