ROHM Power Management IC Adopted in Embedded Artists' New iMX8M Nano uCOM Board
ROHM's PMIC is used to provide efficient power in Embedded Artists' iMX8M Nano uCOM application processor module optimized for industrial control and multimedia applications.
The BD71847MWV integrates all power rails and functions required for i.MX 8M Mini processors by leveraging power supply technology for processors cultivated over many years. In addition to a high efficiency DC/DC converter featuring an industry-leading power conversion efficiency of 95%, all power supplies and protection functions demanded by the system are integrated on a single chip. At the same time, the built-in power ON/OF sequencer optimized for i.MX 8M Mini processors facilitates application design and contributes to greater miniaturization while shortening development time considerably.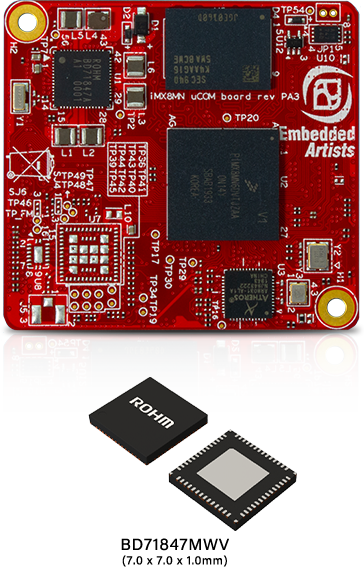 ---
Advantages
All-in-one monolithic power solution optimized for NXP i.MX 8M Mini processors
Compact package reduces footprint by 42%
Multiple parameters customizable to system requirements
Key Features
Input voltage range: 2.7V to 5.5V
6ch buck DC/DC converter + 6ch LDO
Power multiplexer for SD card drive
32.768kHz crystal oscillator
Multiple protection functions (soft start, power rail error detection, overvoltage, overcurrent, etc.)
I2C I/F (1MHz max.)
Interrupt function (including mask function)
---
For more information on the ROHM's BD71847 PMIC click here
Click here to learn more about Embedded Artist iMX8M Nano uCOM board