Leading the development and commercialization of advanced power technologies opens up a new era of power electronics
SiC brings innovation to high voltage, high current applications

As an industry leader, ROHM incorporates groundbreaking information from around the world

Leveraging optimal technologies and development environment to maximize the potential of SiC power devices

Comprehensive support for advanced users interested in using cutting-edge devices

Ensuring a stable supply system through materials development and production
SiC brings innovation to high voltage,
high current applications
 Power supply systems that handle large voltages and currents, such as power conditioners for solar power generation, drive equipment for industrial motors, and electric vehicles, require further improvements in efficiency along with smaller size and lighter weight. To meet these demands, the power devices that make up the power conversion circuits must evolve to operate at higher efficiency, increased accuracy, and greater robustness.
 ROHM pursued the development of SiC power devices and commercialized SiC MOSFETs ahead of the industry that far surpass the performance of conventional Si solutions. This significantly reduces loss during power conversion, opening up new avenues into the continued miniaturization of power systems.
 However, while silicon-based devices have been the mainstream semiconductor material for over 60 years, SiC power devices are expected to see increased adoption in the next few years. Peripheral technology that brings out the potential of this new material and the development of eco systems for stable and effective supply will experience further acceleration going forward. As the first manufacturer to bring SiC power devices to the market, ROHM is poised to play a major role. We support customer initiatives towards power system innovation by providing an environment that covers a broader range more quickly and effectively.
As an industry leader,
ROHM incorporates groundbreaking information from around the world
 In 2010 ROHM was the first in the world to start mass production of SiC DMOSFETs. And 2012 we offered the industry's first full SiC power modules, followed in 2015 with breakthrough SiC trench MOS devices that dramatically improve performance and reliability. As a pioneer in the field of SiC power devices, ROHM continues to lead in both technology development and commercialization.
 Our position at the forefront of technological development means that we are a clearinghouse for the latest information and expertise related to SiC materials, devices, processes, and application technologies from around the world. In addition, thanks to our unmatched track record in commercialization, forward-looking customers are turning to us for innovative ideas in power and power supply systems. Global information on SiC offerings and customer requirements allow ROHM to stay ahead of the competition for device and application technologies.

Leveraging optimal technologies and development environment
to maximize the potential of SiC power devices
 The advantages of SiC cannot be obtained by simply replacing Si devices with SiC components in existing circuits. ROHM is actively engaged in technology development and environmental improvements to enable more effective use of SiC devices.
 A case in point are the packages and modules that enclose the chip, designed for conventional Si devices which cannot function optimally with SiC components. In response, ROHM developed its own packages and modules optimized for SiC devices that include a number of distinctive features. One example is a proprietary module technology called G Type that features low thermal resistance and inductance. Products incorporating this technology can be made smaller while still being able to handle large currents. At the same time, SiC packages are undergoing continual improvements. Although still in the R&D stage, a new substrate material featuring the industry's lowest thermal resistance will make it possible to develop ultra-compact (38x74x11.5mm), lightweight transfer mold type SiC power modules that support currents up to 400A.
 Driver ICs optimized for SiC device characteristics and evaluation boards incorporating SiC components are also offered, allowing users to effectively utilize the capabilities of SiC. Tools and models used for simulation can be very helpful for users when performing tasks such as developing power supply circuits and selecting SiC devices. ROHM provides tools and models that reproduce the behavior of actual devices with high accuracy, facilitating component selection and circuit development.
Comprehensive support for advanced users interested
in using cutting-edge devices
 Exploiting the full potential of SiC devices requires sufficient expertise on the user side. However, the know-how for efficient utilization of SiC is only now gradually being acquired by many customers, making detailed technical support essential. In addition to a deep familiarity with SiC, ROHM has a system in place to provide full support for application development by advanced users.
 In 2017 ROHM opened the pioneering Power Lab in Düsseldorf, Germany, to serve as a European base for providing system-level solutions to customers. In Germany where there is a strong demand for cutting-edge solutions in the fields of renewable energy and EV, we support companies wanting to innovate through the use of SiC devices. Here we have established a state-of-the-art measurement and simulation environment required for evaluating power devices and offer a level of technical support for the European region equivalent to that provided by our headquarters in Japan.
Ensuring a stable supply system
through materials development and production
 The market for SiC power devices is expected to grow fourfold from 2018 to 2025. To meet this rapidly increasing demand, ROHM is boosting production capacity by proactively investing in expanding its facilities.
Integrated production of wafers, devices, and packages ensures a stable supply of high performance, high reliability, high quality SiC power devices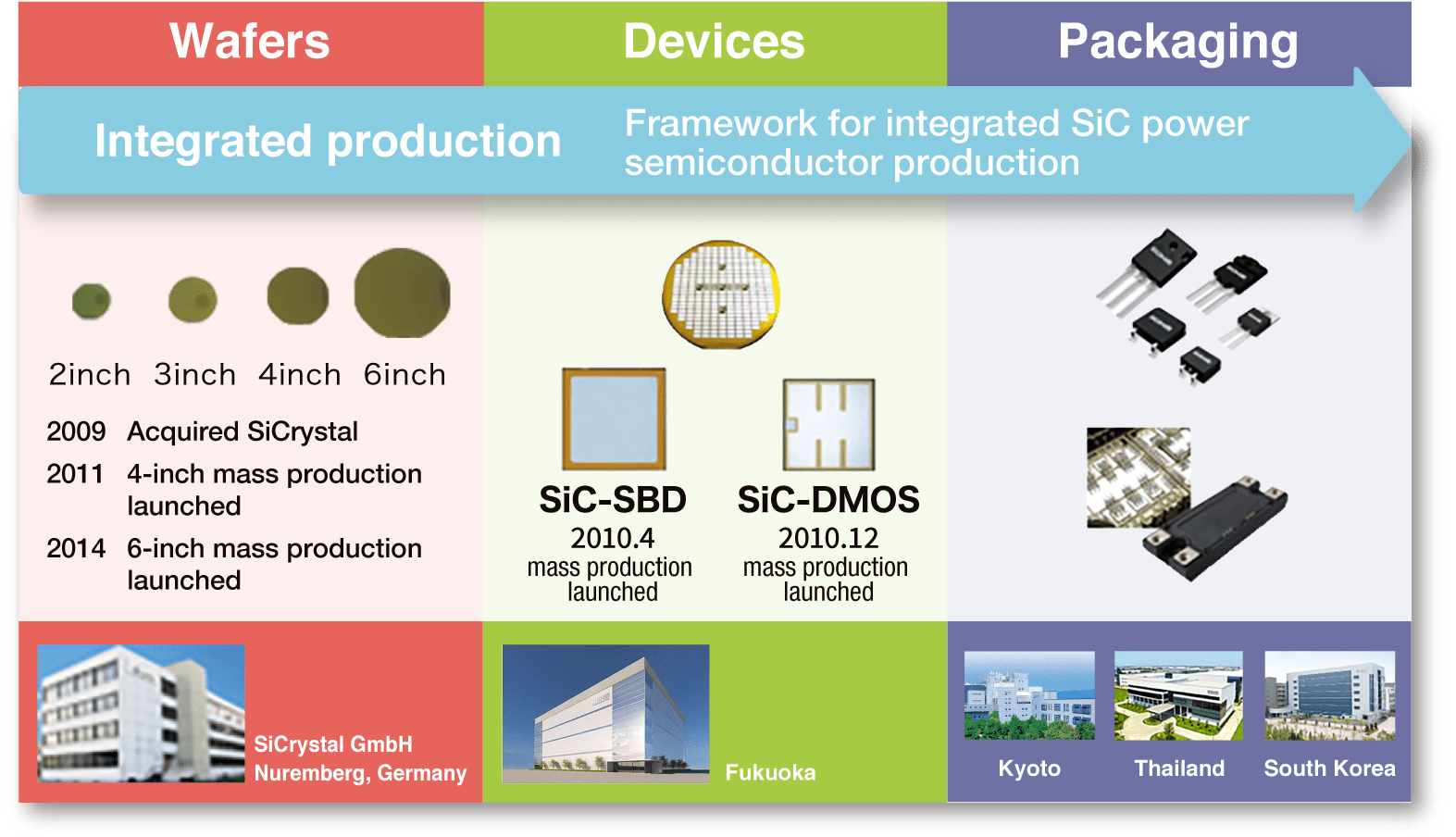 In 2009 ROHM acquired SiCrystal, the world's second largest producer of SiC wafers. As a result, ROHM became one of the few SiC power device manufacturers in the world capable of developing and producing wafers in-house. This enables stable procurement of wafers while at the same time making it possible to optimize the performance, quality, and reliability at the wafer level.
 In addition, by 2025 ROHM expects to expand SiC production capacity by 16 times from 2017 levels, increasing market share to an industry-leading 30%. The wafer diameter was increased from 4 inches in 2011 to 6 inches in 2014, improving the productivity of device manufacturing lines. ROHM also decided to construct a new building at the Plant of ROHM Apollo(Fukuoka, Japan), a production base for SiC devices, which is scheduled to be completed in 2020. And going forward, we will take further measures to ensure a stable supply to customers through our multi-site production system, inventory control, and disaster prevention.
 As an SiC pioneer, ROHM remains at the forefront of both technology development and the commercialization of power devices. And we are committed to supporting the creation of innovations in power and power supply systems.