csr-customer
Home

>
Quality Management System
Pursuing quality first
The ROHM Group pays close attention to the development and design of new products, from process design to production system development, raw material arrangement, and all aspects of the manufacturing process. All employees, from sales to management, strive for 'Quality First' in their daily activities to achieve customer satisfaction. And all employees are extensively trained to maintain and utilize the quality assurance system in order to continue these activities.
Quality Assurance System of ROHM Group

Quality Promotion Committee
To ensure world-leading quality by improving quality improvement activities from a customer's perspective across the entire organization, Quality Promotion Committee were established at 14 major domestic and overseas production companies. The committees are tasked with strengthening quality from a customer's viewpoint and establishing specialized teams for developing a superior quality assurance system that meets customer demands for high quality products. Through this system, all employees can work together to provide products and services that achieve even higher customer satisfaction than before, earn the trust of stakeholders, and contribute to society.
Improving material quality through business partnerships
Supplier QualityManagement Manual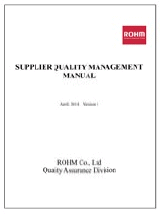 In the past as well, ROHM has shared quality targets with business partners and carried out activities with a philosophy aimed at achieving a high level of quality through these partnerships. In FY 2014, ROHM took the opportunity to make November the national quality month each year, during which stakeholder dialogues are held between executives at partner companies and ROHM in order to share their respective approach to quality. In addition, for ROHM Group quality assurance, we created a Supplier Quality Management Manual in Japanese, English, and Chinese, containing a straightforward summary of materials for the automotive and general electronics industries, and distributed this manual to suppliers. In the future we will continue to cooperate with business partners to build and strengthen an even more integrated global supply chain.
Acquisition of certification for quality management system
ROHM has acquired ISO9001 certification, which is the international standard for quality management systems, at many of its bases including the overseas production sites and supporting companies. ROHM has also acquired ISO/TS16949* ・IATF16949 certification for its invehicle products. ROHM seeks to develop and produce products of high stable quality that satisfy its customers.
*An integrated international standard for quality management systems in the automobile industry that combines the common quality system standard of the big 3 automobile makers in the USA and the quality system standards for the automobile industry in Europe ("VDA6.3" in Germany, "EAQF" in France, and "AVSQ" in Italy) with ISO9001, the international standard for quality management systems.
Improving analytical capabilities for quality and reliability
ROHM Analysis Center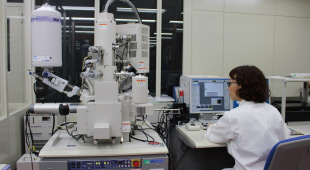 The ROHM Group utilizes the latest analytical devices and carries out daily research, development, and evaluation to guarantee superior quality and reliability. ROHM is equipped with a wide variety of analysis equipment in order to quickly respond to virtually any objective, from researching new devices and solutions to analyzing defective products. Similar equipment is utilized at domestic and overseas QA Centers, allowing ROHM to expand this initiative worldwide.
 <Major analytical equipment>
  ● Focused Ion Beam/Scanning Ion Microscope (FIB-SIM)
  ● Enhanced lock-in thermal emission(ELITE), etc
Complete Quality Education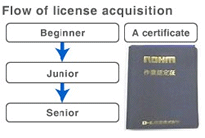 The ROHM Group is focused on providing comprehensive employee training regarding quality to enable the Development, Sales, Production and Management Divisions to ensure "Quality First" in all aspects of their dealings with customers.
In addition to training for new employees regarding basic methods for achieving quality control, various courses are available, such as classes on reliability techniques for engineers and levelspecific courses on quality management for each position.
Education on quality is also imparted at each production site through Education Dojos (Education and Training Centers) to improve the quality by:
(1)Providing education by fulltime instructors so that all employees can deliver quality of the same level;
(2)Ensuring the "same" work and finish by eliminating variations among employees (keeping everyone's performance to the best and most appropriate level), and;
(3)Improving sensitivity to abnormalities by focusing on the objective/background of work and how each product should be.
Only workers and conservation staff that have been certified by our licensing system can carry out the work. By bringing the 4Ms to the same level at plants around the world, variations in products are kept to a minimum.
*4Ms・・・Man、Machine、Material、Method
Training at ROHM Electronics Dalian co., Ltd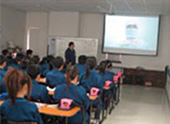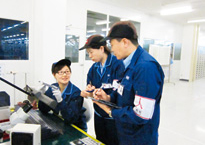 Education and Training Center (Educational Dojo)
The Educational Dojos at ROHM provide education and training in the contents and objectives of each work based on procedure manuals, the maintenance of quality, vital work points, details of past defects, etc.