The development of SiC MOSFETs that enable large current, high temperature operation, combined with a high-temperature heat resistance low thermal resistance package, make it possible to achieve ultra-compact, large current SiC power modules.
Compared to existing Si devices used in automotive hybrid systems, SiC power modules show great potential to significantly increase miniaturization, reducing volume by over 10 times.
For this research, ROHM was awarded the prestigious Grand Prix award in the Smart Key Technologies division at CEATEC 2012.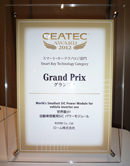 Features
1/10th the volume of conventional Si power modules
Ultra-compact 600V/600A drive
Ultra-high efficiency! Less than half the loss of existing products
Ideal for 60kW-class motors
High temperature operation (Tjmax=200ºC)
SiC Power Solutions
Characteristics

Application Examples
Industrial equipment, EVs/HEVs, solar power, UPS/power supplies, automotive, AC