New 13-Cell Li-Ion Battery Monitoring LSI Optimized for the Rapidly Expanding LEV Market
Contributes to improved safety, greater reliability, and shorter development time for Li-ion battery packs
*LEV stands for Light Electric Vehicle, a generic term for vehicles such as bicycles powered by electric motor(s)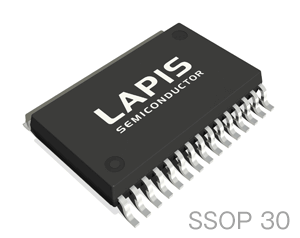 ROHM Group company LAPIS Semiconductor has recently announced the development of a Li-ion battery monitoring LSI that supports 13 cells in series ideal for battery packs in the rapidly growing LEV market that includes electric bicycles, self-balancing scooters, and mobility carts.
The ML5245 is a standalone type that does not require control by a microcontroller. This has eliminated the need to develop specialized MCU programs requiring considerable expertise and man-hours, and has resulted in the simplification of battery pack development, leading to the reduction of customer's product development time. In addition to its standard functions as a battery monitoring LSI, by incorporating into the LSI itself peripheral functions such as temperature detection, prevention of overheating of the charge/discharge FETs (NMOS-FET), the discharge FET power shut-off, and monitoring of cell voltage, system reliability and safety is further improved.
Moreover, a low current consumption of 0.1μA during power-down is achieved that minimizes power leakage, enabling long-term storage.
In China, which is experiencing rapid market expansion, it is estimated that sales of electric bicycles will exceed 30 million a year*1. Of the 30 million, approximately 2.7 million*1 will be sales of Li-ion-powered bicycles. When considering emerging countries, a continuing growth is expected in the future. Meanwhile, smartphones, which represents the most popular market for Li-ion batteries, have experienced a number of serious problems in recent months, such as ignition and overheating of battery packs, requiring greater safety measures that extend to other Li-ion battery applications including LEVs.
It used to be that peripheral circuits were attached to the battery monitoring LSI to ensure the safety of battery packs. The ML5245 integrates these peripheral functions into the LSI itself, achieving greater system miniaturization and reliability while at the same time improving battery pack safety.
*1 Estimated based on materials from Ministry of Industry and Information technology of the People's Republic of China, Department of Consumer Products and the China Bicycle Association (CBA)

Key Features
1. Standalone design facilitates the development of Li-ion battery packs
The ML5245 is a standalone type battery monitoring LSI that does not require MCU control, eliminating the need for time-consuming program creation. This simplifies the battery pack development, reducing customer product development time.
2. Equipped with functions for improving the safety of Li-ion battery packs
In addition to functions integrated into conventional battery monitoring LSIs for detecting overvoltage/undervoltage, charge/discharge overcurrent, and the short current of each cell, the following functions for improving battery pack safety are built in. As a result, the number of peripheral circuits and components is reduced significantly, making it possible to achieve greater miniaturization and reliability.

Temperature detection function
A function is built in that protects against high/low temperatures by directly detecting the internal temperature using a temperature sensor installed in the cell module. This function is capable of controlling ON/OFF of the charge/discharge FETs without an MCU.

Overheating prevention function for
Charging/discharging FET
Since a large current in the range of 30A to 50A may flow through the battery pack of an electric bicycle or other LEV, multiple FETs were connected in parallel (heat dissipation FETs) as a countermeasure against overheating of the body diodes of the charge/discharge FETs, increasing both the footprint and costs. The ML5245 prevents overheating by incorporating a function for turning on the FETs when a current exceeding a certain amount flows through the body diodes of the charge/discharge FETs, eliminating the need for heat dissipation FETs.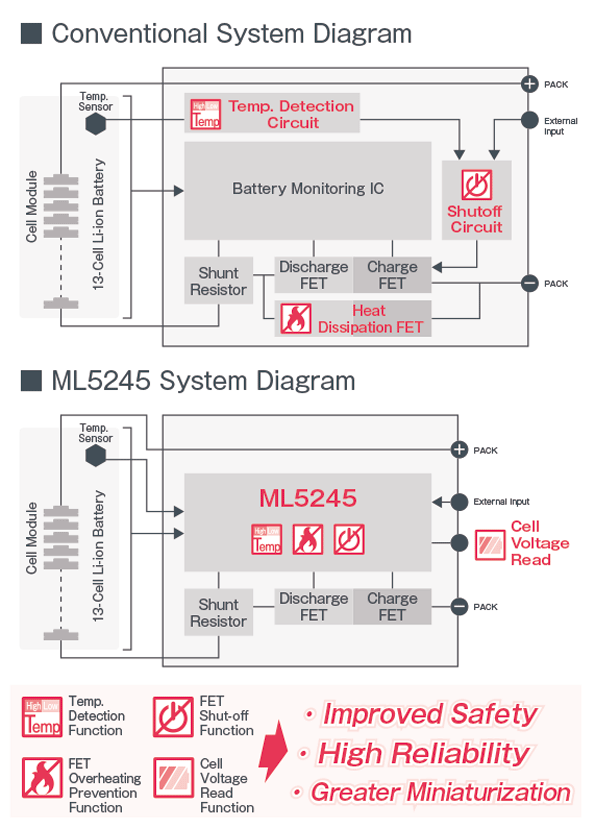 Shut-off function for the discharge FET
It is necessary to safely stop the battery pack from operating when a malfunction occurs in the system other than the Li-ion battery pack. To achieve this, a function is included that forcibly turns OFF the discharge control FET by inputting a signal from an external MCU or other such device.

Cell voltage monitoring function
The ML5245 is equipped with a function for outputting the voltage of each cell. This allows for an external MCU to use the voltage value of each cell output by this LSI to calculate the remaining charge on the battery pack as well as estimate the life of each cell.
3. Low current consumption during power-down
Like other battery monitoring LSIs in our lineup, the ML5245 achieves current consumption during power down of approx. 0.1μA (typ.) the lowers in the industry, enabling long-term storage by minimizing current loss.
Specifications
Sales Plan and Applications
Terminology
Body Diode: Refers to a parasitic diode formed between the source and drain of a MOSFET. Current flows from the source to the drain in the case of NMOS, and in the reverse direction for a PMOS.
Contact: www.lapis-semi.com/en/inquiry/index.html
*Information in this press release is current as of the date of the press announcement, but is subject to change without notice.
**Please note that the names of companies and products described in this document are the trademarks or registered trademarks of their respective companies and organizations.