LAPIS Semiconductor's Breakthrough Soil Environment Sensor
Optimized solution allows users to quickly and accurately monitor soil conditions in agricultural applications
Yokohama, Japan and Santa Clara, Calif. – June 22, 2017 – ROHM Group company LAPIS Semiconductor has recently announced the development of a soil environment sensor ideal for social infrastructure and IT agricultural monitoring that is expected to be adopted for productivity improvement, disaster prevention, and infrastructure monitoring. For the first time, a live demo will be showcased at this year's Sensors Expo held on June 28-29th at booth 616, at the McEnery Convention Center in downtown San Jose.
Conventional methods may take a significant amount of time and is inefficient, involving sampling multiple locations then measuring the pH/EC using special equipment, with the results on soil conditions taking as much as a few weeks. In contrast, LAPIS Semiconductor's soil environment sensor can remotely monitor soil conditions much faster without the need to visit individual sensor nodes. Additionally, using solar panels to generate power in conjunction with the low power operation of sensors allows them to be deployed without the need for physical maintenance for extended periods.
Fast, accurate monitoring is achieved by combining the LAPIS Semiconductor's expertise in low-power MCUs, communication devices, and temperature sensors with newly developed acidity (pH) and electrical conductivity (EC) sensors. In addition, this design uses a solar panel with ROHM's high efficiency charging solution that allows it to sustain itself for extended periods of time. And the LAPIS Semiconductor's wireless communication modules enable any number of nodes to be paired to a central node and provide a range of 1km. Leveraging this technology makes it possible to provide a full solution for soil monitoring that is currently undergoing testing in the agriculture industry.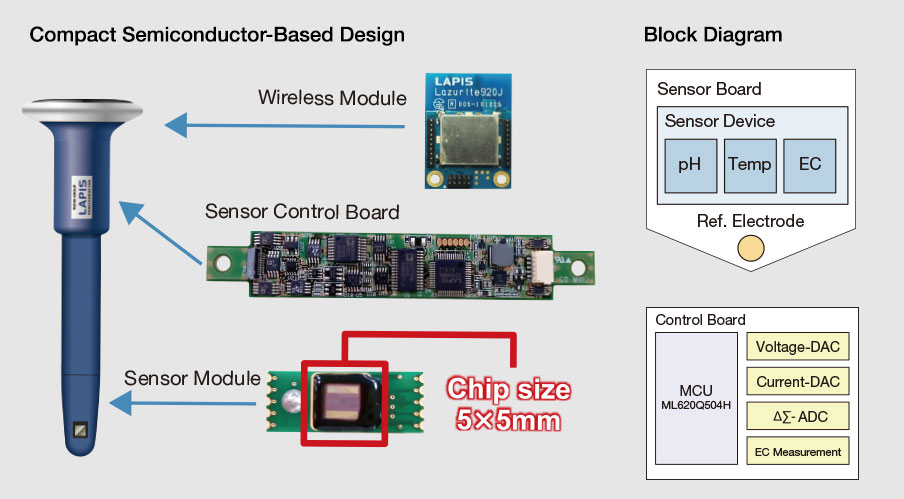 Key Features
Integrated semiconductor-based sensor enables real-time soil monitoring
Compact, monolithic sensor measures pH (acidity), electrical conductivity (EC), and soil temperature
IoT chipset solution optimized for social infrastructure and smart agriculture
Applications
Social infrastructure monitoring
Smart agriculture