Expanded Lineup of Compact High-Power Low-Ohmic Shunt Resistors
High heat dissipation and reliability ideal for automotive and industrial equipment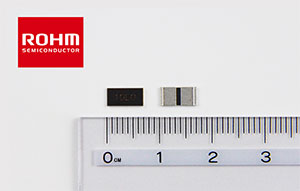 Kyoto and Santa Clara, Calif., – November 28, 2017 – ROHM has developed and began mass production of high power low ohmic shunt resistors optimized for current detection in high power sets in the automotive, industrial equipment, and large-scale consumer electronics sectors.
The increasing number of small motors and ECUs in response to the continued electronification and motorization of automotive systems in particular has brought about a greater demand for compact shunt resistors that support high power applications. In response, in 2016 ROHM started mass production of the PSR series that has since been well regarded in the industry.
To meet the needs for a wide resistance range, the newly developed GMR series features resistances ranging from 5mΩ to 220mΩ, much higher than the PSR series.
Unique materials and structure allowed ROHM to successfully reduce surface temperature rise by 45% compared with conventional products. As a result, stable resistance is achieved not only during normal operation but at overcurrent loads as well. In addition, adopting a high-performance alloy as the resistive metal results in excellent temperature coefficient of resistance (TCR) even in the low resistance region, ensuring greater accuracy and reliability. And the proprietary structure supports a lower profile form factor (0.4mm), 47% thinner than existing solutions. This ensures sufficient margin in sets demanding strict temperature requirements, such as automotive and industrial equipment applications, reducing design load and contributing to further end-product miniaturization.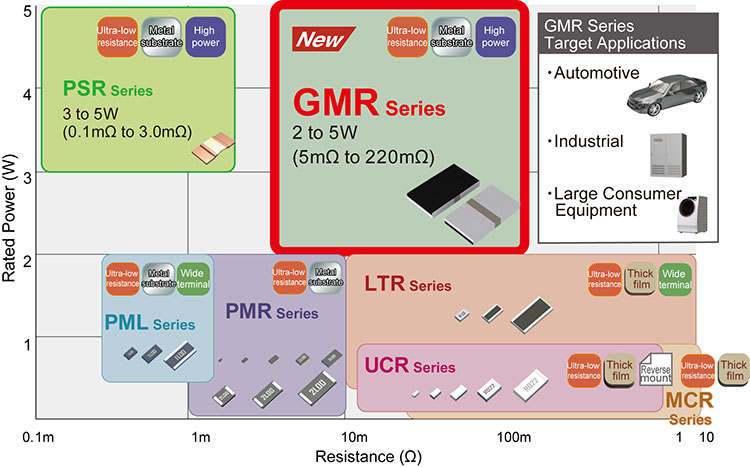 Availability: Now
* This series is also available for purchase (from November 2017) from online distributors.
Key Features
1. 1. Broad lineup
The GMR series features a broad lineup that includes higher resistances than the PSR series (0.1 to 3mΩ → 5 to 220mΩ).
Under development (the resistance values may change depending schedule. Please inquire.
*1: ±20ºC to ±60ºC, *2: Please inquire for resistance values outside the stated ranges, *3: The resistance value may change depending on the development shedule. Please inquire.
2. Original materials and construction reduce surface temperature rise by 45% over conventional products
Typical shunt resistors are subject to thermal destruction when used under high power. However, ROHM was able to significantly reduce surface temperature by adopting a proprietary structure utilizing original materials. As a result, in the case of using a 10mΩ resistor at 3W, the GMR100 succeeded in limiting temperature rise to 100°C compared with a conventional model that reached 181°C, representing a reduction of 45%.
Achieving superior heat dissipation makes it possible to maintain stable characteristics without a change in resistance value, during both normal operation and at overcurrent loads.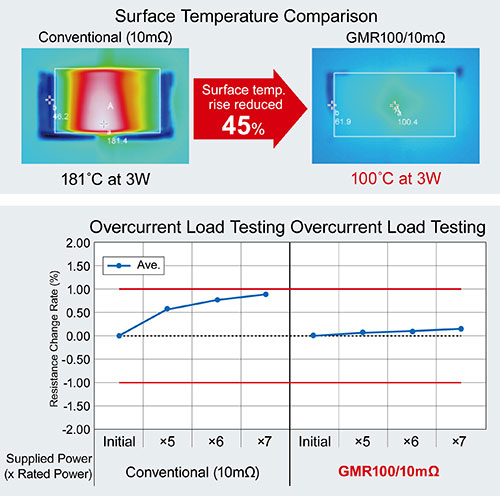 3. Superior temperature coefficient of resistance even in the low-ohmic range
In general, the temperature coefficient of resistance (TCR) increases as the resistance value decreases. However, the GMR series ensures excellent TCR even in the low ohmic region by adopting a high-performance alloy as the resistive metal. This allows for high accuracy current detection that is not susceptible to heat, contributing to greater application reliability.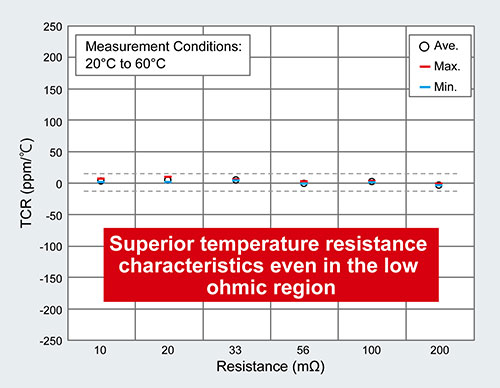 4. Compact size with reduced height
The GMR100 series is offered in the standard 6432 (2512 inch) package, enabling easy replacement. In addition, utilizing an original structure allowed the height to be reduced by 50% over conventional products, reducing total volume by 47%.
Application Examples
Automotive: ECUs, EPS, inverters, and motor peripheral circuits
Industrial Equipment: UPS, general-purpose inverters
Large-Scale Consumer: Inverters for refrigerators, AC, washing machines, and vacuum cleaners
Circuit Examples