enercera-nano-energy

ROHM and NGK INSULATORS, LTD. have collaborated on the ultimate maintenance-free IoT device that combines ROHM's Nano EnergyTM ultra-low current consumption technology for power supply ICs with NGK's chip-type ceramic rechargeable battery EnerCeraⓇ. This supports the configuration of ultra-high-efficiency energy storage units. Utilizing the thin, ultra-compact large capacity, high power output EnerCeraⓇ as a storage device together with ROHM's power supply IC equipped with Nano EnergyTM makes it possible to minimize power loss and achieve IoT applications such as electronic shelf labels and wearable devices capable of operating even with only weak charged power from generated from energy harvesting.
This new solution opens up a world of possibilities for IoT devices.
Concept Image

Core Products and Technical Details
Thin, Ultra-Compact Rechargeable Battery: EnerCeraⓇ (NGK Product)
EnerCeraⓇ is a rechargeable li-ion battery that utilizes NGK's proprietary crystal-aligned ceramic electrode plates. The lack of organic binders or conductive agents contained in conventional rechargeable li-ion batteries (that don't contribute to battery capacity) makes it possible to achieve high capacity and low resistance (high power output) along with high heat resistance in a thin, ultra-compact form factor. The result is twice the battery capacity of commercial rechargeable batteries in the same size while reducing resistance by half, ensuring exceptional performance as a thin, ultra-compact onboard battery that supports high currents from the tens to hundreds of mA required for wireless communication, and IC/sensor drive.
Click on the URL below for more information.
https://enercera.ngk-insulators.com/en/solution/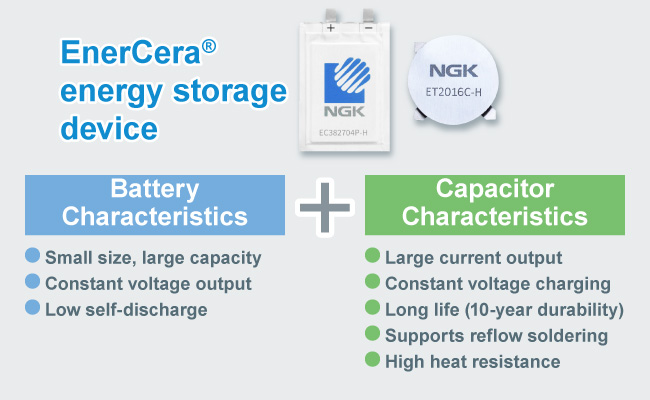 Nano EnergyTM Ultra-Low Current Consumption Technology
Nano Energy refers to ultra-low current consumption technology that achieves 10 year drive on a single coin battery (key in the IoT field) by combining analog circuit design, layout, and processes utilizing ROHM's vertically integrated production system.
This technology is integrated in the BD70522GUL buck DC/DC converter which features a standby current consumption (quiescent current) of 180nA and 1.4× the battery life in application standby mode vs conventional products, contributing to longer operating times in compact battery equipped devices such as wearables and IoT.
Click on the URL below for more information.
https://www.rohm.com/support/nano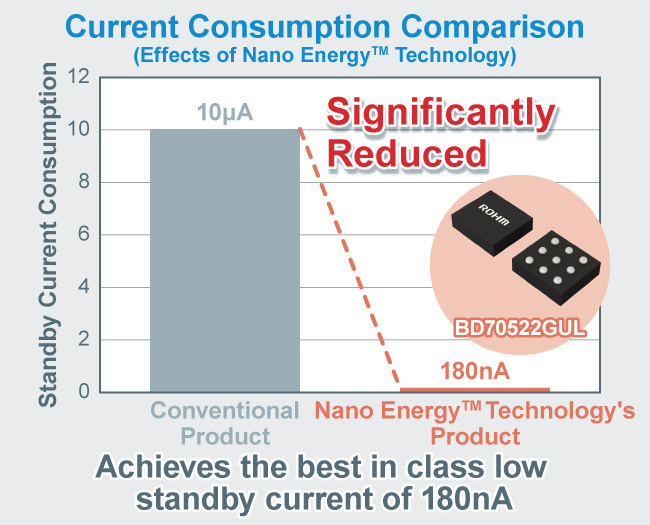 Solutions
Overview


Company Name
Product Type
Part No.
Size (width×depth×thickness)(mm)
NGK
EnerCeraⓇ Pouch
Energy Storage Device
(selectable)
High Power Type
EC382504P-P
38×25×0.45
High Capacity Type
EC382204P-C
38×22×0.45
EC382704P-C
38×27×0.45
High Heat Resistance Type
EC382704P-H
38×27×0.45
ROHM
Nano EnergyTM Buck DC/DC Converter IC
BD70522GUL
1.76×1.56×0.57
Nano EnergyTM Reset IC
BD5230NVX-2C
1.00×1.00×0.60
Battery Charging IC
BD71631QWZ
1.80×2.40×0.40
Note: Select the optimal EnerCeraⓇ Pouch based on application requirements.
*EnerCeraⓇ is a registered trademark of NGK INSULATORS, LTD.
*Nano EnergyTM is a trademark or registered trademark of ROHM Co., Ltd.