ROHM Semiconductor introduces SiC technology into Formula E
SiC – Cutting-edge semiconductors for power management / Increased efficiency and improved performance in power electronics / ROHM is a proud sponsor and official technology partner of the Venturi Formula E team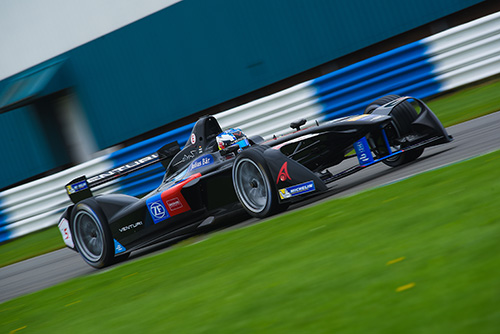 Kyoto and Santa Clara, Calif., – October 11, 2016 – ROHM Semiconductor presented its cutting-edge silicon carbide (SiC) technology at the first race of the new 2016/2017 Formula E season in Hong Kong. At the start of season three, the leading Japanese semiconductor manufacturer started sponsoring and officially partnering with the Venturi Formula E team. The exciting collaboration between ROHM and Venturi in Formula E highlights the key to success in the all-electric racing series – power management. The challenge of Formula E is to find the most efficient way of using the energy provided by the battery and applying it on the road. To do this, ROHM developed new power device technology using silicon carbide. This material can withstand much higher electric fields than conventional silicon, which results in extremely low losses of power and higher temperature resistance. Thus, ROHM and Venturi hope to gain an edge over the competition while also pushing forward the development of new technical solutions to increase power conversion efficiency.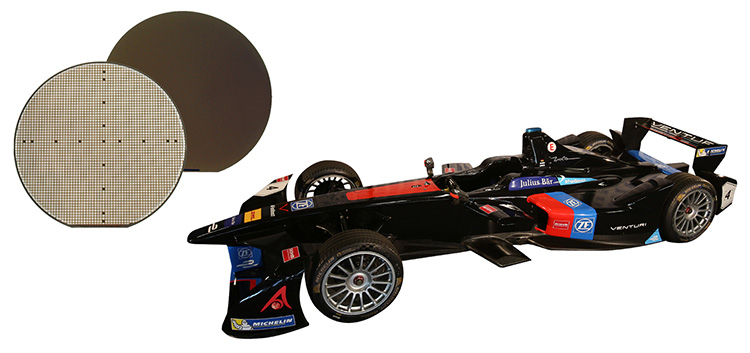 SiC technology at a glance – making power electronics smaller, stronger and faster .
Silicon carbide is a compound of silicon and carbon. It is produced using a crystal growth process of sublimation and exposure to high temperatures of about 2,000°C. Using this technology in power devices, ROHM, a leader in SiC applications, has achieved lower power consumption and more efficient operation. There are several benefits compared to conventional silicon:
SMALLER – System miniaturisation means reduced size and weight, which allows for improved weight distribution in motorsports and less power consumption in general.
STRONGER – Devices with SiC can work with higher voltages and currents, which increases power density and reduces switching losses even under high temperatures.
FASTER – The ultimate outcome of ROHM's partnership with Venturi. The best performance and maximised probability of speed.
Sponsorship and technology partnership embodies the commitment to future development ROHM has been a leading developer of advanced SiC products and SiC power devices in particular. It was the first company in the world to manufacture the SiC MOSFET in 2010. In the automotive sector, an increasing number of EVs and inverters are adopting the use of SiC, and ROHM has already had an overwhelming market share of on-board chargers for rapid charging.
ROHM is also an industry leader in system LSI, with a large lineup of AEC-Q-approved ASIC and ASSP products, including LED drivers, motor drivers and gate drivers optimized for engine control units (ECUs), as well as standard discrete components such as transistors, diodes, and general ICs.
For the first time ever, ROHM Semiconductor has become a global sponsor for the brand. This partnership is a big step for the world-leading semiconductor manufacturer, which is based in Kyoto, Japan, and exemplifies their commitment to further development of power and energy management systems. Bringing SiC technology to Formula E and to e-mobility in general is an important step in changing drive technology. Furthermore, ROHM is taking an active role in revolutionising energy policy. When the presentation with Venturi illustrates how effective the new technology works, SiC power devices will make their way into serial production and benefit both industry and society as a whole.
To share and promote the Formula E partnership, ROHM decided to create a special website for clients, employees, motorsport fans and decision makers from electronic industries to showcase the latest news about Formula E along with special background information on the partnership and SiC technology generally.
Website launch: http://rohm.com/fe
Statements
"For us at Venturi, particularly for me as a driver, the technical partnership we have with ROHM is very important. The silicon carbide technology that ROHM has introduced and which we will be using in our cars from the start of this season allows us to successfully manage the heat being produced, therefore enabling greater engine power and ultimately better lap times."
Maro Engel, Formula E driver on the Venturi Formula E team
"We are very proud to be co-developing our powertrain with ROHM's silicon carbide technology, which can be used to create a great solution for our inverters. Formula E is all about power management, and the partnership with ROHM – the leader in power semiconductors – improves the overall electronics of our car so we can reach higher performance with our electric motors."
Franck Baldet, Chief Technology Officer of the Venturi Formula E team
"We are very excited to see our technology contribute to Formula E racing cars. We are looking forward to proving the quality and efficiency of our products on the circuit. In the coming years, we should see SiC devices increasingly find their way into power electronics for hybrid and all-electric vehicles, creating simpler and more efficient power systems. By making more economical technologies available for a wide array of industries and larger parts of society, we hope to take a prominent role in revolutionising energy policy."
Dr Kazuhide Ino, General Manager of the Power Device Division at ROHM
Photos
1) Inverter for season three in Formula E car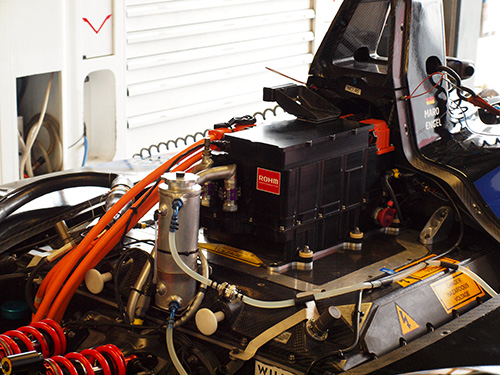 2) Venturi engineer in pit lane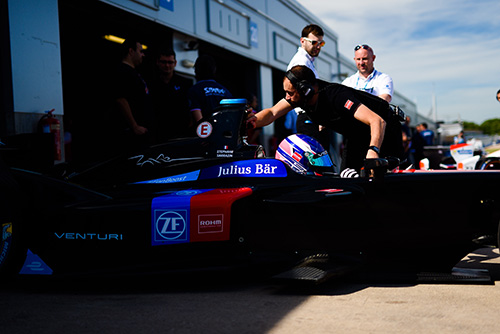 3) Press Briefing in Hong Kong on October 8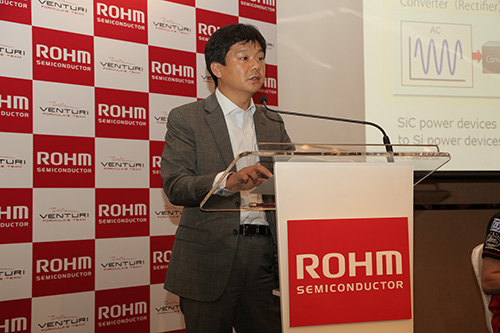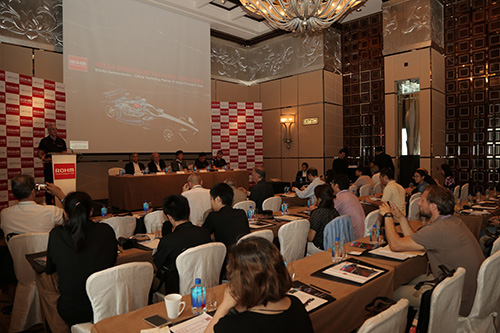 About Venturi
Venturi Automobiles is a pioneer in designing electric powertrains and has been systematically pursuing a sustained electric vehicle innovation policy since 2000. Venturi develops the most advanced technologies available for extreme-performance electric powertrains. In 2013, Venturi Automobiles entered the FIA Formula E series under the Venturi Formula E Team name and became an FIA-approved manufacturer in 2015. Venturi Automobiles supplies full powertrain systems for the Venturi Formula E Team. Venturi Automobiles holds the FIA World Land Speed record for an all-electric vehicle. In 2016, the Venturi Buckeye Bullet 3 set the official top recorded speed achieved by an electrically-driven car of 549 km/h on the Bonneville Salt Flats in Utah.