ROHM and Powervation: Good for Digital Power
At the end of July, ROHM acquired Powervation, and to some of us it was just another in a string of Power Electronics consolidations in the past year. I see something different here.
I spoke to Powervation CEO, Mike McAuliffe about the acquisition and asked how he thought this acquisition would benefit both companies regarding Digital Power. McAuliffe told me that one big factor is the market penetration that each company has. Powervation extends its reach into non-isolated DC/DC, low voltage, high performance Cloud Computing and Communications Infrastructure, base stations; ROHM has a strong penetration into the consumer market as well as industrial and automotive.
ROHM's packaging technology would also benefit the Digital Power offerings of the new company going forward with the possibility of more integration in the form of modules. Those modules would shrink in size as well as the industry trends towards higher frequency switching technologies shrinking inductors and capacitor sizes.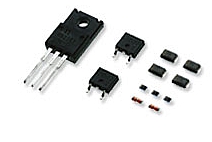 ROHM's general purpose products and unique packaging capabilities are well known in the industry
McAuliffe recounted an experience of ROHM's President, Satoshi Sawamura, visiting their facility in Ireland and sitting down with many of the employees including applications engineers and with great interest asking about themselves and what they do in an informal manner.
I asked the question about the culture differences of both companies since one is Japan-based and the other Ireland-based. On the surface they seem so different but in essence both cultures place a high value on getting to know people before they do business with you whether it be at dinner over a pint of Guinness at a pub or eating Sashimi over a cup of Saki.
ROHM has not acquired very many companies over its long history, so this acquisition seems very important to them as they move forward into the future towards such upcoming events as the beginnings of 5G as well as the growth of Digital Power in the electronics industry. Powervation's automatic tuning system for their Digital Power offerings coupled with their designer-friendly PowerSMARTTM Design Tool present a powerful incentive for the majority of circuit and system designers who are not skilled in the art of high performance power supply designs.
The architecture that Powervation has developed for its digital power management solutions is a multi-processor system on chip (SoC) which consist of an ultra-lean proprietary dual core (DSP and RISC processor), both RAM and non-volatile memory (NVM), power conversion blocks, SMBus serial interface and DSS®, analog-to-digital converters (ADC) and digital-to-analog converter (DAC), and timing sources (oscillator and phase lock loop).
Mark Adams, VP Advanced Power at CUI says:
Because a majority of companies utilize a mixed solution of discrete designs and modules in their systems, CUI is moving forward with a mixed controller solution platform. While other power supply companies typically offer a portfolio based on only one controller, CUI has developed a roadmap that will provide customers with the ability to pick a controller family that best fits their needs. Today CUI offers 2 different controllers in our Novum® Advanced Power POL product family: Intersil/Zilker Labs and Powervation. Going forward it is our intent to become a controller-agnostic company. As a power supply manufacturer, it is our job to provide our customers with the best digital controller technology available in our modules, allowing them to make the decision that fits their specific needs.
Surely now ROHM will get a bigger piece of that pie and their SiC offerings as a power element will definitely complement their newly acquired Digital Power prowess.
I fully expect to see good growth for the combined companies going forward with a stronger offering in Digital Power among the many markets that this company now serves.
Read as originally published here:
http://www.edn.com/electronics-blogs/powersource/4440097/ROHM-and-Powervation--Good-for-Digital-Power