Murata Power Solutions and Powervation Team Up for New Digital Reference Design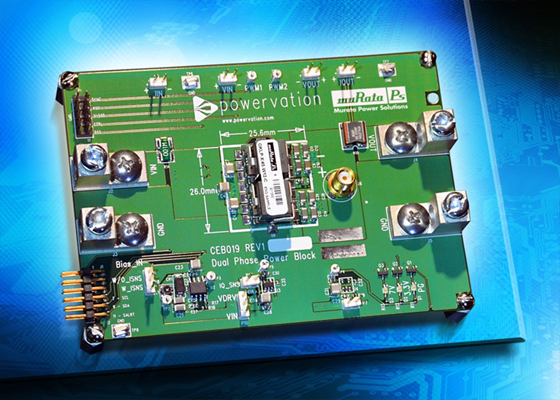 First True Plug-and-Power™ DC/DC Converter Solution for Networking/Server Applications;
Based on Powervation's Real-Time Self-Compensating PV3012 Digital Control IC
Cork, Ireland, September 26, 2011: Powervation Ltd., the pioneer in adaptive digital power management IC solutions that maximize system efficiency, has joined forces with Murata Power Solutions to co-develop a new reference board for Murata Power Solution's 45 A Power Block. The CEB019 digital DC/DC power solution uses Powervation's newly-launched PV3012 dual phase digital synchronous buck controller with Auto-Control®, which provides the industry's only real-time, adaptive loop compensation that helps to overcome issues related to variations in external components, temperature, and user layouts, without significant design effort and support.
The combination of Powervation's Auto-Control® and precision telemetry, with Murata's highly integrated high density power stage solves many challenges for customers. Murata Power Solutions' 45 A dual phase Power Block occupies just 1.0 inch x 0.5 inch, the same footprint as most other Power Block offerings which are rated at only 25 - 35 A. This ultra-dense LGA solution addresses many of the critical steps - layout, component matching, etc. - while providing best-in-class-efficiency. When teamed with the PV3012 control IC, Power Block users can greatly reduce their dependence on external engineering support when designing the system to their specific needs. Powervation delivers the final piece of the puzzle as the PV3012's Auto-Control® technology eliminates the need for any external loop compensation, automatically dealing with large amounts of additional capacitance – including low ESR ceramics – changes in load steps, degradation in the power train over life, and also providing optimum transient performance. Furthermore, PV3012 supports >50 PMBus™ commands and uses the SMBus serial interface to communicate precision real-time telemetry information, enabling customers to monitor system performance for enhancing reliability, and to implement system level power reduction regimes including power capping, dynamic voltage scaling, etc.
Comments Henry Lee, Product Marketing Manager, Murata Power Solutions: "Together, with Powervation, we are developing the first total system solution, a true Plug-and-Power™ digital DC/DC converter with ±0.50% output voltage reporting accuracy and a fully configurable feature set that supports PMBus™ commands. No matter which Murata Power Solution's Power Block is selected, Powervation's real-time adaptive loop compensation technology will make things simple and reliable. There is no need for any additional tuning and compensation design efforts - it works straight out of the box."
Adds Powervation's Director of Product Marketing, David New: "With this new hybrid power solution we are enabling more customers to get the full benefits of Murata Power Solutions' scalable, high efficiency Power Block products, fulfilling the challenging requirements of networking, server, and high-powered FPGA customers."
PV3012 is available for sampling now, and the CEB019 reference board with engineering samples of Murata Power Solutions' 45 A Power Block will be available from Powervation in Q4 2011.
About Powervation
Powervation (www.powervation.com) delivers breakthrough digital power management IC solutions for designers of Communications, Computing, and power Point-of-Load systems. The company's digital power controllers with patented Auto-Control® technology provides the industry's first and only real-time adaptive compensation for DC/DC controllers, delivering significant customer benefits in performance, efficiency, reliability, and ease-of-use. Powervation is a private company backed by leading global VCs - SEP, Intel Capital, VentureTech Alliance, Braemar Energy Ventures, and 4th Level Ventures and is headquartered in Cork, Ireland, with sales/applications offices in San Jose, California and Hong Kong.
About Murata Power Solutions
Murata Power Solutions (www.murata-ps.com) is headquartered in Mansfield, Massachusetts, with over 1,300 employees, and locations in the USA, Canada, England, France, Germany, Singapore, Japan and China. Murata Power Solutions designs, manufactures and distributes DC/DC Converters, AC/DC Power Supplies, Magnetics, Data Acquisition devices and Panel Meters, and offers these products in custom, standard and modified-standard variations. Murata Power Solutions' products are typically used within electronic applications serving major global market sectors including telecommunications, computing and industrial controls.
Murata Power Solutions is a division of Murata Manufacturing Co., Ltd., a worldwide leader in the design, manufacture and sale of electronic components and power supply modules. Murata's devices are found in a wide range of applications including consumer and automotive electronics, and wireless devices. The company has employees and manufacturing facilities throughout the world.