High Fidelity Multifunctional Sound Processors for Car Audio Systems
2011-10-04
Kyoto, Japan – Semiconductor manufacturer ROHM Co., Ltd., has developed the APEI HT2000—a high-speed, high-current module with SiC trench MOSFETs for use in electric vehicles (EV), hybrid electric vehicles (HEV), and industrial equipment applications—in conjunction with Arkansas Power Electronics International (APEI), which contributed power system and power package technologies to the effort. By changing the conventional Si module design and dramatically improving electrical and mechanical characteristics to take maximum advantage of SiC device characteristics, the companies were able to implement a module that is simultaneously super-compact, lightweight, and highly efficient, making it likely that the product will help spur widespread use of SiC modules.
The module, which incorporates 16 SiC trench MOSFETs developed by ROHM, has been confirmed to operate at 600 V/1,000 A, and it has achieved high switching speeds on the order of tens of nanoseconds—a level of performance that cannot be reached with Si-IGBTs. Furthermore, the module can incorporate 1,200 V class devices and operate at high temperatures of 250°C. In achieving these characteristics, ROHM and APEI have successfully developed a module that stands out among not only conventional Si-IGBT modules, but also the SiC modules being actively developed by other manufacturers in terms of both electrical and mechanical characteristics. The partners are aiming to begin shipping samples in 2012 for special applications, followed by commercialization after three to four years.
here is demand for modules with higher power ratings, higher efficiency, and even greater high-temperature drive capability in the power electronics field, which is typified by fast-moving developments in product segments such as EVs and HEVs. While manufacturers have not been able to meet these needs with conventional design materials such as Si, SiC—which offers exceptional material properties—makes it possible to do so.
While super-low-resistance (approximately 2 mΩ•cm2) SiC trench MOSFETs developed by ROHM allow handling of up to 100 A with a single chip, ROHM and APEI have succeeded in further lowering the MOSFET gate capacitance, boosting the switching speed to 50% of the switching time of existing SiC-DMOS devices and 30% of the switching time of past ROHM SiC trench MOS devices. With conventional module designs, it has been necessary to enlarge the module area in order to maintain an acceptable device operating temperature due to the amount of heat generated by the device, and this modification causes the module's parasitic inductance to increase. For this reason, module-related factors made it impossible to leverage the advantages of the design, even when SiC trench MOSFETs were used.
In developing the APEI HT2000, APEI succeeded in creating a module with dramatically lower parasitic inductance by shrinking the module area and further optimizing its layout. By incorporating trench MOSFETs into the module, the partners also gained the ability to accommodate a 1,000 A class current, enabling on-resistance to be half that of conventional Si-IGBT modules. The design can achieve super-high-speed switching operation on the order of dozens of nanoseconds, which in turn reduces switching loss to one-third that of Si-IGBT modules. Furthermore, the companies were able to shrink module area by 30% while allowing drive operation at high temperatures (250°C) not possible with Si-IGBT modules by using advanced materials. The module also offers user-selectable half-bridge, full-bridge, and series pin connectivity. Finally, it can accommodate all SiC devices developed by ROHM, allowing designs to be custom-tailored to customers' specifications.
Manufacturers of conventional SiC module designs have sought to increase efficiency and high-temperature capability by simply replacing the Si devices used in Si modules with SiC devices. However modules designed for Si devices have proven incapable of taking full advantage of SiC's exceptional material properties. With the APEI HT2000, ROHM and APEI have succeeded in developing a module that fully leverages the advantages of SiC by dramatically changing the module design to optimize it for use with SiC devices.
■Principal features
Super-lightweight design
Super-compact footprint
High-power (1,000 A class) capability
High-speed switching
High-temperature drive capability
■Principal specifications
| | |
| --- | --- |
| Dimensions | 7.5×8.13×1.23 cm |
| Weight | 135 g |
| Rated voltage | 600 V |
| Rated current | 1,000 A |
| Devices used | SiC trench MOSFETs |
| On-resistance | 1.5 mΩ |
| Switching time | Turn-on: 35 ns; turn-off: 42 ns |
| Switching loss | Turn-on: 1.5 mJ; turn-off: 8 mJ |
■Module on-characteristics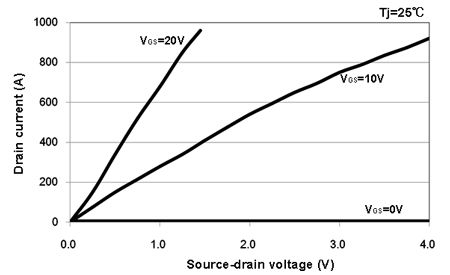 ■Module circuit architecture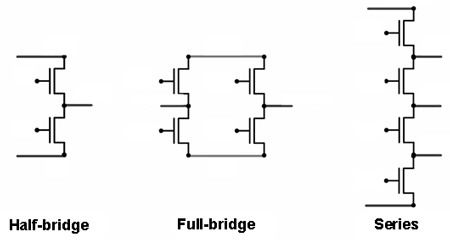 ■APEI HT2000 SiC trench MOS module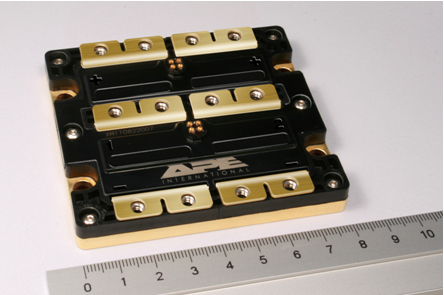 ■Profile of Arkansas Power Electronics International
| | |
| --- | --- |
| Name | Arkansas Power Electronics International |
| Address | 535 W. Research Center Blvd. Fayetteville, AR 72701 U.S.A |
| Representative | President & CEO, Alexander B. Lostetter |
| Employees | 36 |
| Products | Power modules, gate drivers, etc. |
■Terminology
Parasitic inductance
The inherent inductance of wires and wiring inside a module.