The World's First Qi-Certified Medium Power Receiver Reference Design by ROHM
Cutting-edge reference design will allow ROHM to expand into the wireless charging segment
ROHM's Qi-certified medium power transmitter reference design.
Kyoto, Japan and Santa Clara, Calif. – January 15, 2016 – ROHM, which previously acquired certification from WPC (Wireless Power Consortium) for its reference design using the BD57020MWV wireless power transmitter IC in October 2015, has recently announced the certification of its reference design using the BD57015GWL wireless power receiver IC. This receiver, the first in the world certified to be compliant with the new Qi v1.2 standard for medium power, was showcased last week in the WPC booth during CES 2016. Together, both reference designs using the BD57020MWV and BD57015GWL provide a complete solution for delivering medium power wirelessly to portable devices.
WPC's Qi standard for medium power has attracted attention as a next-generation standard for inductive power transmission that will enable wireless charging of tablet PCs while allowing smartphones and other mobile devices to be charged up to 3x faster than the existing low power standard (5W). In addition, a Foreign Object Detection (FOD) function is included to provide greater safety by detecting foreign metallic objects before power transfer to protect against possible damage due to overheating.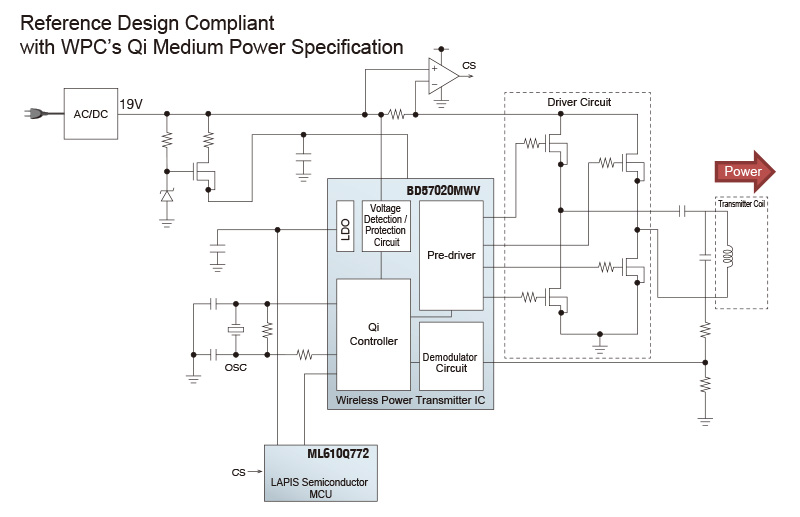 Circuit diagram of ROHM's reference design.
"ROHM's participation in CES 2016 helped consumers and industry influencers become aware that wireless fast charging is now possible," said John Perzow, VP Market Development for the Wireless Power Consortium.
Wireless power technology is garnering increased interest in the mobile device market due to the capability of charging a variety of devices using a single charging pad while also contributing to improved device safety and reliability by enabling device connectors to be made more water-resistant and dust-proof.
In addition, standards organizations aimed at popularizing wireless power such as WPC are being established in order to formulate international standards for not only devices such as smartphones, but also infrastructure – including hotels, airport lounges, and vehicles – in the US and Europe.
As a regular member of WPC, ROHM actively participates in working groups from the initial stages of specification development of the increasingly popular Qi wireless power standards and has been quick to develop compliant products that meet market needs. ROHM is also the first supplier in the world to offer a reference design for medium power that has passed interoperability tests with more than 200 Qi-certified devices, and to have successfully acquired Qi certification under the medium power specification.
ROHM Qi wireless charging solution exhibited at CES 2016
WPC showcased a number of products at CES 2016, held in Las Vegas from January 6-9, including ROHM's Qi-certified Medium Power Reference Design capable of delivering up to 15W of power wirelessly
Arun Kumar, ROHM Applications Engineer, demonstrates ROHM's Qi-certified wireless charging solution at the WPC booth during CES2016.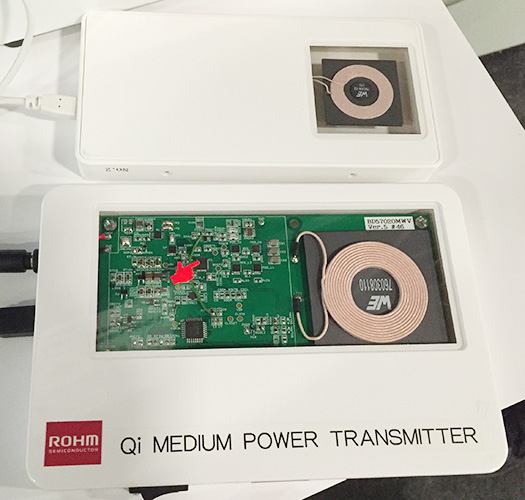 ROHM's Qi-certified wireless charging solution (receiver and transceiver) was showcased at CES2016 in Las Vegas.
Terminology
WPC (Wireless Power Consortium)
A standards organization established for the purpose of formulating and promoting the Qi international standard for wireless power. WPC is currently the world's largest international standards organization for wireless power.
Qi Certification
Only devices that have passed compliance and interoperability tests at WPC-certified test labs can obtain certification.
Qi Medium Power Standard (Qi Version 1.2 Extended Power Profile)
The latest version of the WPC Qi standard that expands the power range from 5W (low power) to 15W (medium power) in response to the growing need for fast wireless charging in the portable mobile market.
Reference Design
A sample circuit design that has been tested and can be used by customers as a reference in their own designs.