Constant Voltage Diodes (High Voltage Type): UDZ LV Series

Product Overview

The new high voltage UDZ LV series of Zener diodes is ideal for use as protection elements in a variety of constant voltage circuits. 12 different Zener voltages, ranging from 51V to 150V, make them particularly suited for ECU protection in automotive systems, while high surge resistance ensures high reliability in a variety of applications, from consumer electronics to industrial applications.
Feature 1:Expanded Zener voltage lineup supports a wider range of applications
The UDZ LV series, comprised of 12 different models in a range of Zener voltages (51V to 150V), is offered in a 0.2W rated compact 2.5x1.2mm form factor.
The KDZ LV series of high voltage Zener diodes featuring a rated power of 1.0W is currently under development.
Feature 2:Superior surge resistance meets automotive standards
The UDZ LV series features higher surge resistance than equivalent products, ensuring worry-free operation in a variety of applications, from consumer equipment to even industrial and automotive systems.
Applications
Automotive ECUs (for MOSFET protection)
Power supplies for inkjet printers and MFPs
and other applications in the consumer, automotive, and industrial sectors
Related Information
- New Product Bulletin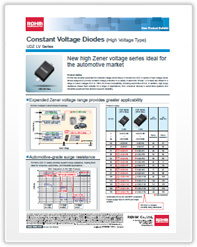 Constant Voltage Diodes (High Voltage Type)
UDZ LV Series
(403KB)
Constant Voltage Diodes (High Voltage Type)
In addition to developing products that leverage leading-edge proprietary technologies to meet customer needs, ROHM wll continue to expand its lineup of industry-leading Zener diodes.