csr_training
Home

>
CSR Education and Awareness Activity (CSR month)
CSR Month
To deepen understanding of CSR management within the ROHM Group, October has been designated CSR Month (since 2013), during which CSR training activities are carried out to educate employees and initiatives are undertaken to respond to CSR audits.
By bringing to light the importance of CSR among all ROHM Group employees through CSR Month, the entire group can come together to strengthen CSR initiatives and respond to societal expectations, with the goal of becoming a company selected by stakeholders the world over.
e-Learning
At ROHM, we offer e-learning on various CSR-based themes such as labor rights, safety and health, and information security on a regular basis. For our 2016 e-learning month, we offered a new e-learning and employee survey for all employees at our headquarters and main production facilities based on the theme "Creating Shared Value (CSV)."
CSR/CSV Awareness Posters
CSR/CSV Awareness Posters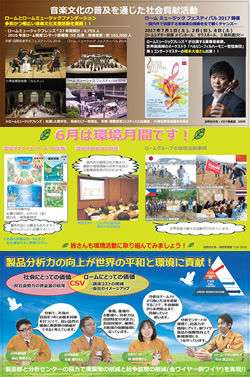 We put up large CSR/CSV awareness posters in our offices once every month to help each and every employee be aware of and implement CSR and CSV activities because we feel that it is important to continuously raise such awareness.Moreover, the latest CSR information linked with our in-house portal site is being disseminated once every week by placing pop-up display stands on dining tables in employee cafeterias.
Achieving cyclical growth (CSV) of our employees, the company, and society
At ROHM, we realize that each employee contributes to society through business activities, and from a desire to become a company that is motivated to meet challenges, we will launch new projects and continue to promote work-life management to help employees make more effective use of their time.
In addition, as a global company, we are committed to promoting diversity and actively support female advancement based on the belief that respecting diversity will lead to new innovations.
ROHM Co., Ltd.
General Manager, CSR Office, CSR Headquarters
Yuka Nakata